The Talladega Superspeedway has long been a big part of local life. 
Located just south of Lincoln and hosting two annual races on what is widely seen as one of NASCAR's most competitive raceways, the track is a major contributor to tourism dollars for Talladega, St. Clair and Calhoun counties and an important part of racing history. 
Something less talked about is that the Superspeedway property also hosts a keeper of racing history as well, the International Motorsports Hall of Fame.
The Hall of Fame, which features lots of racing memorabilia and historical exhibits, is located on a complex just off Speedway Boulevard next to the superspeedway and its accompanying campgrounds. It's open Monday through Sunday from 9 a.m. to 4 p.m. Admission is $12 for adults, while students 6-12 can get it for $5 each. Children 5 and under are admitted free with an adult admission.
While the Hall of Fame is a place dedicated to racing history, it means even more to me.
When I attended Lincoln Elementary School, which is funnily enough themed around the race track, my grandmother, Darlene Mitchell, was the manager at the Speedway ticket office. At the same time my dad, Brian Mitchell, also worked in maintenance at the Hall of Fame and served as security there on the weekends. My sisters and I often went to visit our grandmother and dad after school, and I can still remember coming into the rotunda, running up the stairs while my mom told us to slow down, turning right and opening the door that led to the hallway mawmaw's office was on. I also fondly remember Mr. Taylor, the security guard who often watched over the rotunda as people came to buy race tickets or visit the Hall of Fame or the gift shop.
I recently decided, after a conversation about the Hall of Fame with my editor, to revisit the museum which I hadn't set foot in since those afternoon visits as a child.
The first thing I noticed, and that my sister insisted I mention, is the smell. It's heavy and somehow deep, like a library, almost. It's a smell I associate with my childhood but during my recent visit also brought to mind the Berman Museum or the Anniston Natural History Museum. It's the smell of older days and things past. I absolutely love it. 
After paying to get in, I went through the turnstile. There was no need to do that because the gate was open, but I went through the turnstile anyway for authenticity's sake. You then go down a hall lined with a few display cases before going outside. You enter a large open courtyard situated between the buildings that make up the museum. In it, you find a few pace cars, a motorcoach once owned by Dale Earnhardt Sr., a plane once flown and partially designed by Bobby Allison, and a gigantic speed boat that I could not find a plaque indicating why it was there. This speedboat I specifically remember being in the courtyard 18 years ago when I was last there, and I do not remember having an explanation for it then either.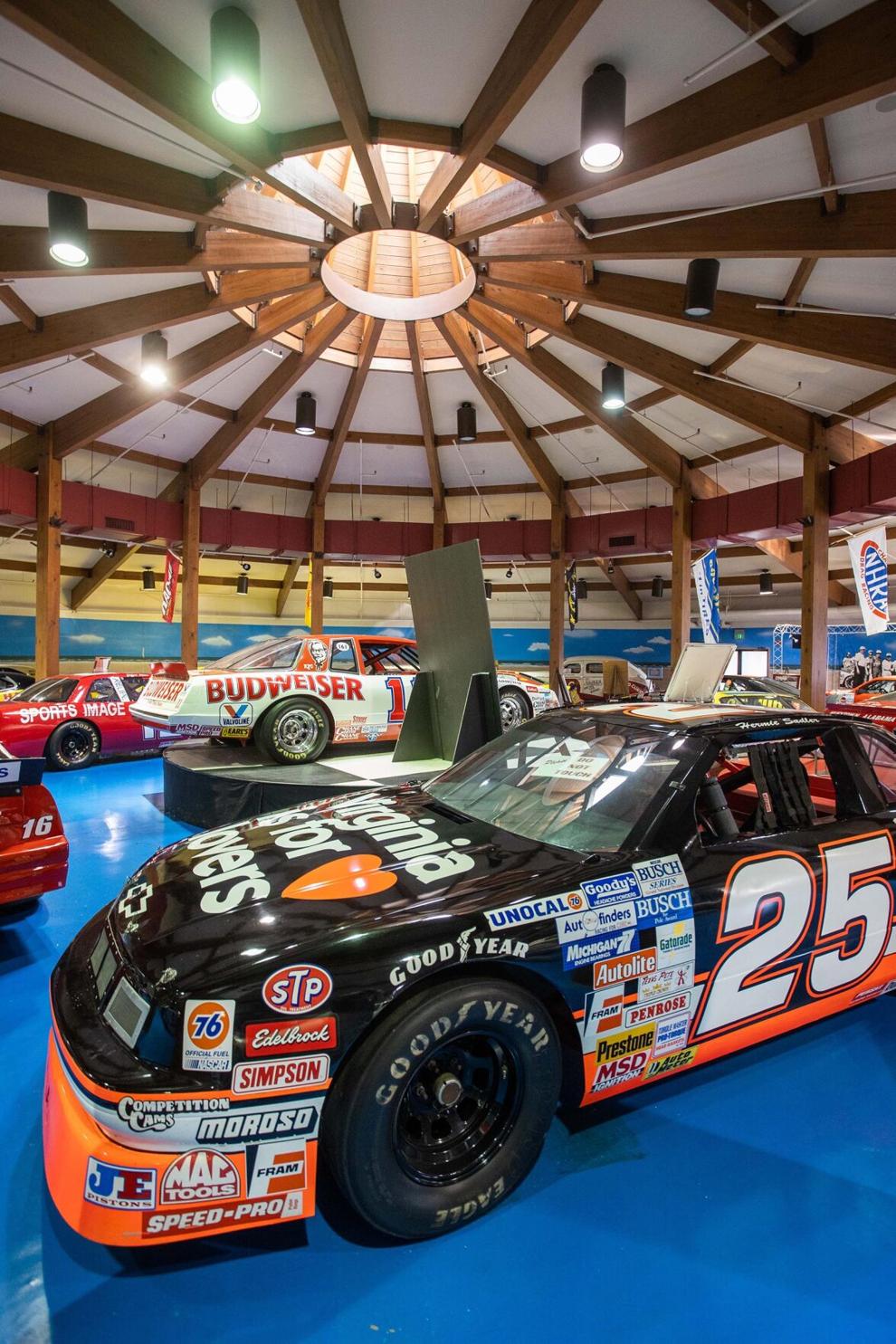 The first proper building you enter is called the Daytona Room, both because it largely focuses on cars that have ran the famous race and features a room wide mural of Daytona beach. One of the highlights of the room is a beautiful 1940 Mercury Sedan, which actually raced on that beach before the Daytona Superspeedway existed. It was originally driven by Sammy Packard, who was also at the meeting in 1947 when NASCAR was founded.  The room also features several cars driven by driver and beloved race commentator Darrell Waltrip. 
It's this first room where I realized just how wonderfully preserved all the cars in the museum are and just how utterly terrifying it must be to drive one as in most cases the interiors are so stripped out they are nothing but bare metal with a bucket seat.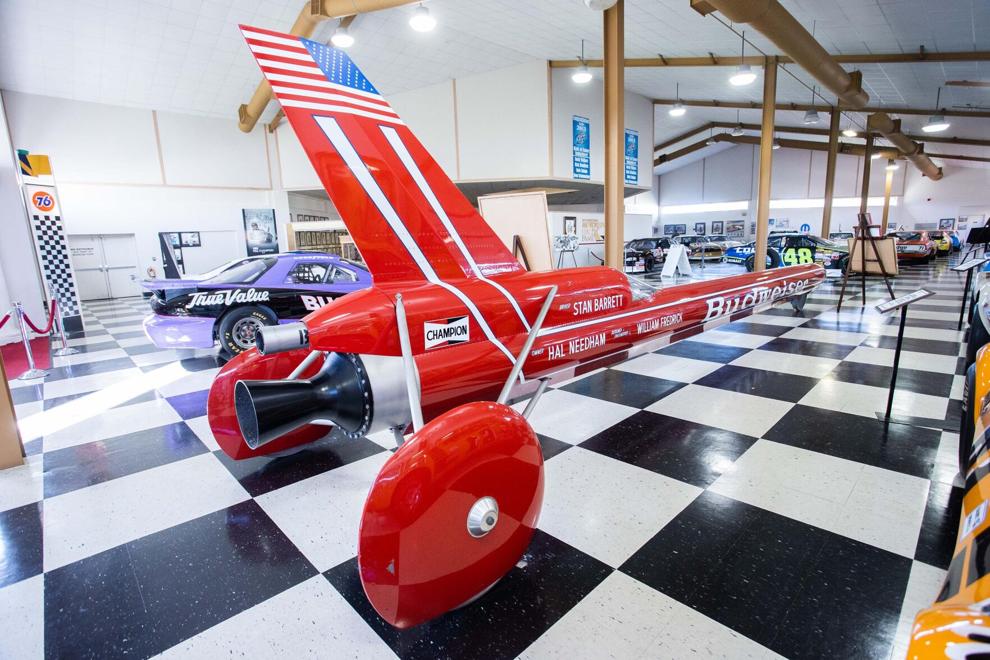 The next room is the International Room, which features even more cars, including the Wonder Bread car from "Talladega Nights: The Ballad of Ricky Bobby" and a Budweiser-branded rocket car. The big draw for me was in the center of the room which features the Hall of Fame itself.
In a series of glass cases the room features trophies and plaques commemorating the various inductees, which include some of NASCAR'S biggest legends and even people like Henry Ford and Enzo Ferarri. It was interesting to find a random plaque and learn about someone's contributions to the sport. It's largely one of the most educational parts of the experience, a history of a sport told in vignettes about the lives of people that contributed to it. 
The final room, which I was not able to find a name for anywhere, has more varied displays than the other two. This room featured motorcycles, dirt-track cars, gokarts, and midget cars. It also featured two special rooms, one is a comfortable space that memorializes Dale Earnhardt Sr., the super star driver who lost his life while racing in Daytona, and another that hosts the Alabama Auto Racing Pioneers Hall of Fame. 
While I'm familiar with much of the history featured in the museum even before revisiting, the Auto Racing Pioneers are an organization I was largely unfamiliar with before my visit. It was wonderful to get to familiarize myself with the history of the club while I was at the Hall of Fame. I spent some time in the club's absolutely packed room just reading newspaper clippings, some of which I am happy to say were from The Daily Home.
Overall, I really enjoyed my time walking through the Hall of Fame and I am kind of sad that I had largely forgotten about it for so long. It's a unique place that tells a story about a sport that has long been important here. So maybe next time you find yourself with not alot to do on a weekday, you should have a walk through it, too.
Taylor Mitchell is a Daily Home staff writer. He can be reached at tmitchell@dailyhome.com.