ODENVILLE — Like most softball teams, Moody spent its days leading up to the St. Clair County tournament inside due to heavy rains. So the Blue Devils made the most of it and worked on their hitting.
That work paid off when Moody batters Taylor Rogers and Emma Kile each hit inside-the-park home runs on Friday night when the Blue Devils beat Victory Christian 14-2 in three innings in the opening round of the St. Clair County Tournament. 
"With those two girls especially, we changed some little things in their swing here and there," Seymour said. "I had one of them that was kind of struggling throughout the year, and one of them that started hot and kind of fell off. Just building that confidence in any hitter, especially those two that have a lot of speed that I need on the bases. That was really big for both of them."
The Blue Devils took full advantage of that hot start and beat Springville and St. Clair County in subsequent rounds to earn a place in the championship game, where the Blue Devils fell to Springville 10-4 and 5-0, respectively. 
Kile was the only player to finish the win over the Lions with two hits, two RBIs and two runs scored. Rogers also finished the evening with a pair of hits, highlighted by her solo home run in the third inning.
Rogers was one of three freshmen in the state to earn a spot on the All-State First-Team list last summer, and it doesn't sound like she's slowed down since then.
"She has really kind of stepped into her own this year in regards to taking more of a vocal stance, being more vocal, being more opinionated about things and I think that is a really big thing too," Seymour said. "She has also worked really, really hard in the offseason to improve her skills. The girls look up to her because she has done so much work outside of just the practice."
Those improvements are hardly limited to the field.
"I do feel like Taylor is proving herself, and she is just such a fun person to be around," Seymour said. "So as a leader, you want to be around the leader, and everybody wants to be around Taylor."
Keep reading for other highlights, quotes and observations from Moody's opening-round win over Victory Christian and all other games on Friday in the St. Clair County softball tournament.
Moody 14, Victory Christian 2
Even though the Lions were trailing 14-0 with time set to expire at the end of the third inning, the Lions didn't give up. 
If anything, they settled down. 
"That last round of at-bats, we had really good at-bats, so we had good approaches to the plate," Victory Christian coach Ted Rorrer said. "We were patient and took the balls and swung at strikes. Sadie Fortenberry had a really good rip right up the middle in that round, and she hit it so hard I think it's got a flat spot on the ball now."
Fortenberry delivered the Lions' second hit of the game facing two outs to advance senior Alonna Andrews into scoring position.
Andrews recorded the first hit earlier in the inning, and she walked home after sophomore Kyra Keller earned a walk to first with the bases loaded.
Emma Cleckler also took a stroll toward home plate after junior Christina Wood earned a walk. Even though the Lions lost a lopsided contest on Friday night, Rorrer said it's important for his players to remember that these challenging games will prepare them well for 1A competition later in the season.
"It's easy, especially for teenagers, it is easy to get down," Rorrer said. "You've got to kind of keep their spirits up. Let them know that when they play these. … getting in there and playing your heart out is what is really important. The end results will be good in the long run."
What to know
— Alex Harvard, Kendall Trimm and Ryleigh Hodges earned spots on the all-tournament team. Against the Lions, Trimm recorded one hit for a double, while Hodges held the Lions to two hits while striking out three of 16 batters faced.
— Victory Christian senior Maddie Etheredge represented the Lions on the all-tournament team after she held Ashville to five hits, two runs and 0 earned runs while striking out three batters.
Who said
— Rorrer on Etheredge's performance against the Bulldogs: "Her best game pitched so far this season."
— Seymour on how Moody can continue to improve: "Maintenance is the killer of the program, so every day you want to find one way to get better. And so, for me, it is either being a better teammate, a better hitter, a better defensive player. Find something to get better at every single day. That is kind of our motto to just get one step better every single day."
St. Clair 8, Ragland 0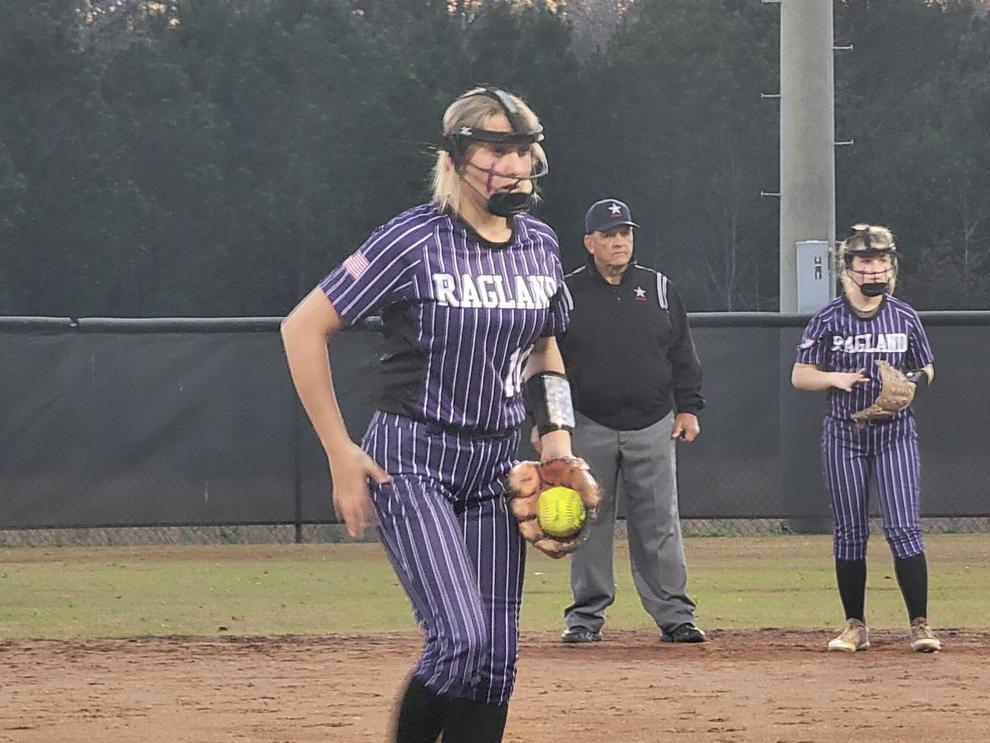 St. Clair County recorded all five of the team's hits in the second inning to secure the 8-0 victory in four innings.
"I think the girls came out hot for sure," St. Clair County coach Jessica Hood said.
Four Saints recorded hits, with the biggest two coming on back-to-back plays. First, Gabriella Allison hit for double to move Keili Nelson into scoring position. Then both girls rounded home on the next hit.
What to know
— As good as the Saints' bats were, St. Clair County's pitching was even better. Brooklyn Sertell only gave up two hits while striking out seven of the 17 Ragland batters she faced.
— Ragland pitcher Alyssa Broome, a seventh-grader, earned a spot on the all-tournament team.
— Ragland freshmen Beverly Alexander and Anna Burnham recorded the Purple Devils' only hits in the loss to St. Clair County.
Who said
— Hood on Sertell's performance: "Great, she did what she needed, and she had a great defense behind her."
— Ragland coach Rodney Lipscomb on the team's future: "I think our hitting is going to catch up to us. Our defense has been great this week. We gave up eight runs in three games, and we lost every one of them. … Gosh, I am proud as I can be of them girls. They're good, they are going to be alright."
St. Clair 6, Ashville 1
The Saints recorded their second consecutive win on Friday when they beat Ashville 6-1 in four innings.
Sertell seemed to pick right back up where she left off, striking out six of 17 batters faced, including each of the last three. Sertell only gave up three hits in the win.
Ashville eighth-grader Analynn Williamson recorded hits in both of her at-bats. She hit her second deep for a double to advance senior Rachel St. John to third base, where she was subsequently stranded.
Ashville leadoff hitter Brooklyn Mikus, a freshman, scored her team's only run, and the only other hit, in the first inning after Jayda Burgess recorded the RBI. Mikus later reached base for a second time on an error.
"They are both very young, but they are both very experienced young players," said Ashville coach Kristen Seals of Mikus and Williamson. "They are both getting hot with the bats right now, and it shows."
What to know
— Both Williamson and Mikus earned places on the all-tournament team for their performances this weekend.
— Burgess started the game inside the circle for Ashville. There, she struck out three of 12 batters faced while only giving up two hits before she was relieved.
— Sertell finished the game with one hit for double and walked twice. She also finished with one RBI and two runs scored. 
Who said
— Seals on Ashville's future: "The strength of this team is they are just such an easy team to coach. They are fun, they love each other. That to me, that is the hardest thing in high school girls' softball. We just need to get better at passing the bat, moving runners. Defensively they are coming along. We just need to get all of our bats working at the same time and not piecing them together."