Plenty of people are nuts about Tanisia Woods of Ashville, but it's not just due to her charming personality or how she treats people.
It also involves "treats" themselves — the edible kind, in this case flavored pecans. Woods creates them herself, and in so doing has built a growing business right from the pecan tree to the kitchen stove. 
It all started with Gwen Byers of Ashville, Woods' mother-in-law, and her Christmas goodies, cinnamon and sugar pecans, a holiday favorite for everyone in the family.
One day, Woods got the recipe from Byers and made a batch of her own. 
"I served them at a gathering," Woods said. 
The flavored pecans were a huge hit.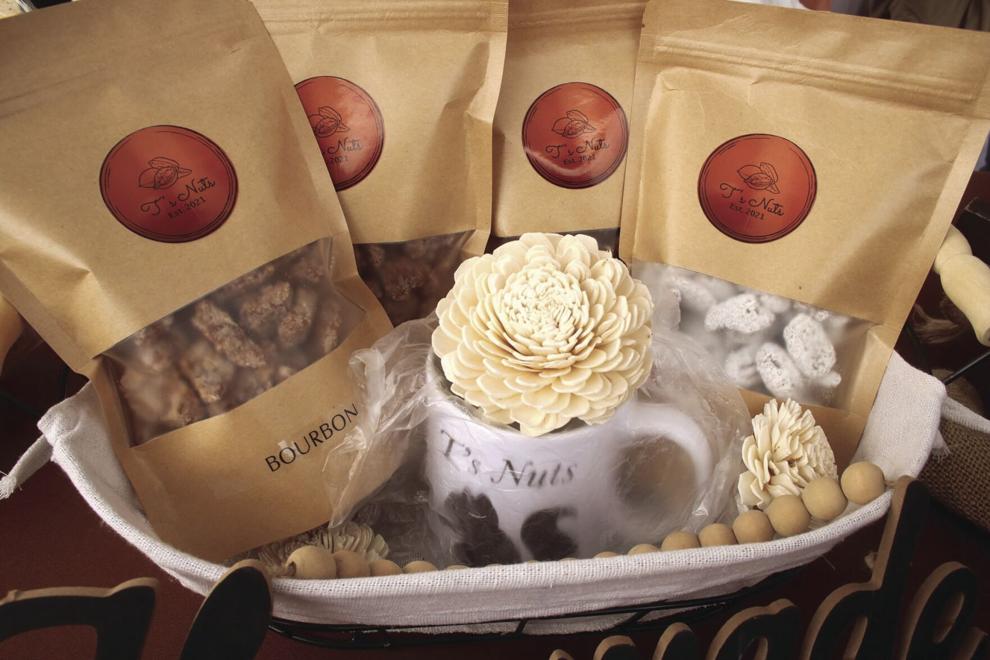 "They loved them," Woods said. "Everyone was encouraging me to start making and selling them." 
And that's exactly what she did in July 2021, during the height of COVID.
Woods said she had a full-time job at the time, so she made her sweet delights during her spare time, selling her flavored pecans at special weekend events and shows.
"I started with cinnamon and sugar," Woods said.
But her lineup has slowly expanded. 
"I would give out free samples to see if they were a hit," Woods said. "A lot of customers gave me ideas about other flavors."
T's Nuts LLC currently has six flavors —  cinnamon and sugar, bourbon, coconut rum, key lime, caramel, white or milk chocolate and the hot spicy Cajun flavored pecans.
Woods offers 8-ounce sample boxes with the six different flavors, so customers can try out the different flavors, and as many determine, choosing just one favorite can be difficult. 
Her customers can also buy 8 and 16-ounce bags of their favorite flavors, all packaged to order. 
Her husband, Steven Byers, helps her at events, doing the heavy work, setting up her booth and unloading her products. 
"He helps me crack the nuts, too," Woods said. "As far as cooking, he stays out of the kitchen."
Her pecans are freshly and perfectly prepared for the flavoring processes.
T's Nuts can be found in several local shops, and the list is growing. The nuts are available at McWatering Hole coffee shop and Wing Box restaurant, both in Ashville, and the Kolectic Treasures Antique Market in Anniston. 
Woods said she also completed an eight-week business course with the Minority Business Development Agency to help grow her new business. 
"Everything has been going very well," Woods said. "I'm hoping to get into two other stores soon."
Woods also built her own website last year, where people can learn more about and purchase T's Nuts and their products.
Although she specializes in flavored pecans, she can also whip up some flavored cashews and almonds — by special order, of course. 
"I just want to thank my customers and the community for all their support," Woods said.  
So there is one question many people want to know.
How do you shell those big juicy nuts without breaking them apart?  
Woods smiled at the question, and said you have to lightly crack and carefully peel away the pecan shell.
"It's really time consuming work," she said. "Oh, and you have to pray a lot."
T's Nuts LLC website is Tsnuts@tsnutsllc.com.