SPRINGVILLE — After claiming their ninth straight county title, the Springville Tigers also won the Class 6A, Area 13 title Tuesday, which is their fourth straight area crown.
During the county tournament Oct. 9, the Tigers bested county rivals Victory Christian and Ashville in pool play along with Moody and Ragland in bracket play. The Tigers won every set during the tournament.
Tournament MVP Kloey Daniel led her team offensively with 55 kills along with six blocks and four aces. Sandlin Short helped offensively and defensively with 42 kills, 20 digs, six blocks and seven aces.
Brooke Walker recorded 22 digs and four aces, while Bella Gray posted 21 aces and 18 digs.  
Morgan Baswell posted 115 assists and eight digs.
The Tigers went on to host their area tournament Oct. 12. The team cruised past Pell City 25-14, 25-12, 25-11, then won in a comeback against Southside-Gadsden in the championship match. 
Southside took the first two sets 27-25, 25-17, but the Tigers rallied to take the last three straight sets 25-18, 25-15, 15-7 for the tournament win.
"I was really proud of the girls in the Area Championship," head coach Warren House said. "They were down 0-2 going into the third game and fought hard to come back and win the match."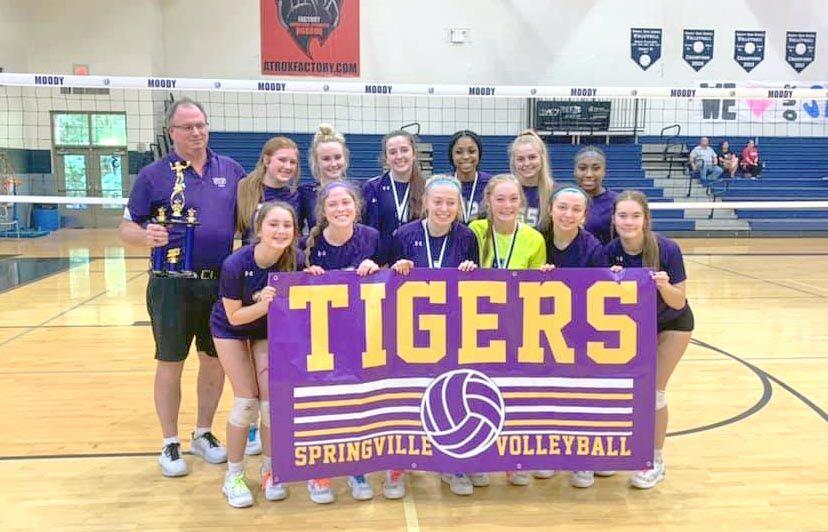 All-Area MVP Sandlin Short led her team with 34 kills, four aces, 22 digs and six blocks while Kloey Daniel followed closely behind with 30 kills, four aces, six blocks and four digs.
Farrah Hawkings contributed 19 kills, six digs and five blocks, while Kira Young posted 15 kills and blocks  despite having food poisoning on Monday, according to House.
Morgan Baswell also led with 91 assists, four aces and 21 digs, while Brooke Walker recorded 30 digs and five aces.
The Tigers will advance to the north regional tournament at the Von Braun Center in Huntsville Oct. 24-25.