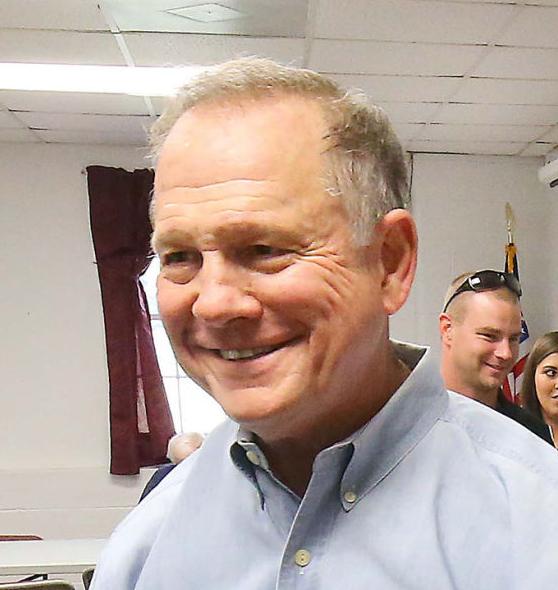 RAINBOW CITY — A Gadsden woman told The Washington Post that in 1979 Roy Moore, then a 32-year-old prosecutor, initiated a sexual encounter with her when she was just 14, according to a story published by The Post on Thursday. Moore denied the accusation and others as "fake news."
The story, in which three other women also claim Moore made romantic advances at them while they were 18 or younger, came as the former chief justice of the Alabama Supreme Court, now 70, is seeking election to the U.S. Senate.
"This garbage is the very definition of fake news and intentional defamation," campaign chairman Bill Armistead was quoted as saying in a news release Wednesday afternoon.
One of the women quoted in The Post's story, Wendy Miller, in a brief interview with a Consolidated News Service reporter outside her Rainbow City home on Thursday, stood by her account. She told The Post that she'd met Moore at age 14 while working at the Gadsden Mall as Santa's helper in a Christmas display. Moore asked her out on dates when she was 16, Miller said, but her mother wouldn't allow it.
"I spoke the truth, and that's it," Miller told CNS on Thursday.
The Post on Thursday morning published its story outlining claims by Gadsden-area women Leigh Corfman, Gloria Thacker Deason, Debbie Wesson Gibson and Miller that Moore had made advances toward them when they were in their teens, and he was in his 30s. The alleged incidents date from the late 1970s and early 1980s, when Moore was an assistant district attorney in Etowah County. The women ranged in age from 14 to 18 when they had their first contacts with Moore, according to The Post's account.
Corfman in particular alleges that when she was 14 and Moore was 32, he initiated an encounter with her at his home in which he took his clothes off, undressed her and touched her through her underwear.
"I wanted it over with — I wanted out," The Post quotes Corfman as saying in an interview. "Please just get this over with. Whatever this is, just get it over." The paper says Moore took her home after that at her request.
Moore went on to become a celebrity among religious conservatives for his legal battles over the Ten Commandments and same-sex marriage, all undertaken while he was a circuit judge and chief justice of the Alabama Supreme Court.
Politicians around Alabama and in Washington weighed in, many suggesting that the allegations, if true, should disqualify Moore from serving in the Senate.
"If these allegations are true, he must step aside," Senate Majority Leader Mitch McConnell, the Kentucky Republican, said on behalf of his party's Senate caucus, according to The Post.
Steven Law, the leader of the Senate Leadership Fund, which is often linked to McConnell, went a step further. The fund campaigned hard against Moore in the Republican primary for the Senate race, backing his opponent, the incumbent Luther Strange.
"If there's even a shred of evidence to these accusations, Gov. Ivey and the Alabama Republican Party need to do everything in their power to remove Judge Moore from the ballot," Law was quoted as saying in an emailed release. "There is no place in our party for sexual predators."
In another emailed statement, Alabama Gov. Kay Ivey was quoted as saying the allegations against Moore "are deeply disturbing."
"I will hold judgment until we know the facts. The people of Alabama deserve to know the truth and will make their own decisions," the governor's statement read.
Moore's general election opponent, the Democrat Doug Jones, in a statement sent in a text message by a campaign staffer, said "Roy Moore needs to answer these serious charges."
The Moore campaign has had earlier conflicts with The Post.
Moore's charity, the Foundation for Moral Law, went on attack against The Post the day before the story broke. On Tuesday, the foundation issued a statement demanding a retraction of Post articles about the former judge. The statement didn't specify anything in those articles alleged to be incorrect.
The Post last month reported that Moore made $180,000 per year from part-time work for the foundation when Moore was out of public office.