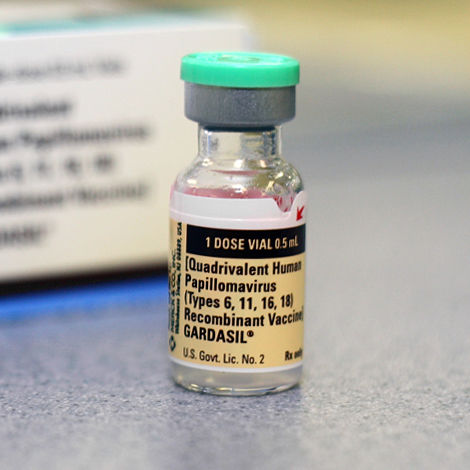 Few Alabama preteens have received a vaccine that helps prevent certain cancers, though there have been gains in recent years, according to a new study.
The study, released by Blue Cross and Blue Shield of Alabama on Tuesday, states that only 34 percent of adolescents in the state had received the first dose of the vaccine for human papillomavirus, or HPV, in 2016 by their 13th birthday. Some health experts say there is a stigma among some parents against the vaccine, since it protects against a sexually transmitted disease. Still, work is underway across the state to educate parents that the purpose of the vaccine is to prevent deadly cancers, not give their children an excuse to have unprotected or premarital sex, they say.
"Not taking the vaccine does not mean those children won't later have sex if they so decide," said Dr. Angela Martin, a pediatrician with the Pediatric Care Center in Anniston. "We highly recommend immunization."
The seven-year study incorporates outpatient medical claims for commercially insured Blue Cross and Blue Shield members born between 2000 and 2003, and who were vaccinated by their 13th birthday between 2010 and 2016.
The virus is transmitted sexually and can lead to certain cancers later in life for both men and women, including cervical cancer.
According to the Centers for Disease Control and Prevention, there are 31,500 deaths from cancers related to HPV in the United States every year.
Health agencies recommend children receive the two doses of the vaccine by their 13th birthday. Teenagers older than 14 years should get three doses of the vaccine, experts recommend.
The study shows that first-dose HPV vaccination rates among 13-year-olds in 2016 had risen from the 20 percent rate among the same age group in 2013. However, the rates still lagged behind other adolescent vaccines in Alabama. The study states that 69 percent of youths in 2016 received the meningococcal vaccine and 81 percent received the Tdap vaccine. Also, only 8 percent of Alabama youths got three full doses of the HPV vaccine.
Dr. Isabel Scarinci, a senior scientist at the Comprehensive Cancer Center at the University of Alabama at Birmingham, said there are various reasons why the HPV vaccine isn't widely used in the state.
"Some pediatricians aren't strong with their recommendation for it ... it's not mandatory, it's not required to attend school," Scarinci said.
Another reason for the low rate is that the vaccine is for a sexually transmitted disease, Scarinci said.
"Parents say, 'my child is too young,'" she said. "They don't want to think that their child will have sex someday."
Chase Thomas, a nurse practitioner who owns Pediatrics Plus in Anniston, said some parents are simply misinformed that vaccines could seriously harm their children or cause conditions like autism.
"This movement not to vaccinate is really impacting some of my younger moms that want to do the right thing for their kids, they're taking information from their friends on social media with no expertise over that from medical professionals," Thomas said. "We believe in vaccines."
To increase the rate of vaccinations, the cancer center formed a coalition two years ago with statewide organizations, including the Alabama Department of Public Health, Blue Cross and Blue Shield and the American Cancer Society. The coalition collects data and interviews pediatricians to identify priorities and gaps in HPV vaccination efforts.
Scarinci said Blue Cross has increased reminders to patients that children should get the vaccine. Other strategies include bundling the HPV vaccine with other vaccines and having pediatricians provide stronger messages to parents about the danger of the virus.
"You must push the importance that they are vaccinating their children to prevent cancer," Scarinci said. "It is a cancer vaccine."
Martin said her clinic works to promote the HPV vaccine and other vaccinations.
"Our HPV rates are running average to above, and we know this because Medicaid comes in and looks at our shot status," Martin said. "We make sure to send out letters and call our patients and tell them to get their shots and physicals."
Thomas said his clinic also has good vaccination rates and that he and other staff there provide as many facts to parents as possible so they can make informed decisions about vaccinations.
"I also tell them that my two children are vaccinated and if that's not enough to convince them, then I don't know what will," Thomas said.