HEFLIN — Oxford and Heflin police say a Calvert man faces numerous felony charges after he led them on a high-speed car chase Wednesday night in which he attempted to run over four officers and two pedestrians.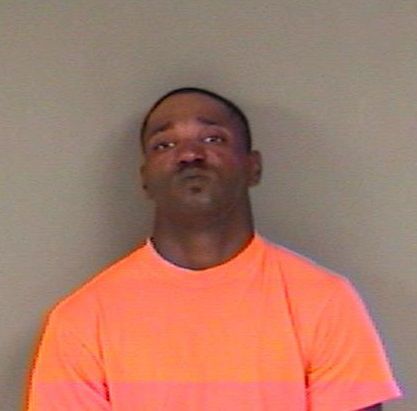 According to Heflin police Chief A.J. Benefield, officers were called to investigate a suspicious man at a convenience store near Exit 199 off of Interstate 20.
"When they pulled up, there was a male in a 2016 Mustang, and as they approached, they realized he didn't have clothes on and he was acting very nervous and shaking," Benefield said.
When the officers asked for identification, 26-year-old William Deon Threatt put his car in drive and attempted to run over the officers, according to the chief.
Benefield said the officers got out of the way, but Threatt then circled the store two to three times and tried to run over a man and his young son in the parking lot.
The officers say Threatt then drove north onto Alabama 9 and got onto Interstate 20 and headed to Oxford.
"Our officers had the dispatcher notify Oxford that they were coming that way," Benefield said.
According to Benefield, Threatt got off at Exit 188 in Oxford, where Oxford officers were waiting for him.
Initially, Threatt drove into a Waffle House parking lot and tried to hit the Oxford officers as they attempted to stop him.
According to Oxford police Capt. L.G. Owens, the Oxford officers suffered minor injuries during the incident.
Benefield said Threatt then drove to a strip mall on U.S. 78, where the officers used what's called a "precision immobilization technique" and forced the suspect's car into some utility poles.
Threatt rolled up all of the windows in his car, forcing officers to break the windows with batans to get him out of the vehicle, according to Benefield.
"The whole entire time he's fighting, he kicks and punches our officers, they end up tasing him," Benefield said.
Once Threatt was cuffed, Oxford EMS removed the taser probes and cleared him medically, Benefield said. Heflin officers then drove Threatt  to the Cleburne County Jail.
The list of Threatt's charges include:
— Assault 1st degree on police officers
— Obstructing government operations
— Open container of alcohol
Owens said Oxford police have charged Threatt with attempted murder.
Benefield said both the Heflin and Oxford officers acted heroically.
"I think they handled it as professionally and the best it could have been handled. It was bad conditions, it was raining, it was slick and he was a threat to himself and others," Benefield said.