On Tuesday, the city of Talladega will be exactly two months away from choosing its next batch of leaders for City Council and School Board.
Qualifying begins July 3 and ends July 16.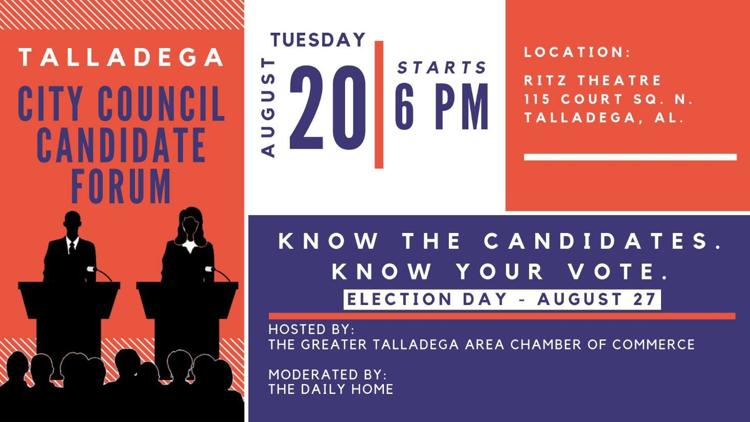 Our job as your local newspaper this summer will be the same as it's always been — to tell you who's running, give you relevant information about their background and tell you where they stand on the issues.
To that end, The Daily Home, The Greater Talladega and Lincoln Area Chamber of Commerce, and The Ritz Theatre are partnering to bring you a City Council Candidate Forum at 6 p.m. Tuesday, Aug. 20 — one week before Election Day on Aug. 27.
The forum, which will be at The Ritz, will allow Talladega voters the opportunity to hear from the candidates directly as they lay out their platforms and plans for the next four years and answer your questions about the issues that most concern you.
Therefore, we're asking residents to let us know what questions you'd like for us to ask the candidates. What issues do you believe are the most pressing for the city of Talladega? Is it the price, location or even whether the city needs a splash pad? Is it paving roads? How about preventing shootings and other violent crime? What about stopping drug trafficking? Or is it putting an end to political in-fighting?
A few days ago, we began soliciting questions on The Daily Home's Facebook page, and here's a sampling of the questions we've received so far:
• Do each of you agree to implementing term limits for Talladega City Council members? When asked for specifics, the commenter said council members should be limited to two terms, no more than three. Another commenter followed with, "... two terms. Eight years is long enough for anyone to be a councilmember."
• How do you plan to move the city into the 21st century?
• What can be done to raise the low property values in Talladega?
• Is there anything you can do to encourage people working in Talladega with good jobs who don't live here to move here? Also, do you think city department heads should be required to live in Talladega?
• Do you have any concerns about building a splash pad? If so, what are your concerns?
• What can be done about the recent rash of gun violence in Talladega?
Many of those questions were from the same person, and, as good as those are, we'd like to hear from more of you. What key issues should the next council make the priority? What are your expectations for the council members' interaction with each other, with staff and with the general public? 
Let us know in the comments on our Facebook post, or email suggested questions to news@dailyhome.com. 
We believe covering elections is one of the most important roles we play as journalists. Our most important role is to keep you informed about what those elected officials do once they're in office.
Help us make this an informative election summer, so that you can enter the voting booth fully equipped to make a confident decision about who you want to serve on your next council and school board.