Eastside, so many memories.
I recently had a pleasant conversation with Seddrick Hill, Talladega's city manager.
Of course, we talked about the future of former Eastside School/Eastside Daycare
But first, let's talk about the origin of Eastside, as it was shared.
Some only know Eastside as a daycare center, but I was told that Eastside School began in 1948.
Furthermore, according to passed down information, founders of Eastside School included Mrs. Annie and Rev. Noble Jemison, Mrs. Thelma Keith, Mr. Arthur Ratchford, Ms. Cunningham, Mr. Tony Kirk, and the pastor of the former Bethlehem Church (currently New Hope Church).
The Jemisons reportedly donated the land for the school.
The founders agreed that the children of the Knoxville community needed a school and Eastside was founded.
At first, the school only went to the sixth grade and afterward the students would transfer to Westside. However, later on, the school offered the seventh grade.
Amongst the first teachers and substitutes at Eastside School were Mrs. Daisy Gaddis, fourth grade; Ms. Julia Russell, second grade; Mrs. Pauline Cochran, second grade; Mrs. Edythe Sims, third grade; Mr. Charlie Varner, fourth and sixth grade; Mrs. Mary Curry, Mrs. Elizabeth Tucker, first grade; Mrs. Pinkston; Mr. Elliott Mason, fifth grade and physical education; Mr. Henry Talley, sixth grade and music teacher; Mrs. Mattie Wilkerson, teacher; Ms. Raleigh Gildon, teacher; Mrs. Goldest Embry, sub; Mrs. Harlean Garett, sub; and Mrs. Evelyn Houston, sub.
Mr. Burbon Kirk, Mr. Willie A. Brown and Mr. Walter L. Lumpkin were the principals.
The custodians were Mrs. Clara Knox and Mr. Willie Patterson Sr.
It was reported that Ms. Clara was never the principal, but she kept law and order. I was even told that she also worked in the cafeteria.
The school day began at 8 am with a Bible verse and the Pledge of Allegiance. However, students could come to school an hour early to enjoy breakfast. Following the morning routine were instructions on manners, math, recess, physical education, lunch, music and language.
Bible verses and manners were highly focused on, according to a former student.
Through the upcoming weeks, I will continue to write about Eastside School, future prospects for the former school, and the surrounding community.
If anyone has information to share, or corrections on the above subjects, please feel free to text or call the following contributors to the article:
Angela Davis Estelle, 256.493.3074; Diann Lewis Turner, 1.601.212.3414; Carnell Davis, 256.282.2783; or Maxine Beck, 256.493.8901
Sounds promising to me
Back to my conversation with the city manager regarding the future of the former Eastside building.
Mr. Hill, and other City officials, held a forum this summer (regarding the future of the former Eastside building) at New Hope Church in the Knoxville community.
Several attended the forum, mainly Knoxville residents, but many claim to still be confused, due to conflicting rumors, about the plans for the site.
Mr. Hill stated during our recent phone conversation that Eastside is no longer under the city's authority, but plans are for the building to be remodeled and used for STEM (Science, Technology, Engineering, Math) or/and STEAM (Science, Technology, Engineering, Arts, and Math) classes.
The idea behind STEM or STEAM, according to Google, is that children are learning more about science, technology, engineering, art and math without realizing they are learning (video games, telephones, smart television, etc.). Also, collaboration, student inquiry, dialog and critical thinking is involved in the curriculum.
Children have been reported to move from passive attitude to actively participating in their learning experience if it is interesting to them.
Legos are used with STEM subjects to provide fun ways of learning.
Just think of all of the areas that are used when creating with Legos (critical thinking, dialog, math, science, engineering, inquiry, etc.).
Also, it is important to know that STEM and STEAM education do not overlook the standard curriculum (language, social studies, etc.).
In short, it is believed that if a subject appeals to the students, they will be interested in participating and learning.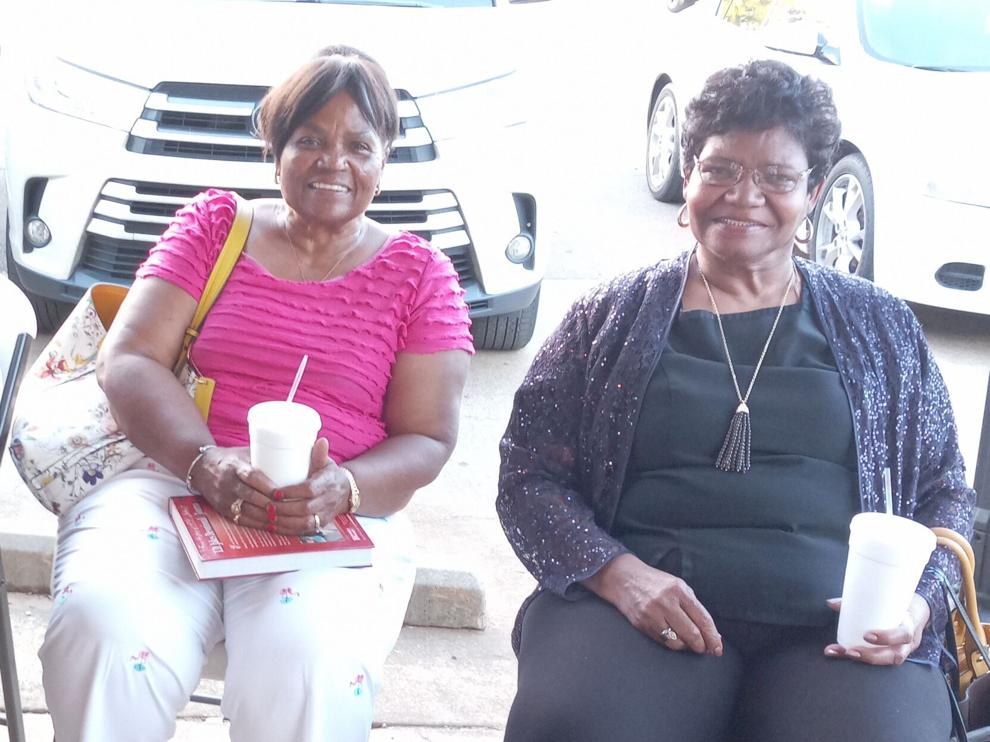 Another year of celebration
I celebrated my birthday Aug. 5 at the Back Yard on Logan Martin.
Celebrating with me were Willie Mae Tuck and Jeraldine Reynolds.
Willie Mae's birthday is Aug. 6 and Jeraldine's birthday is Aug. 7.
The weather was wonderful and so were the shrimp, lobster claws, poor boy, sweet potato fries, salad, okra and more.
It was fun ladies; let's do it again next year!
Thanks all, bye for now.