Local organizations, including Talladega Superspeedway, were preparing Wednesday to offer relief and refuge to Hurricane Florence evacuees.
The Personnel Mobilization Center at the Center for Domestic Preparedness on Wednesday welcomed its first batch of about 250 FEMA responders to train for Hurricane Florence relief. Mobilization center chief Rick Dickson said the effort isn't the center's first, but that the training will further equip responders for the storm and its potential damage. Last year's operation for Hurricanes Harvey, Irma and Maria relief, Dickson said, lasted 63 days and sent out 6,300 responders.
"It's not something new for us to support this," he said. "It's kind of our mission to get them here and get them ready for disaster areas."
Dickson said the center will receive around 250 trainees each day and send out groups based on the responders' preparedness and the affected area's needs until those needs are met. The responders' duties will range from damage assessment to technological assistance to legal help depending on the local needs and each responder's skills.
Talladega Superspeedway is also lending a hand for a second consecutive year. The track's Winner's Walk I campground is set to open at 9 a.m. Thursday for evacuees looking to keep campers, trailers and vehicles safe from the storm, a Wednesday press release said. Russell Branham, spokesman at the speedway, said the park housed 30 to 40 families starting Sept. 7, 2017, in response to the hurricanes on the Gulf Coast.
"People who drive up here know us and they know we have 3,000 acres to house folks," Branham said by phone Wednesday. "We felt like we needed to make sure our facilities were open to those in need."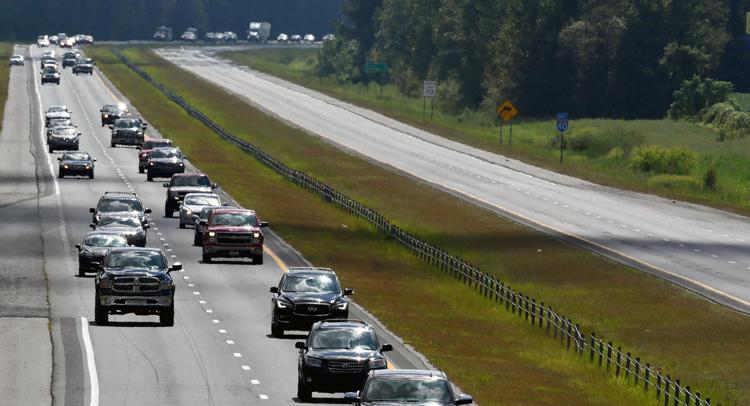 While electrical hookups aren't available at the park, water connections are available in gravel areas, and the campground's shower house and dump stations will also be open for use.
Alabama Power began sending crews east Tuesday afternoon, according to spokeswoman Jacki-Lyn Lowry. The company will send out 250-300 linemen from across the state to wait in safe areas closer to the coast in partnership with Duke Energy, Lowry said by phone Tuesday. She said Alabama Power expects the storm to change daily, but will remain proactive in balancing crews to assist those affected by the storm and maintaining service in Alabama.
"Alabama Power has asked for assistance from our utility partners after hurricanes and severe weather several times before," a company statement emailed by Lowry said. "We are committed to returning the favor to those who helped us get the lights back on for our customers when storms affect our service area."
The Alabama Emergency Management Agency is also sending out team members to help counterparts in affected states. A Wednesday press release said the state EMA currently has "one mobile communication site vehicle, one AEMA staff member and one Mobile County responder in route to a staging area in North Carolina." Other areas of support are also being considered as the storm nears the coast.
"As the East Coast makes preparations ahead of Hurricane Florence, Alabama will also be prepared to aid in any way we can," Gov. Kay Ivey was quoted as saying in the press release. "Alabama EMA will continue working with their counterparts in the Carolinas. Taking the necessary precautions ahead of time and having all hands-on deck to respond is of the utmost importance. Alabama stands ready to help."