Those looking to satisfy their sweet tooth and support a local business have had an opportunity to do both since July, when Cookie with a Twist opened on the north side of the Square in Talladega. But owner Tara Logel took an unusual (not to say twisty) route to get to where she is now.
"I worked in corporate and project management for 20 years, until I was 45 years old, and then I decided I wanted something different," Logel said. "My son had just graduated from Hoover High School, and I got a wild hair and decided to go to culinary school. My original plan was to do bakery and savery, but bakery really spoke to me."
The culinary inclination was not really anything new, however.
"I grew up one of four children in Arab, and we all had our chores growing up," Logel said. "It seems like I was always drawn to food."
So, once she had decided to specialized in baked goods, she had another decision to make.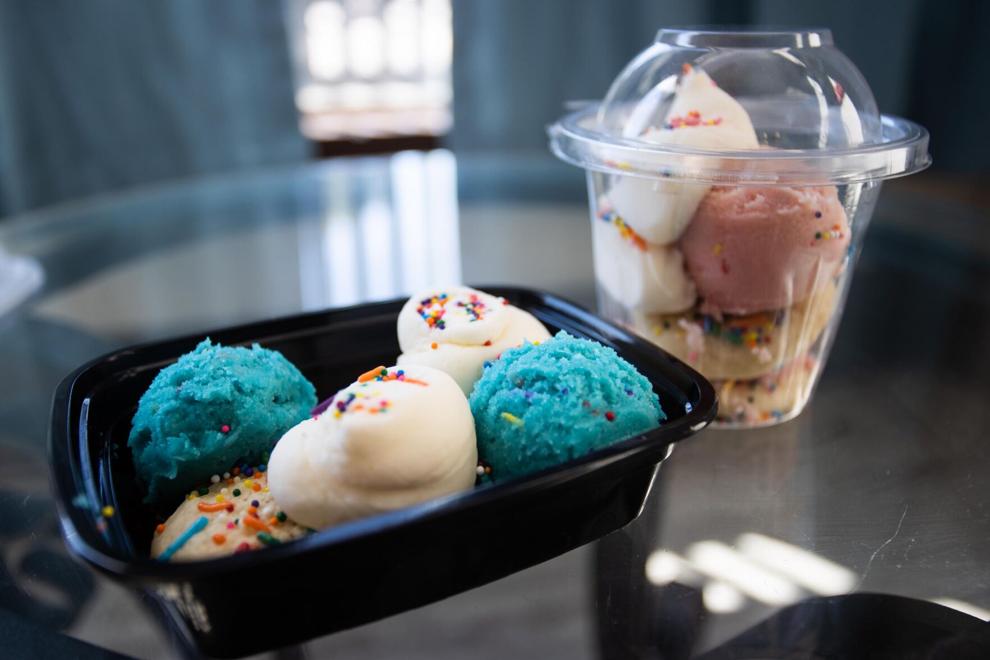 "I did some research, and I saw that everybody was doing cupcakes and donuts everywhere. I looked at cookies, and I saw that the only people really in the cookie business were the national chains," Logel said. "I decided to look into that, and I noticed that edible cookie dough was really popular in New York, for example, where people were standing in line for them.
"So five years ago, I decided to go into edible cookie dough, and I was the first person to do that in Alabama."
Cookie with a Twist started out as a brick and mortar shop in Hoover, then operated as a food truck for about three years, which is when Logel first came to Talladega.
"The food truck really saved us when COVID-19 hit," she said. "We just had prepackaged items, we never cooked in the truck, but we would go to hospitals, corporate events, schools. I met Kevin Smith, and I think I came to the first ever Second Saturday as soon as that started."
At this point, she said she was living in Mccalla but had bought an RV.
"I wanted someplace near a lake, and I was starting to gravitate in the business toward Oxford, Anniston and Gadsden," she said. "I was spending a lot of time in Lincoln, but I was still driving back and forth to Hoover four or five times per week, where my kitchen was. I asked about leasing the old Boswell's Wings just for the kitchen, but that didn't quite work out."
She got into contact with the city, which owns the building where she is now. The city had previously rented the building to the Square Cup, which had closed some time before. As it turned out, they were looking for a tenant. The city council approved the deal, some work was done on the building, and Cookie with a Twist opened in July.
The menu consists of cookies, cookie dough dishes and combinations of the two. Doozies with cookie dough or butter cream in the middle are mainstays, along with the cookie dough sundaes, samplers and even a gluten free option or two. Logel is also branching out to weddings, birthday parties, catering, cookie cakes and custom designs.
"The creative side really intrigues me," she said. "I'm not an artist, but I enjoy the challenge of drawing Godzilla on a cookie cake. I've done dinosaurs for kid's birthday parties,and what I call a five layer dip of cookies, cookie dough, ganache and butter cream. And I'm getting repeat customers. I'm working on 200 for a church right now, that I did their anniversary for last year."
Oh, and she has a Cookie Monster on staff as well, available for special events, and she also hosts demonstrations where kids will get to decorate their own cookies.
Cookies with a Twist is located on the square between the Ritz Theater and LMo and Company. They are open Tuesday through Thursday from 11 a.m. to 6 p.m. and Fridays from 11 a.m. to 3 p.m.