TALLADEGA -- After a promising finish last spring at Talladega, Bubba Wallace didn't get a chance to add to that Sunday.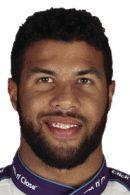 Wallace's No. 43 car was sidelined in a multi-car wreck on the 10th lap. He was out of the race and will place 39th in the final standings. Last spring, he finished 16th and even led five laps.
Wallace was on Ryan Blaney's bumper. He said that when Joey Logano came up, he was set to take the No. 43 car to the bottom of the track. That's when he hit Blaney's back bumper.
"But, it got (Blaney) wiggled down and shoved me farther down than I wanted to go," Wallace told reporters afterward. "So, I went back up just to stay off the apron, and it just unloaded. It's just unfortunate, but I tried not to wreck my buddy, Ryan, and it cost our day and some others. I apologize."