TALLADEGA — On a day in which the racing world's focus was trained on NASCAR driver Bubba Wallace, maybe the most uplifting thing that could've happened was him winning the race.
It didn't turn out that way.
Even though Wallace led a lap late in Monday's GEICO 500 at Talladega Superspeedway, he finished 14th.
Still … how about this? The winner was Wallace's oldest and best friend on the Cup Series, Ryan Blaney. They've known each other since they were 10 years old, racing in Bandoleros around the Charlotte area. They've raced each other off and on through the years while maintaining a friendship, which Blaney said is based on more than racing.
"He and I would be great friends even if we weren't racing together," Blaney said. "We have a lot in common, get along really well. Someone you can talk to, a good friend you've known for a long time that will always have your back, whether it's me having his back or him having mine. ...
"I support him 100 percent. I'm always going to be behind him. If you run afoul to Bubba, you run afoul to me."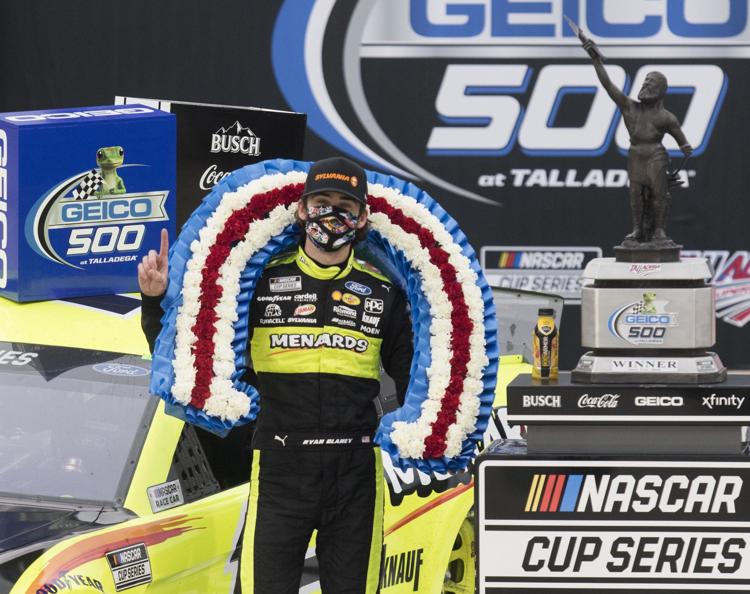 Late Sunday afternoon, a crew member of Wallace's found a noose in the driver's garage stall. The crew member informed NASCAR security. By Monday morning, the FBI was on site investigating.
Wallace was told about the noose Sunday evening by NASCAR president Steve Phelps, and Blaney said he found out from Wallace.
"We were sitting in my bus when he told me after he talked to NASCAR," Blaney said. "He was obviously really emotional and hurt, really hurt by it. I just didn't know what to say. I couldn't find the words to describe how I felt.  I felt a mixture of anger and sadness for him, confused how anybody could do something like this."
The morning drivers' meeting brought gladness and uplifted spirits. Former Cup champion Jimmie Johnson, speaking to reporters through a post-race video call, said he messaged other drivers in a group chat that he was going to stand by Wallace for the national anthem and invited others to join him.
After the drivers' meeting, a plan formed to push Wallace's car to the front of pit row, and everybody — drivers and crew members — would stand with him. Blaney called it a moment "I'll remember for a long time."
"I think the good thing is us as a community came together, showed our support," Blaney said. "I know he really appreciated it. It was the least we can do to show we're behind him 100 percent. I'm obviously going to be behind him 100 percent. I have been for 15 years, I hope to make it 50 more years supporting him every step along the way."
Still, there was a race, and what a race it was. It was postponed from Sunday because of rain, and there was doubt that the skies would be clear Monday afternoon. Rain interrupted the race briefly Monday about one-third of the way through, but it cleared up and stayed dry the rest of the way.
Blaney edged over the start-finish line only .007 seconds ahead of runner-up Ricky Stenhouse Jr. Miraculously, that's the same margin of victory when Blaney scored a win at the Talladega race this past fall. He's the first driver since Jeff Gordon in 2007 to win two straight at Talladega.
Aric Almirola slid sideways across the start-finish line to take third place, just ahead of fourth-place driver Denny Hamlin. Erik Jones finished fifth, even after getting blocked into the wall by Blaney, who was trying desperately to hang onto a semblance of the lead down the stretch.
Afterward, Blaney did give the checkered flag to a fan — a boy standing near the fence with his father.
"I think it's great that everyone rose up, Bubba included, and really came together," Blaney said to close his video call with reporters. "I don't want it to be remembered as a terrible day or a bad day in NASCAR. I want it to be remembered as there was an incident and we all overcame it together, showed that we were not going to take it anymore, man.
"I'm getting sick of this (expletive). It's not something that he should deal with. That's all I got to say about that."