TALLADEGA — As a rainbow arched gloriously toward its end at the turn 3 tunnel, a struggling, 28-year-old second-generation driver named Jeb Burton fought back tears in the Talladega Superspeedway garage area.
"I'm trying not to cry," he said, a bit sheepishly.
The tears may be forgiven.
Burton picked up his first career NASCAR Xfinity victory when he was sitting in front of the field as the Ag-Pro 300 got sheared to Ag-Pro 239 because of a knockout punch rain shower just before 5 p.m.
"The rain didn't hurt my feelings at all," Burton said, adding, "I didn't care how I did it. I ran up front all day. It definitely wasn't a fluke."
Jeb is now one-up on his dad, Ward, a long-time NASCAR racer who never won at Talladega. Except a truck win in 2013, Jeb has been winless in nearly 150 starts in a combination of Cup, Xfinity, the truck series and ARCA.
"They went through a lot of ups and downs," said third-place finisher and teammate A.J. Allmindinger. "You almost forgot about Jeb. For him to fight through it and get his first win, it's pretty special. I'm almost more excited for him winning this race than if I had."
Once again, the NASCAR Xfinity Series race served its myriad purposes.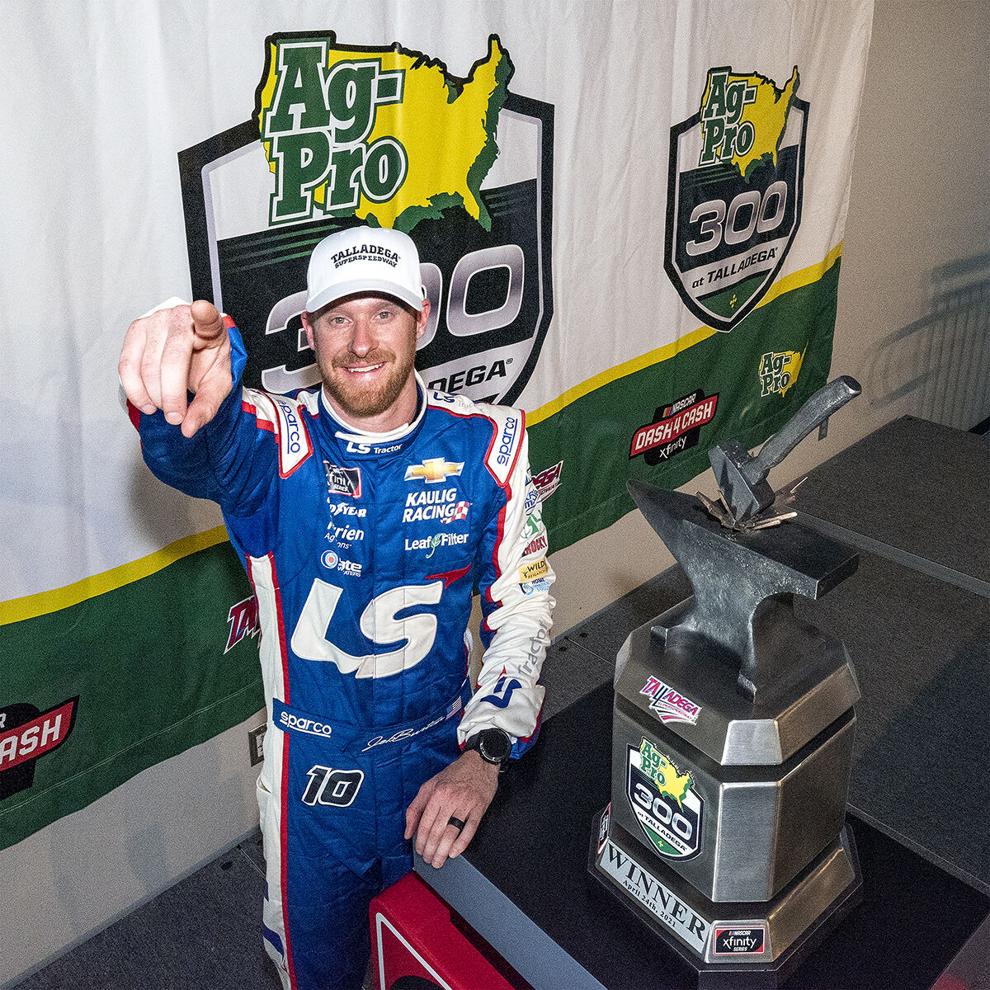 First, it was a short, fun, entertaining appetizer, the fried cheese and chicken wings to Sunday's NASCAR Cup Series main course. Just a little too short of an appetizer for everyone but Burton.
It continued to offer a proving ground for prospects, like Austin Cendric, the runner-up to Burton and a driver destined for a Cup ride. Who among Saturday's crowd becomes an Xfinity champ as a step toward Cup stardom, like Bobby Labonte, Dale Earnhardt Jr., Kevin Harvick, Kyle Busch, Chase Elliott and Brad Keselowski?
(It's also a weekly audition for a revolving door of current Cup drivers angling for future TV jobs, as they moonlight as broadcasters, typically bringing to mind the phrase, "Don't quit your day job.")
Finally, it's a sentimental journey for fans with some gray in their hair, to see the likes of Harrison Burton (son of Jeff), Jeb Burton (son of Ward), Jesse Little (son of Chad), Ty Dillon (son of Mike and grandson of Richard Childress) and Jeffrey Earnhardt (grandson of Dale).
Which is still another reason for the popularity of Jeb Burton's victory.
"In a way I wanted it to get back going. I didn't want to win just off the rain. Then I thought about it, it didn't matter at this point with all we've been through," he said. "I was in disbelief they called it so quick."
Burton was the leader a year ago on the white-flag lap and learned a lesson by not blocking effectively. He was able to do that on Saturday as he protected the lead as clouds gathered.
He acknowledged he had come close to quitting during years "when I was just running three or four races and couldn't find sponsorship. My confidence was low. It was frustrating Racing can tear apart.
"That's where that emotion comes from," Burton continued. "I try not to cry, but it means a lot to me. I put every ounce of energy into trying to make it in this sport. It's been a tough road, but it's made me a better person. Those tears you see are from all the hours and hours and late nights of not sleeping of doing everything I could off the track to being a better driver."
A few minutes after the victory, a friend handed a phone to Jeb. On the other end of the line, his parents Ward and Tabitha.
"They told me to stop crying and enjoy it," he said.