TALLADEGA -- After three tries at a two-lap overtime, it made sense that when they finally finished this thing, it was three-wide screaming to the start-finish line.
Denny Hamlin's car stretched just ahead Matt DiBenedetto for the YellaWood 500 victory today.
It took a while to finish this one. It even took a few moments for NASCAR even to verify Hamlin one as officials reviewed the ultra-close final moments. Hamlin appeared to go below the yellow line, but he said afterward that he was forced to drive down there. NASCAR vice president Scott Miller said later Hamlin was forced below the line to avoid a wreck.
As Hamlin was interviewed for television afterward, he received a rather mixed reaction from the fans in the stands. NASCAR allowed about 20 percent capacity for the race.
DiBenedetto was penalized for forcing William Byron below the yellow line, pushing him to 21st place. Moments after the race, Chase Elliott was penalized as well for going below the yellow line. About an hour after the race finished, NASCAR released another ruling: the penalty against Elliott was rescinded, and Chris Buescher was penalized for forcing Elliott below the line.
"It's just a crazy finish," DiBenedetto told reporters. "I haven't been able to really process it. I just really want to get this thing in Victory Lane. I feel like this is the same story a lot of times, just heartbreak. I tried to block all I could. This is tough."
Afterward when Hamlin was asked in his post-race news conference if he was surprised by the call on DiBenedetto, he answered forcefully, "No," not waiting for the question to be finished.
"No," he said again. "They called it all day. It's a non-story."
As for why he went below the line, Hamlin added later that he had inside position and "was flat-out trying to avoid a wreck."
Scott Miller describes the yellow-line calls on the final lap, penalizing Matt DiBenedetto and Chase Elliott and no penalty for race winner Denny Hamlin. Plus his thoughts on eliminating the rule: pic.twitter.com/DzZwE6wfax

— Bob Pockrass (@bobpockrass) October 4, 2020
It all capped a wild ending for the Talladega race. On No. 183 of the 188-lap race, leader Bubba Wallace was bumped by Ryan Preece and made contact with the wall, which brought out a caution.
That set up the first two-lap shootout, with Joey Logano leading the field. Another wreck interrupted the race just as the white flag was about to drop. Kyle Busch, whose No. 18 car was beat up from a day of getting battered, was spun by Tyler Reddick.
Their wreck caught up Joey Logano, who also was flagged for forcing Chase Elliott below the double-yellow line. By the start of the second shootout, Logano had retreated to the garage, done for the day.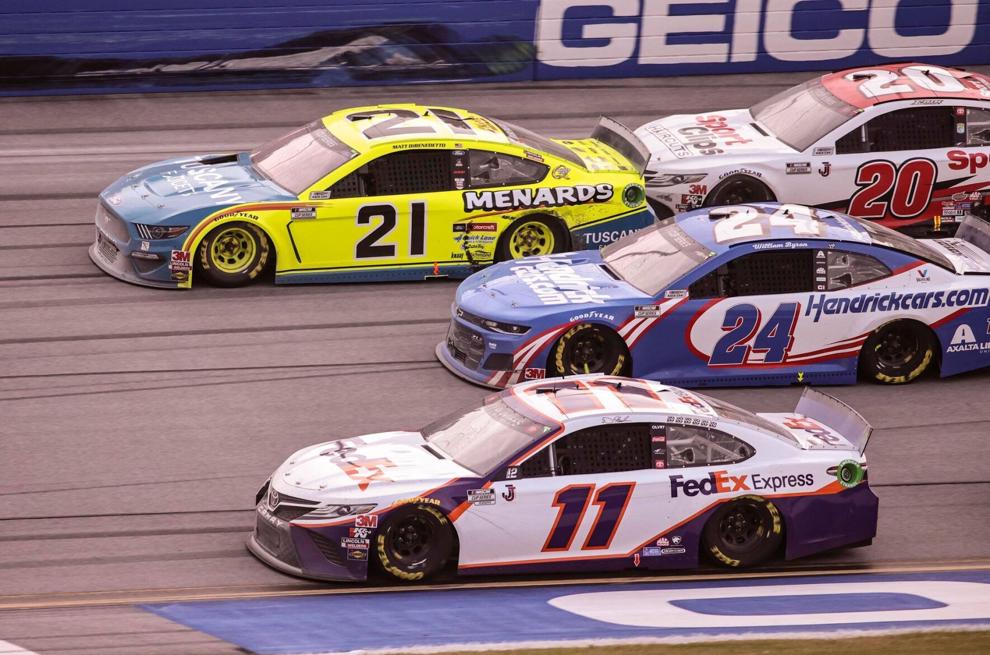 The second overtime was ruined by a wreck back in the pack when Preece nudged Wallace again, and Wallace spun into the wall. Wallace, who led the race with fewer than 10 laps to go, was done for the day.
Chase Elliott was in the lead, but he didn't have enough gas to stay on the track heading into the third overtime. He was forced to pit, leaving Matt DiBenedetto in the lead and Hamlin second.