NASCAR President Steve Phelps released the results of the organization's investigation into the noose found in the garage stall of driver Bubba Wallace at Talladega Superspeedway.
The discovery of the noose by a member of Wallace's race team touched off an investigation that involved the FBI. According to NASCAR, the FBI investigation showed the noose had been in place since October during Talladega's fall race weekend and was not aimed at Wallace, the Sprint Cup Series' only Black full-time driver. His team wasn't assigned that garage stall until last week. Race teams are assigned garage stalls based on their accumulated Cup Series points.
In addition, NASCAR released a picture that was gathered by its security team as part of the investigation, and it appears to show what appears to be a noose — not just a garage pull-down rope. Wallace himself, in an interview with CNN on Wednesday, hit back at skeptics and said it was a "straight-up noose."
Said Phelps: "As you can see from the photo, the noose was real, as was our concern for Bubba."
Phelps said NASCAR's wider investigation included having personnel go through each of the 29 tracks that host a Sprint Cup Series race.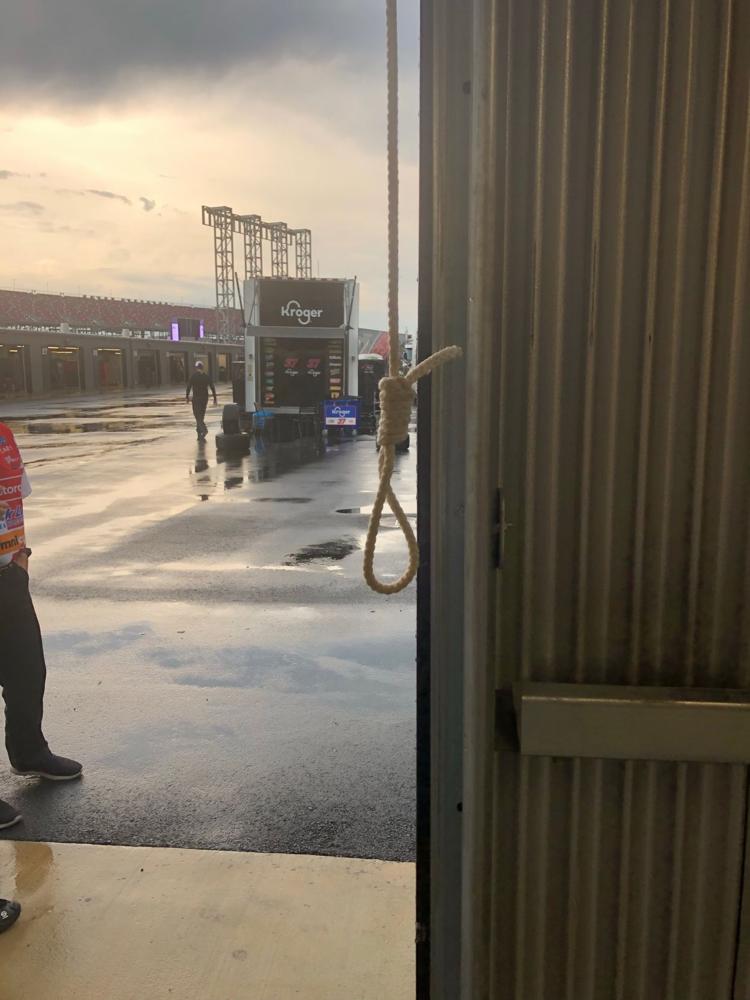 "So, across those 29 tracks and 1,684 garage stalls, we found only 11 total that had a pull-down rope tied in a knot," Phelps said. "And only one noose: The one discovered on Sunday in Bubba Wallace's garage."
Phelps said the investigation conducted at Talladega Superspeedway showed that the noose was not there when the October race weekend began but was added at some point to that garage stall before the Cup Series moved on.
"Given that timing and the garage access policies and procedures at the time, we were unfortunately unable to determine with any certainty who tied this rope in this manner or why it was done," Phelps said. "We know it brings up another question: how could it have gone unnoticed by so many people in October 2019 and for the morning on June 21, 2020?
"Our ultimate conclusion for this investigation is to ensure that this never happens again, that no one walks by a noose without recognizing the potential damage it can do."
Phelps outlined steps NASCAR is planning:
—Installing additional cameras in all of the garages at NASCAR races.
—Changes to sanctions and our code of conduct.
—All involved with NASCAR racing must complete sensitivity and unconscious bias training.
Phelps said specifics will be determined later.
"Going forward, our efforts are best spent on making sure every competitor feels safe and every guest feels welcome," Phelps said.
Wallace had been in the spotlight since earlier this month when, in the wake of the killing of George Floyd by Minneapolis police and resulting nationwide protests against racism and police violence, he called on NASCAR to prohibit displays of the Confederate flag at its events. NASCAR did just that, though it sparked some backlash, including a rebel-flag banner towed by a plane above the track on Sunday and a parade of cars near the speedway flying the Confederate flags.
This past NASCAR race weekend was the second since the ban was put in place.
"Fortunately, we didn't see any incidents of the Confederate flag on the property and our fans respected that," Phelps said. "And it was a great first step on that front. But were there heightened emotions and what has gone on over the past two and a half weeks in our country and then in our sport? I think it absolutely was emotionally charged for a lot of people, and I'll include myself in that."
Although Wallace has conducted interviews this past week, he released a prepared statement on social media Wednesday.
"It's been an emotional few days," Wallace posted on Twitter. "First off, I want to say how relieved I am that the investigation revealed that this wasn't what we feared it was. I want to thank my team, NASCAR and the FBI for acting swiftly and treating this as a real threat. I think we'll gladly take a little embarrassment over what the alternatives could have been.
"Make no mistake, though some will try, this should not detract from the show of unity we had on Monday, and the progress we've made as a sport to be a more welcoming environment for all."