OXFORD — After surviving an Ohio Valley Conference softball tournament showdown with Southeast Missouri, Jana McGinnis had to check her scalp for a moment.
"I think I grew two or three gray hairs after that one," the Jacksonville State coach said following the 4-3 win.
The two teams tied for first place in the regular season, as they split two regular-season meetings. To decide which one would be the top seed for the postseason tournament, OVC officials ran through every tiebreaker they had until solving it with the last one — a coin flip. McGinnis called tails and lost.
Friday's rematch couldn't have been any closer. After JSU built a 4-0 lead, SEMO rallied with a run in the fifth. Then in bottom of the seventh, the Redhawks' first three runners reach base. They plated more two runs and had runners on second and third with two outs before JSU ace Faith Sims — who tweaked her shoulder on the first batter of the inning — coaxed Kalee Anderson into popping out to JSU third baseman Karsen Mosley to end the threat and the game.
That big gust of wind out of Oxford's Choccolocco Park at about 4 p.m. Friday might've been every fan, player, coach and staffer letting out their collective breath from the tension of the moment.
"It was definitely a relief," Sims said, "knowing we're in the championship game for the fourth time in a row, it was huge."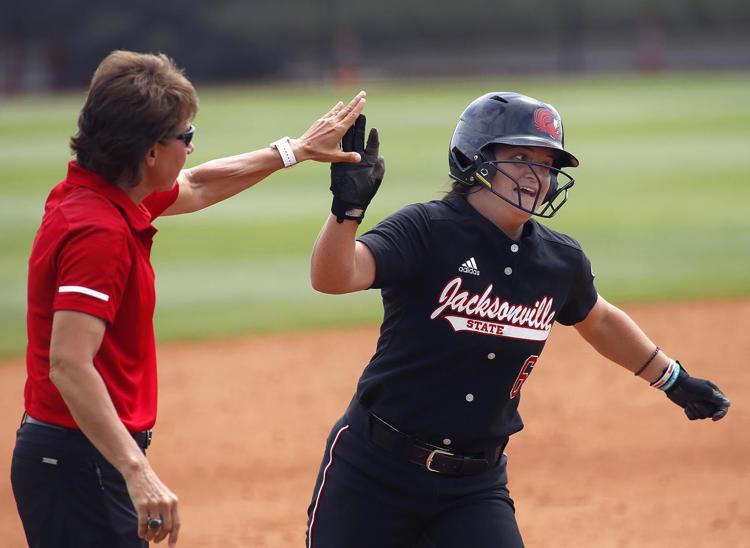 The win puts Jacksonville State (36-13) in Sunday's championship round against — who else? — Southeast Missouri (43-16). The Gamecocks aren't done yet with the Redhawks, who followed up the loss by beating Eastern Kentucky 11-8 in the elimination bracket final Friday evening.
They'll face off at 11 a.m. at Choccolocco Park, weather permitting. JSU has won three straight OVC tourney championships and needs only one win for a fourth. If SEMO wins the first game, the two squads will play a winner-take-all game 30 minutes afterward.
About Sims and her shoulder … she said afterward that she felt something when she hit leadoff batter Rachael Donald in the seventh inning. JSU later called an injury timeout to check on Sims.
"I'm good. I'm fine," Sims said. "I just tweaked it a little bit, but I'm fine. It's all good. It was just on that first pitch at-bat when I hit that girl, but I'm ready to go tomorrow."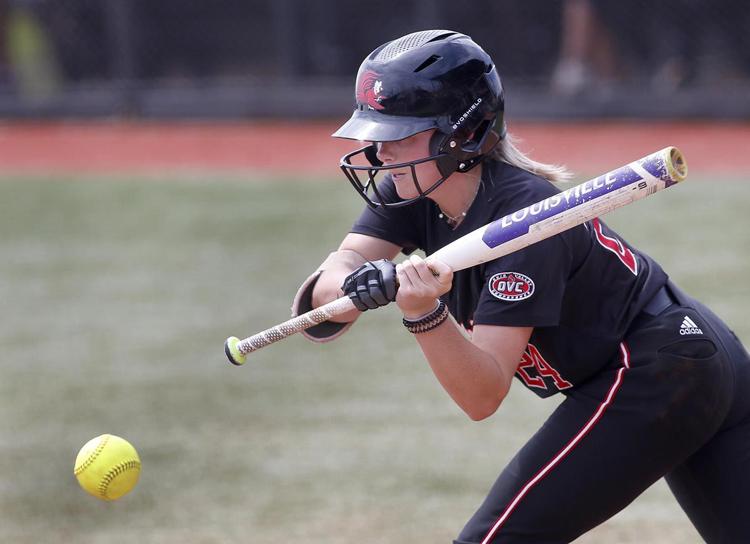 McGinnis considered removing Sims at one point. She got senior Kirsten Titus up in the bullpen and warming up. Titus' strength lies in off-speed pitches, and McGinnis thought she might be tough on SEMO in a situation like that, especially after facing the hard-throwing Sims all afternoon.
McGinnis even went on the field and visited the circle to check on Sims again. In the end, she stuck with her ace.
"Faith has worked too hard," McGinnis said. "She wanted it. If I had walked out there, and she said, 'Coach, I don't think I can finish,' I would've said, 'OK. All right. Let's pass the ball to somebody else.'"
The drama of the final inning overshadowed the Gamecocks' huge third inning. They managed only five hits on the day, but three came in that inning. Hayley Sims drilled a single up the middle. Jada Terry bunted and reached when SEMO couldn't field the ball cleanly. Sidney Wagnon bunted successfully and moved up both runners.
That brought up Anna Chisolm, who homered the previous day. She then socked a blast well over the right field fence. Taylor Beshears, who also homered the previous day, followed with a home run to center field. Chisolm and Beshears are tied for the team lead with 15 homers each.
That last inning also overshadowed the JSU defense, which put together its second straight errorless game. In the first half of the season, the Gamecocks struggled defensively, but so far through the tournament, they've fielded everything cleanly.
"I know that my defense has my back," Faith Sims said. "The offense scores runs, and my defense played great."
—Chisolm is 3-for-6 in the tournament and two of her outs were hard shots that SEMO defenders caught.
—Beshears has played six OVC tournament games and now has six home runs. She was the most valuable player of last year's event.
—Friday's game was the winners' bracket final, and this was the 10th time JSU has gotten that far in the OVC tournament. After losing the first time, the Gamecocks have won nine in a row.
—McGinnis on Beshears finding her home run stroke so often at the OVC tournament: "I think it's the moment. Not necessarily the facility, but the moment. I've always said if you're in a fight, you want Taylor Beshears on your side. That girl's got some grit."
—Chisolm on whether she's seeing the ball well lately: "Maybe. I can't really put a finger on it. It's nice that I'm hitting it more solid. I think I might've tweaked something with my head or my eyes, but I haven't done a drastic change."
—The championship round, scheduled for Sunday at 11 a.m. JSU has won the OVC softball tournament seven times under McGinnis.