For most all hunters, the primary mode of travel is their feet. Whether walking to a deer stand, flushing a covey of quail, or sitting in a duck blind, proper foot care is critical.
Cold, tired or wet feet have derailed many hunts for many hunters.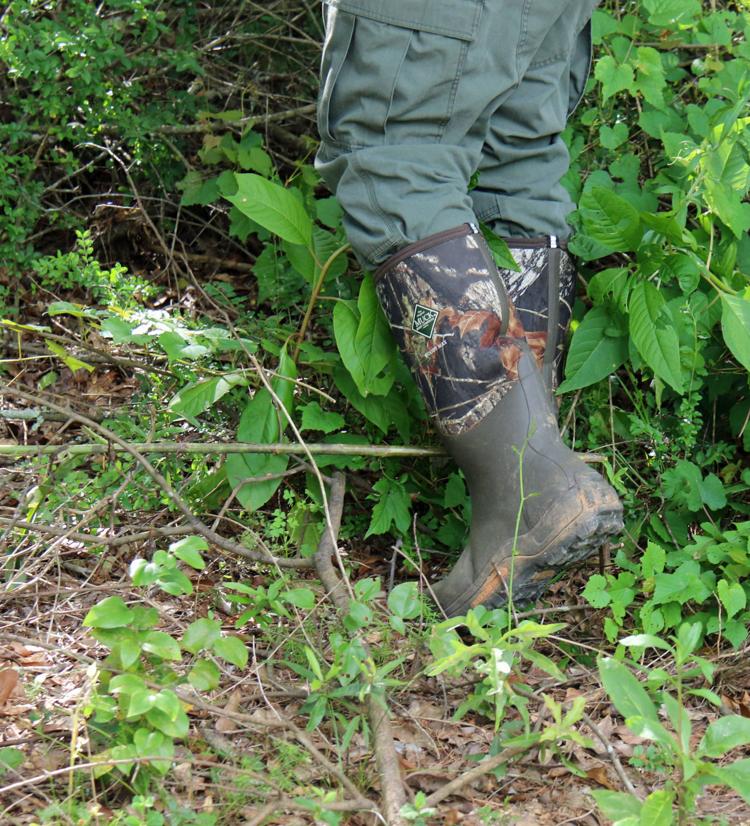 If your feet are not comfortable it is difficult to focus on the hunt. While you are distracted, a buck might slip by your stand or a flock of ducks could circle behind the blind.
Each person's feet are a little different. Some hunters have no problem keeping their feet warm and others may wear extra socks and their toes still get cold. As with outer gear, hunters will need to dress their feet according to the type of hunt and weather conditions.
Hunters should start their season on the right foot — or rather both feet. Proper foot care is essential for all types of hunters whether they are walking, stalking or hanging out in a tree stand or blind. As the old saying goes — healthy feet are happy feet.
Hunters with happy feet will be happy, and their hunts will be more enjoyable. Most hunters don't think too much about their feet until a blister or callus shows up. Then it may be too late and the hunt — or at least a comfortable one — could be over.
Hunters and hikers should wash their feet in warm water — not hot water. After washing with a mild soap, make sure to dry off your feet, especially between the toes.
Toe nails should be trimmed regularly. Cut straight across the top evenly. And don't think a professional pedicure is out of the question. Many hunters may shy away from the idea of a pedicure, but it can be the start to healthy feet.
"Rest is important if you start to have pain, especially during longer treks," said Sharla Eason, the clinic director at Therapy South in Talladega. "If you don't rest and continue to push, you are making yourself more prone to injury."
On trips where long hikes or extensive walking is part of the hunt, wash, dry and inspect your feet daily. Look for areas that could become "hot spots" for blisters and chafing. A little sprinkle of foot powder may help in keeping feet dry and feeling fresh.
Eason suggests if an injury does occur, you can be evaluated by your physician. A physical therapist can help treat a variety of injuries such as strains or sprain and even teach you simple stretches and exercises that address some common foot conditions that you have that may have been aggravated from walking too much while hunting.
It is a good idea to carry some mole skin, athletic tape and/or callus pads in a day pack on all hunts.
Also, an extra pair of socks is also wise. If your feet become wet from sweat or water, stops and change out your socks.
There is not a pair of boots that can do it all. Certain hunting conditions and weather factors should determine the type, and style of boot a hunter should select. Considerations should be given to how much walking or sitting a hunter will be doing when afield.
A bowhunter will need a different boot than a duck or rabbit hunter. Sure, there are some types and models of boots that could fit in for various types of hunts. But, to have complete comfort and protection for your feet certain style boots will be a better fit overall.
"First off, you should have a pair of boots that fit properly," Eason said. "It is good to size up one-half to one full shoe size due to factors such as swelling of the feet, use of thicker socks, and the use of liners."
It is wise before a new boot purchase to try on the boots with the type of socks you will wear while hunting. Slip on both boots at the same time while in the store. Lace, tie-up or slip on the boots and stand and walk around. Flex your feet and ankles. Make sure the boots fit well. If your fit is incorrect, you could be in for some uncomfortable treks, even if only a short distance.
"Waterproof material is important to help keep your feet dry to reduce risk for skin breakdown," said Eason.
Also, make certain to select boots for your hunting terrain. A boot designed for a winter hunter won't perform well in warmer climates. Boots that don't have good ankle support won't cut it on steep terrain. Also, rubber style, neoprene boots aren't designed for walking several miles.
Lasts, which are the molds boots are made from, are designed to fit the average person. If your foot size is a nine, 10 or 11 in medium width, chances are boots made from these molds will fit you. However, for other sizes or widths, you will want to shop around to locate a pair of boots that fit you.
Purchase your boots in the afternoon. Feet swell during the day and you will get a better fit. With a proper fit there should be at least a thumb width from the longest toe to the end of the boot. Also, look for boots with good arch support or consider using inserts.
All brands or company sizes may not be the same. A boot size of 11 in brand X may not be the same fit in brand Y. That's why it is important to try the boot on and make sure the fit is comfortable.
It is always a good idea to break-in a new pair of boots. Wear them around outside a few times before wearing them on a hunt. Nothing is more uncomfortable and disheartening that a new pair of boots rubbing a blister on your foot. Break in your new boots over several short periods instead of a one-time marathon.
"If rubbing from a boot is causing a blister, extra padding can be added to decrease rubbing," Eason said. "Moleskin is a good material to use for padding to reduce blisters or can be used after a blister is formed to protect the area while it heals."
Another factor in preventing agony of the feet is wearing the proper socks. There are many different styles of hunting socks available. Look for quality socks with a blend of Merino wool and polypropylene. Don't choose a pair of cheap socks.
Eason mentions a quality pair of moisture wicking hunting socks are well worth the price. They also suggest taking the socks you plan to wear hunting with you when purchasing a new pair of boots.
Some hunters may choose to wear two pair of socks. If a long trek is a possibility, consider a thin liner type sock in silk or poly blend. Over that, use a wool-blend hunting sock. In extreme cold, insulated socks or a boot liner may provide more protection.
Liner style socks will help absorb moisture and help keep your feet dry and warm. Hunters should always wear clean socks before every trip. And after purchasing a new pair, wash and dry them well before wearing.
Your feet are your main mode of transportation on any hunting trip. Take care of our feet with quality boots, socks and proper attention to prevent any agony of da' feet.