Like most young boys, Russ Sapp learned about hunting and fishing from his dad and papa. The trio would fish small ponds for anything that would bite and put a tug on the line. Sapp was 5-years-old when he started fishing. Now 23, the Lincoln resident said he loved being in the outdoors.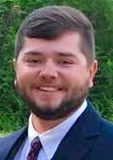 For Sapp, the outdoors is a place to spend time with God and family. He added that the outdoors is an escape from everyday life. It is a passion of Sapp to enjoy every moment in the outdoors. Fishing is exciting, and he said he always learns something new each time he is on the water. It's always an adventure.
Sapp's main target in fishing is bass. Largemouth, smallmouth, and spotted bass are favorites to catch anywhere he can. Two of his favorite methods of fishing is flipping grass mats and deep, offshore structure.
Sapp's favorite lure for grass is a 1½-ounce tungsten weight with a straight shank hook. His go-to lure is a soft-plastic beaver bait. For deep water structure he favors a crankbait or a football style jig. Sapp fishes year-round and usually gets on the water about three days a week.
If it is too cold for fishing, Sapp will chase deer. He hunts deer with both gun and bow but, prefers a rifle to reach out further. He usually hunts private land in Talladega County and south Alabama. Sometimes he can make a trip to Texas for a deer hunt.
Sapp will graduate college this summer and his plans are to guide fishing trips on Logan Martin lake and the Coosa River. A dream trip for Sapp would be to Lake Fork in Texas to catch a bass over the 10-pound mark.