HAMPTON, Ga. — What with the whole sad and sobering fact that nobody who ever owned an Alabama driver's license is racing in the Monster Energy NASCAR Cup Series these days, we have to rely on our neighbors to the east for sentimental homecoming stories.
We are at Atlanta Motor Speedway, where a couple of second-generation drivers were asked approximately 12,849 times apiece Friday some variation on the question of "What's it like to be back home?"
"I thought," David Ragan responded to one such question, "you were going to ask me how many speeding tickets I got down here."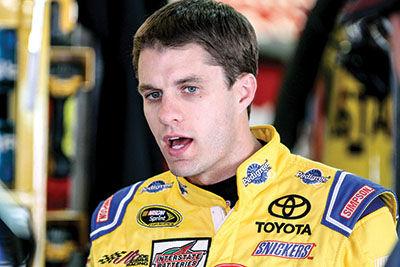 The objects of such inquisition are Chase Elliott, 23, and the 33-year-old Ragan, who qualified 22nd and 23rd, respectively for Sunday's Folds of Honor QuikTrip 500. (Ah, leave it to NASCAR to marry in sponsorship the two American passions of patriotism and taquitos warming on those roller-cooker thingies.)
Starting way up ahead through Elliott's and Ragan's windshields are pole-sitter Aric Almirola, whom you may recall as last October's Talladega winner, and Ricky Stenhouse, both in Fords on the front row. Clint Bowyer and Daytona 500 winner Denny Hamlin are on the second row.
In the NASCAR pecking order, Ragan and Elliott share little more than Georgia heritage. Ragan has two career wins, Elliott has three.
If indeed Ragan got caught speeding, he likely had to pay the fine. If Elliott got caught, the trooper probably let him off with a warning. Elliott did a commercial that ran during the Super Bowl. Ragan watched the Super Bowl.
Both Elliott and Ragan spent many a childhood hour at this speedway. You may have heard of a fellow named Bill Elliott. He was a five-time winner at this place, on the far end of the Atlanta metroplex from where he and his family built a racing empire in the old moonshining hub of Dawsonville. Chase grew up nearby, going to high school in Alpharetta.
Head the opposite direction from here, about 57 Waffle Houses south down I-75, you'll find Unadilla, from where a journeyman racer named Ken Ragan hailed. He toiled for 10 seasons on the NASCAR circuit, entering 50 races and collecting some $210,180 — or about a fifth of what "Million Dollar Bill" Elliott pocketed on one fabled afternoon in Darlington.
They are also drivers in opposite directions. David Ragan has but one top 10 finish at Atlanta in 16 starts while Elliott has gone eighth, fifth and 10th in his three starts.
"I've enjoyed racing here," Elliott said. "It's been a fun race track. We have the ability to be fast and contend. Any time you can do that, I'm looking forward to going out there."
And, for the Big Homecoming Question: "I don't think there's any more pressure. It's nice to be close to home more than anything."
Let the record show that Chase Elliott eschewed the typical cap with his sponsor's logo. The kid making the homecoming was wearing an Atlanta Braves cap.
Ragan was racing here when Elliott was still in diapers and Fred McGriff was wearing a Braves cap.
"I remember here, I guess it was almost 20 years ago in 1997-98-99, racing my Bandolero car (imagine a go-kart on steroids) and just trying to sneak into the garage or trying to hang on by the fence and watch Bobby Labonte or Dale Jarrett or any of those guys drive by," Ragan said. "I would think, 'Man, that is really a Cup Series driver in that car.'"
He's been busy with reunions with former competitors and old friends, sponsor duties and even a clay pigeon shoot.
But, as Ragan said, "The icing on the cake is 500 miles here at a cool race track."
Veteran sports columnist Mark McCarter is a special contributor to The Anniston Star. Contact him at markfmccarter@gmail.com.