Jalen Hurts isn't in Tuscaloosa anymore, and neither is a hope of Alabama winning a championship if Tua Tagovailoa's ankle injury is serious.
He went down in the second quarter of Alabama's 35-13 win Saturday over Tennessee and went to the Tide's super-secret injury tent before trainers escorted him to the locker room. Afterward, Nick Saban said Tua has a high ankle sprain and will be out one to two weeks.
Alabama can beat Tennessee with Mac Jones behind center. The Tide can beat Arkansas next week with Jones.
Whichever team comes out of the East to play in the SEC title game?
Clemson, Oklahoma, Ohio State or anybody else who makes the playoffs?
How would you rate Alabama's chances?
Maybe Alabama should hold a prayer vigil for Tua's ankle. They can host it at Bryant-Denny Stadium and dim the new color lighting setup appropriately.
This reaction isn't so much about Tagovailoa and his obvious value. Instead, it's about how Alabama relies on Tagovailoa more than Saban will ever acknowledge, maybe even more than he did Heisman runner-up AJ McCarron in 2013.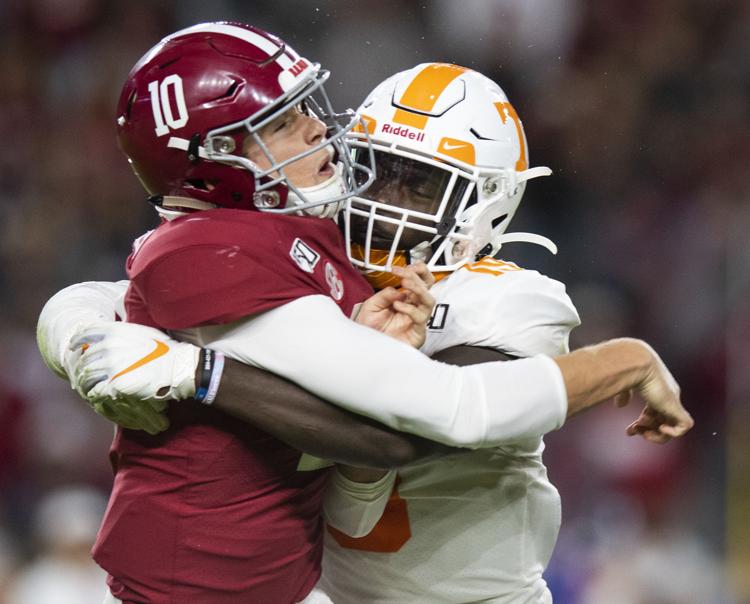 This time, there's no Jalen Hurts to save the day. There's no awesome defense to hold down the other team while an inexperienced quarterback tries to grind out some points. Also, there's no kicker who's going to make a coach say, "If we can just get into field goal position …"
The place-kicking situation is puzzling, to say the least. Why in the name of Philip Doyle and Michael Proctor can Saban not find anyone else who can boot the ball between the uprights consistently?
Adam Griffith, who kicked five field goals to help beat Auburn in 2015, was underrated, but even he drew fans' ire for missing a pair of field goals in a loss at Ole Miss.
About that missed field goal Saturday after Tennessee called timeout three straight times? You could see that one coming from farther away than that Tennessee safety who sacked Jones in the first half.
As for the defense, it's better than last year in at least one key area — interceptions. With one more Saturday, Alabama has seven this season.
Still, Alabama is a pedestrian 37th nationally in total defense. Temple, Tulane and Old Dominion are ranked higher.
Against the run, Alabama is 46th. Really? 46th? Didn't Alabama used to lead the nation in that statistic just about every year?
Certainly, it hurts the Tide defense that Alabama now plays fast on offense, which means shorter possessions, especially with Tua playing home run derby whenever he gets the chance. And, why not play that way? When you've got a quarterback like Tua, It works.
But, it's just odd to see Tennessee's Tim Jordan move a pile of Alabama defenders forward like he did at times Saturday. Alabama stiffened late when Tennessee had first-and-goal at the Tide 2, but Alabama's young defensive line and linebackers aren't going to do that consistently.
If I were Tennessee, I'd be pretty ticked off right now. In the Vols' last 13 games against Alabama, that might've been one of their best chances to win in this series. They were down only eight at one point, Tua was out, Alabama was struggling, and Tennessee had the momentum.
Jeremy Pruitt's team lost a chance. The Vols could've celebrated on their MySpace pages with their MySpace best friend Tom, which is where I guess they did the last time they beat Alabama in 2006.
If Tagovailoa is really hurt, Alabama should consider its options, if Jones isn't the guy? Maybe run the Wildcat the whole game? Or … maybe get Tua's younger brother, freshman Taulia Tagovailoa, ready to play? That would be interesting.