So where does Alabama go from here?
Jaylen Waddle is out for the year, and although the Crimson Tide hardly needed him in Saturday's annual bludgeoning of hapless Tennessee, there's going to come a point this season when he'll be missed.
He's maybe the most explosive receiver/kick returner in the country. Who wouldn't want him in their team's uniform?
Waddle's ankle got rolled up under a Tennessee player on the opening play, and he left the stadium in an ambulance. Tide coach Nick Saban says Waddle won't return this season. Alabama will have to go with Plan B, which is something a bit different from how the Tide usually handles losing a star player.
The Crimson Tide has so many players who were five- or four-star recruits that it's kind of hard to walk on campus without bumping into one. If a five- or four-star goes down, the next guy up was rated about as highly.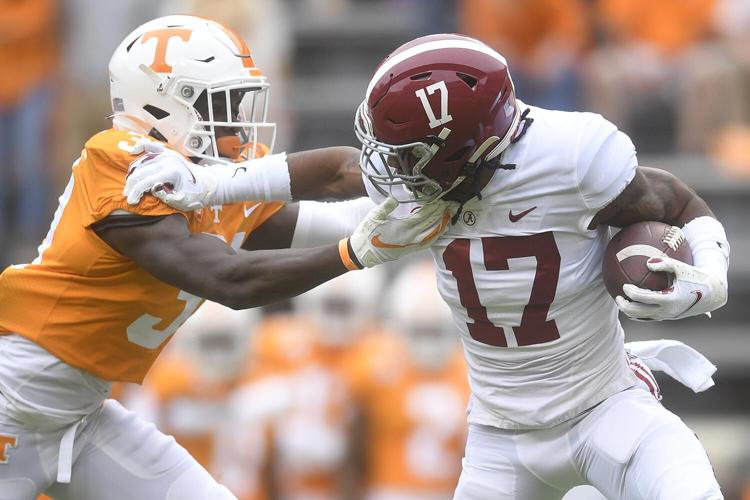 Alabama is turning to Slade Bolden, who wasn't one of the more exciting names in Alabama's recruiting class of 2018.
Rivals rated Bolden as a four-star prospect out of West Monroe, La., but 247sports' composite rankings of all the services rated him as a three-star.
While getting a three-star prospect would be a good deal for about 95 percent of the football teams in the country, it seems almost quaint when one makes the Alabama lineup.
Waddle was in that 2018 class, too, as a four-star wide receiver who was rated the 39th best player in the country. Bolden was 490th, which put him ahead of only four others in Alabama's 22 signees that year. One of the ones below him was quarterback Layne Hatcher, who transferred to Arkansas State and was Sun Belt Conference freshman of the year last season.
Bolden was an all-around talent in high school — running, passing and playing defense. Bolden has proven himself good enough at enough different things in college, too, to warrant some time on the field.
After redshirting his first year, he carved out a small role in 2019.
He's a pretty decent Wildcat quarterback, even completing a pass one time. He can serve as a kick returner in a pinch. He's especially good on special teams. His six tackles on kick coverage teams last year tied for team-high honors. He caught a couple of passes, too.
On Saturday, he did some good things in his first extended playing time at receiver. He managed six catches for 94 yards, including a 30-yarder early in the game. He also had back-to-back catches of 17 and 22 yards.
Bolden lost a fumble when a Tennessee defensive back punched the ball out of his grip. He had a drop, too. Even so, Tide coach Nick Saban said afterward Bolden played well.
It's especially important for Alabama's championship hopes that Bolden can handle his new responsibilities — well, either Bolden or someone on the roster.
Until Saturday, Alabama's passing game pretty much involved only three receivers. John Metchie III, DeVonta Smith and Waddle were the only receivers to catch passes. Tight end Miller Forristall and running back Najee Harris caught passes, too, but beyond those five, it was pretty barren. Bolden hadn't even caught a pass this year until Saturday.
At times against Tennessee, Alabama put Harris in one of the wide receiver spots. Maybe that will happen more on occasion.
Still, it's Bolden who's on the clock now.