Joe Medley: For Jones, appreciation has its day on court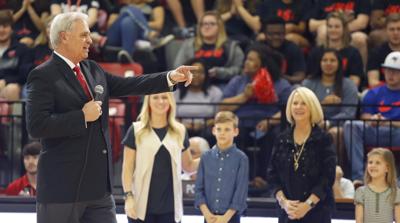 JACKSONVILLE — Something seemed right with this picture of Bill Jones and Jacksonville State basketball.
There the 73-year-old former Gamecocks coach knelt, right above the "B" on Pete Mathews Coliseum's freshly named Bill Jones Court. The backdrop shows a hoops venue remodeled beyond recognition from the days when he coached JSU to Division II glories.
A combination Ohio Valley Conference championship/NCAA tournament banner, dated 2016-17, lords over one goal. It marks the final realization of a dream that drew JSU to Division I in the early 1990s and cost a period of alienation for folks like Jones.
Like the other Bill who now has his name on one of JSU's major sports venues, Jones feels a part of it all again.
"One of the most basic human emotions is appreciation," Jones said.
Thursday's dedication of Bill Jones Court, at halftime of JSU's 78-67 win over Belmont, made the deferred appreciation Jones has felt in recent years official.
There's a Bill on the football turf known as Burgess-Snow Field in JSU Stadium.
There's a Bill on the hardwood of Bill Jones Court.
Together, Burgess and Jones did a lot to make it possible for JSU to pay Division I bills. Appropriately, two great coaches from a great era of JSU sports, both having suffered from the Division I move, lived to see their perpetual facility-naming appreciation.
It took a "Burgess Boys" campaign and receptive administrative ears to thaw the chill from Burgess' 1996 firing and put his name on the football field. It was long overdue for the coach who won JSU's only national football championship, in 1992, the school's final Division II season.
It took receptive ears to end what Jones acknowledges were "several years" of distance after his 1998 retirement and loop back in the coach who won JSU's only basketball national title, also in Division II.
"The current administration has turned that around, in my mind," Jones said. "Dr. (John) Beehler has reached out to me and made me feel welcome, and (athletics director) Greg Seitz probably more than anybody.
"I think my players are more involved in the basketball program than they have been since the university decided to go to Division I."
Seasons change, and so do programs. People, too.
Jones went 477-226 in 26 seasons as a head coach, all but two at JSU. He led JSU to its 1985 Division II title, eight D-II NCAA tournament appearances and six Gulf South Conference titles.
Before retiring in 1998, he spent his final seasons trying to make JSU basketball work as a Division I program.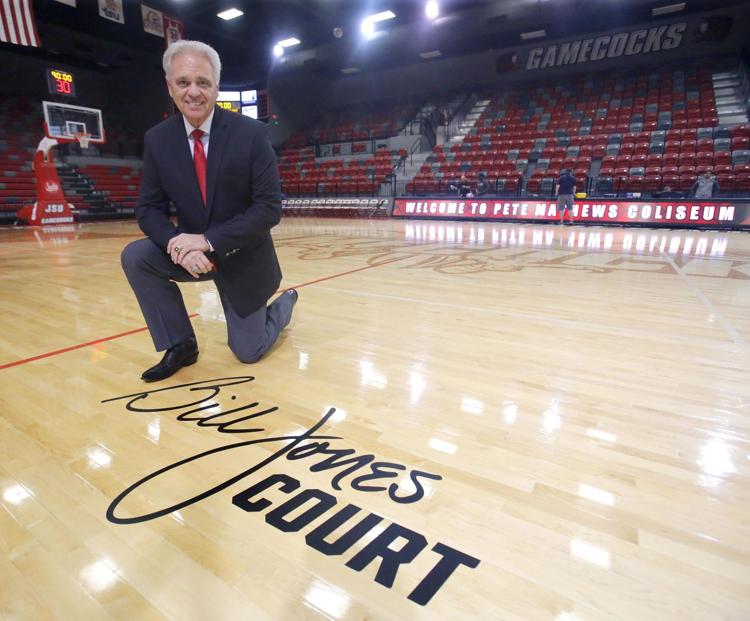 "We weren't even in a conference when we went," he said.
It was hard to schedule games, recruit and budget.
"We had to establish some other sports, too, so it got economically really tough," Jones said. "There were some bad times in basketball."
Jones said he never fatigued of basketball but grew "fatigued with the battle" and retired.
"It was testy. I admit," he said.
Jones moved on and stayed mostly moved on, until relations thawed in recent years. Seitz called for his counsel during the search led to current head coach Ray Harper's 2016 hiring. Harper has Jones speak to the team periodically and invited Jones to sit on the bench during the Gamecocks' first Division I NCAA tournament game.
Thursday, Jones saw his court naming, leaving him "flooded" with emotions. Most of all, he felt appreciation.
"You like for people to appreciate all the many hours that you put in to make things successful for everybody," he said. "Then, all of a sudden, to not have anybody recognize that, I'll have to tell you, at times was disturbing. It's hard to understand."
Sports Writer Joe Medley: 256-235-3576. On Twitter: @jmedley_star.