JACKSONVILLE -- On the morning of March 20, 2018, Benedikt "Benny" Thalmayr was suddenly without a home and without his stock of medication needed to treat his Type 1 diabetes. Before he could do anything about it, however, the Jacksonville State golfer had to leave that all behind to travel to Florida to play in a tournament.
The March 19 tornado in Jacksonville damaged and dampened a lot of things, but Thalmayr's positive attitude wasn't one of them.
"He was just unfazed by it," JSU men's golf coach James Hobbs said of Thalmayr's response to his life turning upside down.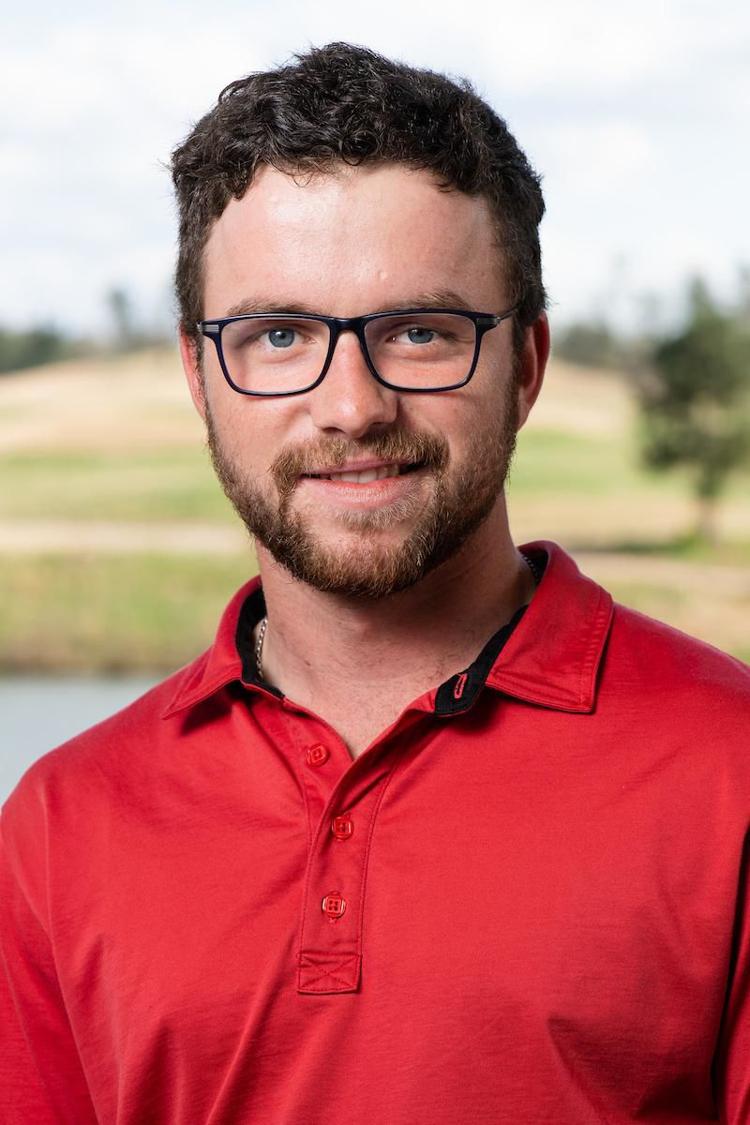 "He never moped around or held his head down. All those things would put some people in a very low mood, but I just didn't see it with Benny."
Growing up in Olching, Germany, Benedikt Thalmayr dreamed of becoming a professional golfer.
Benny, as his American teammates christened him later after being unable to pronounce his name, faced a choice as he neared the end of high school. Unlike in the United States, Germany doesn't have a collegiate golf system.
"I knew I wanted to turn professional in golf," Thalmayr said. "There's the option to go straight to professional, which is risky because you are going to a completely new environment, or the option to go through college."
After sending his information to hundreds of college coaches in the United States, Thalmayr received five offers.
"I flew over in October to visit all of them," Thalmayr said. "In the end, the best offer and the best feeling I had was at Jacksonville State, so that's why I came here."
After arriving in Jacksonville, Benny had a new challenge: adjusting to life in a new country away from his family.
"At first, it was a huge adjustment," Thalmayr said. "It's a weird feeling if you go three or four months without family. It's a different thing, all of a sudden you are a 10-hour flight away from family and no one speaks German."
Over time, Thalmayr got more comfortable, quickly developing a liking for his new home.
"I certainly got more confident, having to be alone and learn how to do things. That helped me grow more. I kind of grew into the Alabama mindset, I guess."
Thalmayr's quick adjustment didn't go unnoticed by his coach.
"He's a likable guy, so he fit in very well," Hobbs said. "He's a great example for the other players, and he's been that since the day he got here."
While getting settled into Alabama life, Thalmayr still had one more challenge to his golfing performance.
After Thalmayr was diagnosed with Type 1 diabetes when he was 13, he dealt with his treatments in different ways, eventually settling on an insulin pump. Benny's pump consistently delivers small amounts of insulin, mimicking how the human pancreas works.
In a sport such as golf that requires long periods of intense concentration, Thalmayr still finds success despite the constant distractions his afflictions provide.
He said the pump is his biggest challenge on the golf course.
"I have to constantly check it, because every imbalance in the sugar is going to affect my concentration, my physical state in that moment, my mental state in that moment," he said.
After arriving in Jacksonville in January of 2016, Benny and the Gamecocks won an Ohio Valley Conference championship in his first full season in 2017.
Midway through another successful season the following year, tragedy struck Jacksonville.
As the 2018 tornadoes ripped apart the community of Jacksonville and the campus of JSU, Thalmayr was just thankful he was safe.
"I was not in my apartment at the moment, so I was really lucky," he said. "We were lucky that no one got killed."
Thalmayr and the Gamecocks left behind the wreckage the next day, headed for a tournament at Florida Atlantic University. Along with the rest of the JSU community, Thalmayr's thoughts remained in Jacksonville.
"Of course at this moment, you have in your head all the things you need to figure out when you come back," Thalmayr recalled. "I knew my apartment was gone; I didn't know if I can recover anything in there."
Just as he had adjusted to life in America, and just as he manages his diabetes, Thalmayr dealt with it.
Just as he always had been with him, Hobbs was amazed.
"People deal in those situations differently," Hobbs said. "His apartment was destroyed, and he lost almost everything that he had personally as far as clothing and shoes.The amazing thing about Benny is that he just dealt with it."
After returning to campus, Thalmayr found a place to stay on a teammate's couch and got new medication. Despite his life being in flux, Thalmayr was not allowed a reprieve from golf or his studies.
"On top of all of that, he had to finish school, and he had to play golf," Hobbs said. "He had to carry on his day-to-day routine while he was taking care of all the extra things that were added to his plate, and that amazed me."
And on top of all that, he played golf well. Thalmayr and the Gamecocks won a second straight OVC title just a few weeks later.
Fast forward a year, and Thalmayr is now the lone senior on a team that just won the conference title for the third year in a row.
After all the challenges and hurdles that Thalmayr already cleared in his college career, naturally, stepping up to become a senior leader came easy to him.
"The leader responsibility has kind of developed over the year for me," Thalmayr said. "I knew that I was the only senior. I knew that I had to take the leader role, because I'm the only one that has been here the past three years. The good thing about this team is that there is not much to lead. They know what they are doing."
Heading into the start of the 2019 NCAA Regional in Louisville on Monday, the three-time conference champ thinks he and the Gamecocks have a chance to accomplish the one thing the senior hasn't in his decorated career: advancing to the national tournament.
"We have a greater chance now to go to nationals than we ever have," Benny said. "We go there with the mindset that we have nothing to lose, but also with the knowledge that we played great in the OVC. Let's just repeat that, and we have a good chance."