OXFORD — It's been a long time since Southeast Missouri has won an Ohio Valley Conference softball tournament. It's been almost as long since perennial power Jacksonville State has lost one on the last day.
In Saturday's championship round, SEMO had to win twice, by virtue of its Friday winners' bracket loss to Jacksonville State. The Gamecocks had to win only once.
They couldn't do it, falling 8-2 and then 6-5 when a late rally fell short. Southeast Missouri took home its first tournament championship trophy since 1999.
Jacksonville State hasn't lost in the final round since 2007. Since then, the Gamecocks have won seven tourney crowns.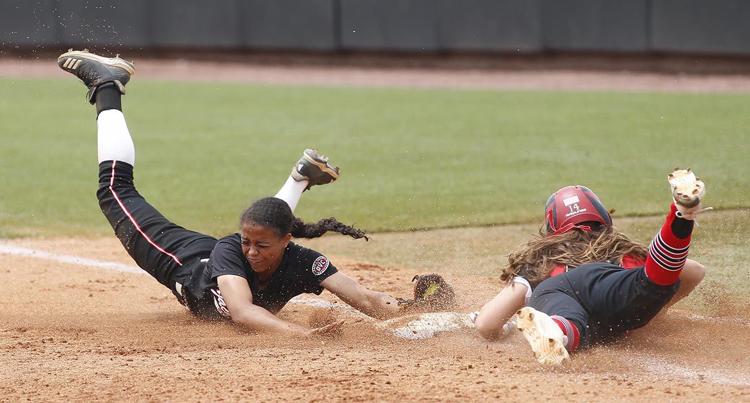 "It's been a while," JSU coach Jana McGinnis said afterward in an empty dugout. "I had kind of forgotten that feeling. It's not fun. It doesn't feel good. But, you know what? It was hard fought, and sometimes you're going to come up short, especially when you're here are much as we are."
McGinnis said SEMO appeared motivated, and Redhawks coach Mark Redburn said his players found some confidence when they lost 4-3 to JSU the previous day but nearly rallied at the end.
"It seemed at times our girls got knocked back, and I felt like we would be the ones knocking them back," McGinnis said. "I think they were very driven and hungry and out to prove something."
Even so, JSU still nearly managed a rally for the ages. In the second game, the Gamecocks trailed 6-0 through five innings, and all that seemed left to do was play out the last few outs so SEMO could start celebrating.
In the top of the sixth, however, Jada Terry led off with her first home run of the season — a shot over the left field fence.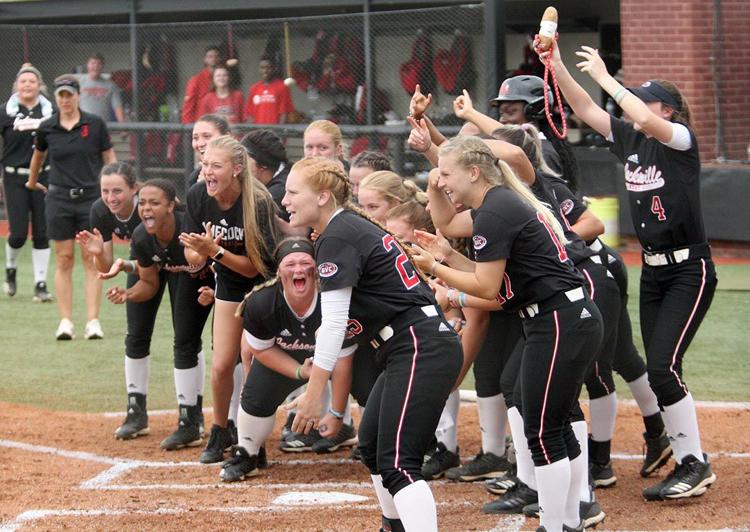 SEMO then took out starter Rachel Rook and inserted reliever Kalee Anderson. Sidney Wagnon then got on base when she was hit by a pitch. Karsen Mosley singled, and senior Anna Chisolm reached on an error that allowed Wagnon to score.
Taylor Beshears singled to center, pushing Mosley across the plate and driving Chisolm to third base.
SEMO then turned to Haley Thogmartin, who got two quick outs. Lex Hull got the rally going again when her hit to left field brought home Chisolm and Beshears.
"That's Gamecock softball," Hull said. "That's what Coach (McGinnis) tells us every day: be where your feet are. In the moment, our feet were there, and that's Gamecock softball — we just don't give up. Unfortunately, it didn't go our way today."
Thogmartin got senior Haley Sims to swing and miss on a 3-2 pitch to end the inning.
In seventh, Mosley started another threat with a two-out single to left field. That brought up Chisolm with Beshears on deck, but Thogmartin got Chisolm to fly out to left field, ending the threat, the game and JSU's season.
"In those last two innings, we had the go-ahead run at the plate and the bat in a senior's hands," McGinnis said. "So, hey … we just came up short. Give SEMO credit. They made the pitches when they needed to. They came up with the hits when they needed to, and we didn't."
Jacksonville State went with pitching ace Faith Sims to start the first game. She hurt her shoulder in the seventh inning of the previous day's game, but afterward said she was fine.
Even so, she clearly labored as she tried to get through one more game and give her team a championship. She pitched 3⅓ innings of the first game and left with JSU trailing 5-2.
Kirsten Titus, Reagan Watkins and Nicole Rodriguez worked the rest of the day, until the sixth inning of the second game. Sims returned to the circle after JSU staged its rally and pitched a scoreless inning.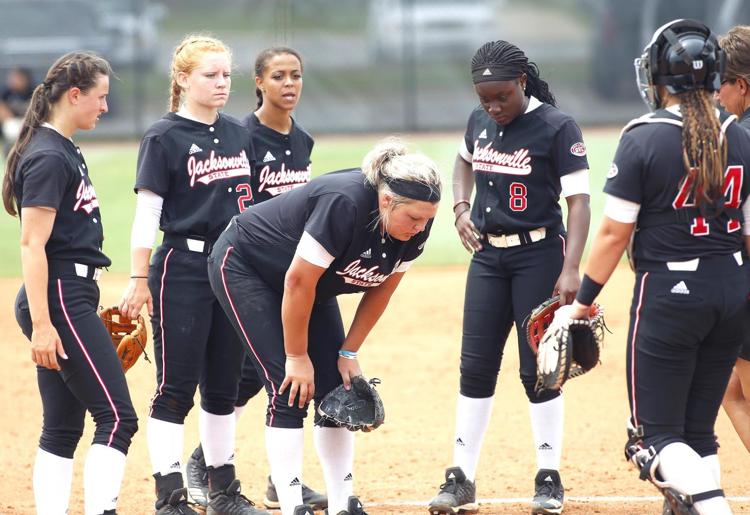 —JSU's lineup had belted six home runs in its first two OVC tourney games but managed only two in Saturday's two games, including one by Hull in the first game and Terry's in the second game. It wasn't for lack of trying — the wind was blowing in, as the flag beyond center field was pointing straight at home plate much of the day. JSU hit five shots that died in front of the fence, including three by Beshears and one each by Chisolm and Hayley Sims. All were caught, except for one by Beshears that hit the fence down the left-field line and went for a double.
—Beshears, Chisolm and Faith Sims made the all-tournament team. Beshears was 4-for-12 with two homers and two doubles, while Chisolm was 3-for-12 with two homers. Karsen Mosley did not make it, even though she was 6-for-14, including 3-for-4 in the final game.
—Southeast Missouri's Mykaela Arellanes, a senior outfielder, was the tournament's most valuable player. In five games, she went 8-for-16, scored seven runs, drew four walks and drove in eight runs.
—McGinnis on the season: "I'm thankful for being here in this game. I always look at things as lessons in life. What I hope this feeling does is motivate our young ones to feel that and go back to work for the future so that we can stand out here celebrating."
—Hull on the day: "We were ready. We were prepared."
—Jacksonville State finished its season at 36-15 and loses seven seniors from this year's squad: Faith Sims, Hayley Sims, Hull, Chisolm, Beshears, Titus and Amber Jones.