EVANSVILLE, Ind. — As Tyler "Cocoa" Phelion was sitting on the bench to start the fourth quarter, the senior couldn't stop moving.
Phelion, who started Thursday for just the second time since Dec. 9, 2017, was running through the play her head coach Rick Pietri just yelled in with her hands. She knew where she was meant to be at all times during Jacksonville State's 69-56 quarterfinal win over Morehead State. She knew so much that she finished with a season-high 24 points on 9-of-15 shooting.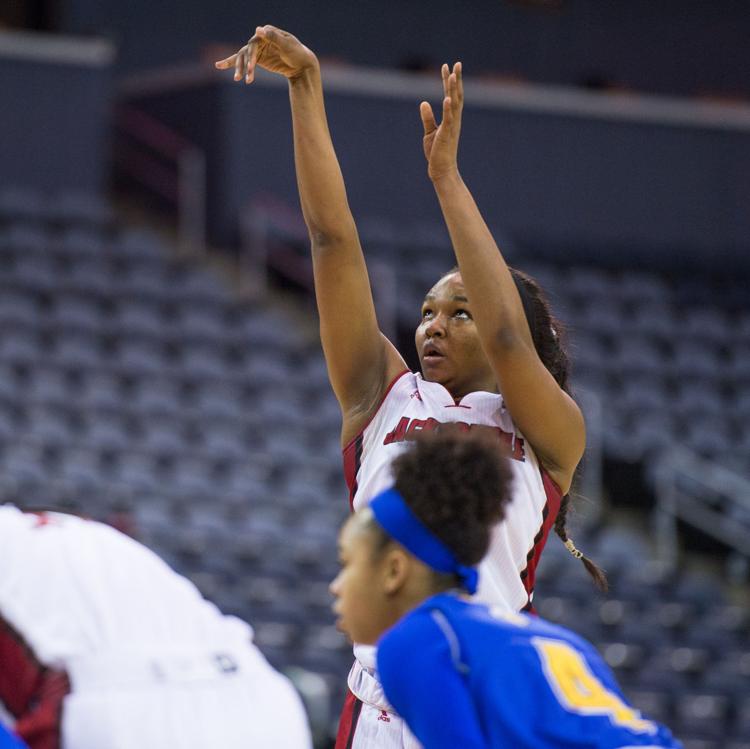 What she didn't know during the game, however, was the rate she was approaching history.
Her 24 points was one shy of Freddricka Embry's school-record 25 points in a OVC tournament game. Embry set the mark against Eastern Kentucky in 2004, which was the first OVC tournament game in JSU history.
Phelion stood at 24 points after hitting a pair of free throws with 3:34 left in the game. She had two opportunities to break the record, but missed a jumper 27 seconds later, then a final shot attempt with 1:16 remaining in the game.
"I just think my shots were falling today," Phelion said. "Honestly, I've been preparing a lot these last few games and this one in particular. I've been working on my offense and all of my shots, well pretty much most of my shots were falling."
—Three true freshmen played 16 or more minutes. Jayla Walker (seven points, three rebounds) played 16 minutes off the bench and was the first sub Pietri signaled for in the first quarter. Kiana Johnson (five points, three rebounds) started and played 18 minutes. Taylor Hawks (six points, three assists, two rebounds) started and played 25 minutes.
—With the win, Jacksonville State now has tied the school's Division I record with 19 wins on the season. The mark was set by the 2014-15 team, which finished the season 19-10 in Pietri's second season.
—Despite Phelion's chase of history, the signature moment of the game came with 1:58 remaining in the fourth quarter when Johnson, listed as 5-foot-9, jumped in the air and blocked a Darianne Seward 3-point shot. Morehead State was credited with a turnover, too, as the block forced a shot-clock violation.
—Rick Pietri on the win: "I'm happy that these kids got to experience a tournament victory. We missed the last two (tournaments) and haven't won (a tournament game) since (20)13-14. There's nobody in that locker room has won a OVC tournament game at Jacksonville State, so the fact that these kids got to is a big deal."
—Chloe Long on how the team was able to close out the game: "We just had to keep the intensity up without fouling. We knew we had to win this game and we wanted to win. We got that dub and felt good about it."
—Jacksonville State (19-11) will play top-seeded Belmont (29-3) on Friday at 1 p.m. ESPN3 and OVC Digital Network will carry the broadcast. The Gamecocks are 0-2 (71-55 and 66-35) against the Bruins this season.