EVANSVILLE, Ind. — At the beginning of the season, no one thought Jacksonville State would be sitting where it did Friday afternoon.
Yes, head coach Rick Pietri and the Gamecocks were on the wrong end of a 63-53 score in the Ohio Valley Conference tournament semifinals to No. 22-ranked Belmont, but many didn't even expect them to make the tournament let alone be one of the last four teams left.
JSU (19-12) had no preseason or postseason All-OVC honorees. Before the year, the Gamecocks were picked seventh in the league by the conference's head coaches and sports information directors and 10th by the league's media.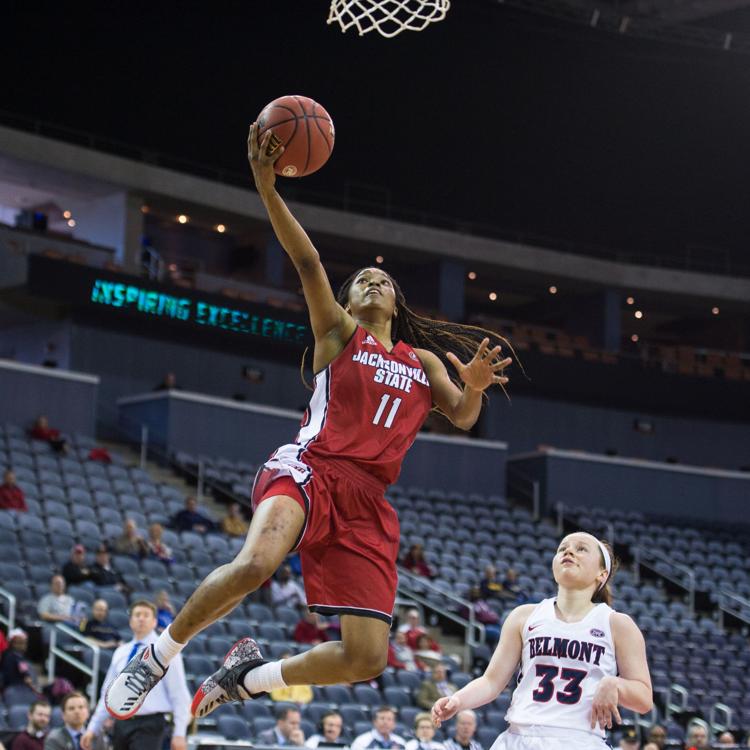 Preseason favorite Belmont (30-3) sailed through the regular-season schedule without a conference loss, and beating JSU means Belmont is only one win away from its third straight OVC tourney championship.
"I thought, overall, minus a few breakdowns here and there, we did what we needed to do defensively to win the game. That was there second-lowest point total in 20 OVC games," Pietri said. "Just, offensively, we weren't able to score. We weren't able to score consistently."
Belmont didn't lead until Bruins guard Darby Maggard made a jumper for a 33-32 advantage with 6:18 to go. After JSU retook the advantage on Jayla Walker's basket and free throw, Maggard made a 3-pointer with 4:07 left in the period. Belmont led at that point 36-35 and never trailed again. Maggard finished with a game-high 20 points.
JSU kept the lead to within single digits until late in the game.
"(Belmont) knew they were in a fight today," Pietri said. "The last two times we played them, the outcome wasn't even close. Today, under five media, they were still having to fight to win and that was true all the way until, maybe, two minutes left."
—Seniors Gretchen Morrison (nine points), Tyler "Cocoa" Phelion (seven points, seven rebounds) and Tasha Magruder (10 points) combined to score 26 of JSU's 53 points. Fellow senior Ki-Ki Patterson and redshirt junior Leah Strain (who plans to graduate and not play next season) did not see any game time.
—Jacksonville State, despite losing to Belmont by 31 points last week, led the game for 19:19 of a possible 40 minutes. The Bruins led for 18:17, with 15:51 of that coming in the second half. The game was tied for 2:24.
—Morrison made 3 of 5 from behind the 3-point arc against Belmont. She finishes her college career with 195 career 3-point baskets, which is second only to Briana Benson's 213 on the JSU all-time list.
—Pietri on JSU's year: "This group of seniors accomplished a whole lot. This group won 19 games, which tied for the most in the Division I era at Jacksonville State, and won 12 league games, which had never happened before. From a group that was picked seventh and 10th in the league during the preseason, everything was pretty much chalk except Jacksonville State."
—Phelion on why JSU made it to the OVC semifinals: "Our defense. That was one thing we focused on my whole college career. Defense was what got us here today."
—Jacksonville State finished the season fourth in the Ohio Valley Conference. JSU has eight team members who played this year eligible to return, including starting guards Taylor Hawks and Kiana Johnson and post player Rayven Pearson, who started much of the season. Johnson finished Friday with 10 points to tie Magruder for team-high honors.