EVANSVILLE, Ind. — At times it felt Jacksonville State was about to race its way into an Ohio Valley Conference tournament semifinal matchup with Murray State with ease, but Tennessee Tech pumped the brakes.
The Gamecocks led by as many as 11 points with 1:54 left in the second half but had to wait until a half-court heave by Kajon Mack fell into the outstretched arms of Jamall Gregory at the buzzer to celebrate its 73-70 quarterfinal win Thursday night.
"I was proud of the way we competed," JSU head coach Ray Harper said afterward. "I don't think it was one of our best games overall, especially on the defensive end, but hopefully, we'll get back tonight and watch some tape and try to get some of that corrected because we need to get everything corrected by 6:30 tomorrow night."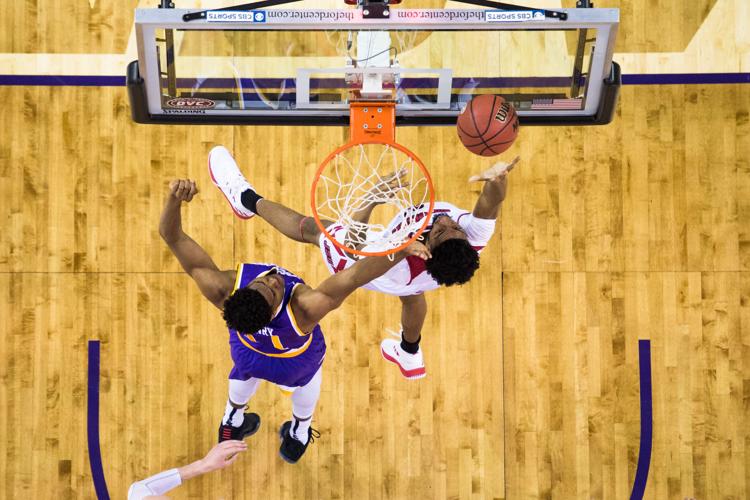 Tennessee Tech's Mason Ramsey answered a Malcolm Drumwright layup with one of his own to cut the lead to nine. A free throw to complete a three-point play made it eight.
Jamall Gregory missed the one-and-one, before Aleksa Jugociv scored to make it a six-point deficit. Drumwright split a pair of free throws to extend the JSU back to seven, but Curtis Phillips countered with a 3-point basket for TTU.
A Norbertas Giga dunk with 19 seconds appeared to put the game out of reach, but Jugovic sank a fall-away 3-point attempt over several defenders. Jason Burnell, like Drumwright, split a pair of free throws and a Kajon Mack tip-in made it a two-point game with two seconds left. Drumwright made the back-end of two free throws to force Mack's heave at the buzzer.
"I thought our guys did everything they had to do to win the game," Tennessee Tech head coach Steve Payne said. "You have to credit Jacksonville State a lot, because they hit a lot of tough shots."
—As if there was anything else left Ray Harper hasn't done in his tenure at JSU. With the win against the Golden Eagles, Jacksonville State has set a new Division I record with 21 wins on the season. The previous mark was 20 set last year.
—Drumwright, a senior, became the first player in JSU's Division I history to start 100 games in a career. By taking the floor, Drumwright also became the school's all-time leader in games played with 121.
—After taking a 30-28 lead into the locker rooms, Jacksonville State returned to shoot 72.0 percent (18-of-25) from the field during the second half. Four of those misses were from behind the 3-point arc. For the game, the Gamecocks shot 55.6 percent (30-of-54).
—Gregory on second-half dunk: "It was just a momentum play. The lane opened up and Coach tells me to use my athleticism and I just took off."
—Giga on first-half nerves playing in front of his mom, who is at the tournament after not seeing her son since he moved to the United States in 2013: "Not at all. I just don't think I came as prepared as I was supposed to and then Coach got onto me a little bit, which I appreciated. I just had to bring it in the second half."
—Jacksonville State (21-11) will play top-seeded Murray State (24-5) on Friday at 7 p.m. ESPNU will carry the broadcast.