EVANSVILLE, Ind. — Following Jacksonville State's 70-63 Ohio Valley Conference tournament semifinal loss to top-seeded Murray State, Ray Harper concluded a post-game news conference with a ringing message.
"If (OVC teams) think we are going anywhere, they're going to be in for a rude awakening," the second-year JSU head coach said. "Help is on the way. We are going to keep getting better. Our goal is to compete for championships every year."
While there are many things to take away from Harper's statement, the biggest might be "keep getting better."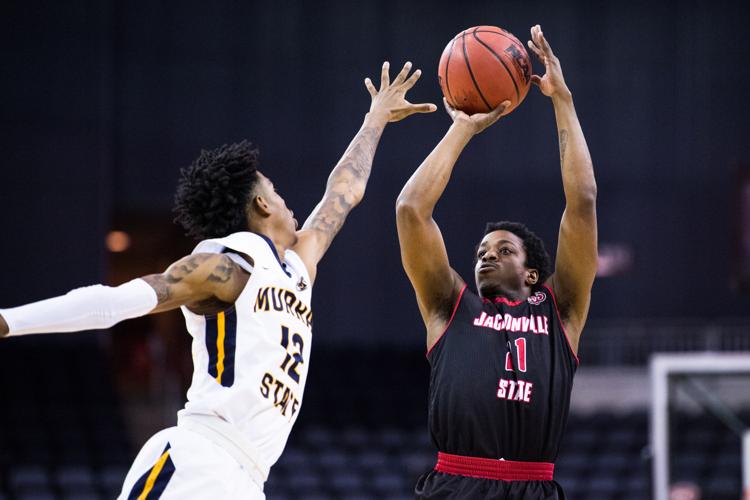 Despite being down 51-31 with 13:48 left in the game Friday night, Jacksonville State got better. How much?
The defending tournament champions stormed back to take a 63-62 lead with 2:41 remaining. The key was a full-court trap press, which Harper said he doesn't "always like to do."
During the 11:07 span of the second half, Jacksonville State forced 10 missed shots, including four 3-pointers, and six turnovers. Marlon Hunter capped the rally by hitting a basket and a free throw to give the Gamecocks their first lead since 3-2 in the first half.
However, Jonathan Stark, the OVC player of the year, scored the Racers' next five points before Shaq Buchanan had a tip-in and free throw to ice the game in the last two minutes.
"Obviously we made some mistakes there in the second half and credit Jacksonville State," Murray State head coach Matt McMahon said. "They really forced us into some turnovers and played incredibly well there."
—Malcolm Drumwright gave Jacksonville State a quick 3-0 lead less than a minute into the game on a deep 3-point basket from atop the key. After that, the senior guard missed his next nine shot attempts, including three from behind the 3-point arc, on his way to finishing with only three points.
—Friday night's loss to the Racers (25-5) marks the first loss for Jacksonville State in the OVC tournament under Harper. The Gamecocks are 4-1 after winning all three of their games last year and one this year.
—Murray State senior forward Terrell Miller had a double-double by the midway point of the first half into the game en route to finishing with 18 points and 18 rebounds. "I just knew Jacksonville State was going to be a physical team and I just wanted to get every rebound," he said.
—Harper on the game: "I thought we competed. We got down 20 and fought back. We shot three free throws during the second half and that's tough. We just couldn't get to the line. I don't know how many (Murray State) shot, but it felt like a ton."
—Norbertas Giga on taking the program to new heights: "We were just setting the limits and what to expect for the newcomers and new players next year. You're going to have to come out and play hard."
—Jacksonville State (21-12) finished the season fourth in the Ohio Valley Conference. JSU has 11 members who played this season eligible to return, including starting guard Jamall Gregory and forwards Jason Burnell and Christian Cunningham. Cunningham finished Friday's contest with a team-high 16 points and will become the school's Division I leader in career rebounds and blocks in the beginning stages of next season.