JACKSONVILLE — The sun shined, two teams played 10 innings of baseball, and fans came to watch.
Oh, and the home team won a game.
Jacksonville State's exhibition doubleheader with Mississippi State drew an estimated 1,300 to 1,500 to the new Rudy Abbott Field at Jim Case Stadium, which topped a big baseball weekend for the Gamecocks. JSU hosted an alumni lunch Friday and held a stadium dedication that afternoon.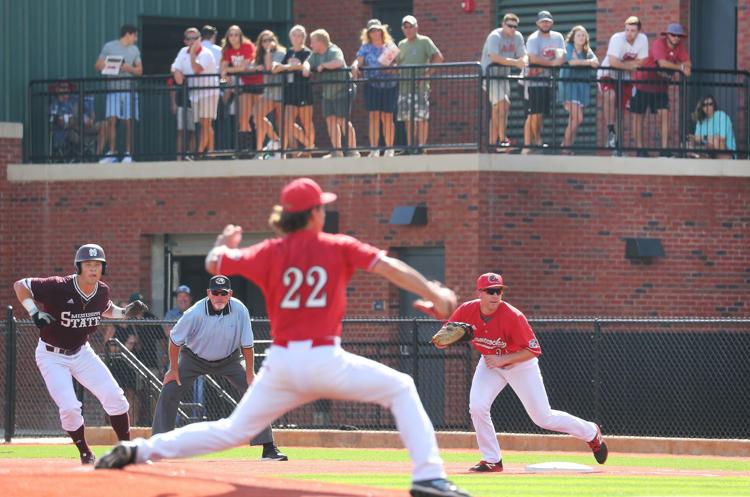 On Sunday, the Gamecocks got down to action, even though they had only two days of practice coming in. Mississippi State won the opener 3-0, but JSU took the second game 8-7 with three runs in the bottom of the last inning. Both games were only five innings, and teams were allowed to send whomever they wanted to the plate, although both pretty much stuck with a traditional batting order. The scoreboard wasn't even turned on, although both sides kept close watch of the score.
"The whole week was outstanding, and today was a beautiful day for our program and our school," said Case, who is entering his 18th season as JSU's baseball coach. "For this many people to come out for an exhibition game, it just brought an excitement to it and kind of showed what it can and will be like."
The players seemed excited to play in front of fans.
"It was awesome. It was awesome," senior catcher Nic Gaddis said as he left the dugout with a big smile on his face.
Nearly 30 minutes later, Gaddis served as tour guide, giving some fans a look through the fieldhouse.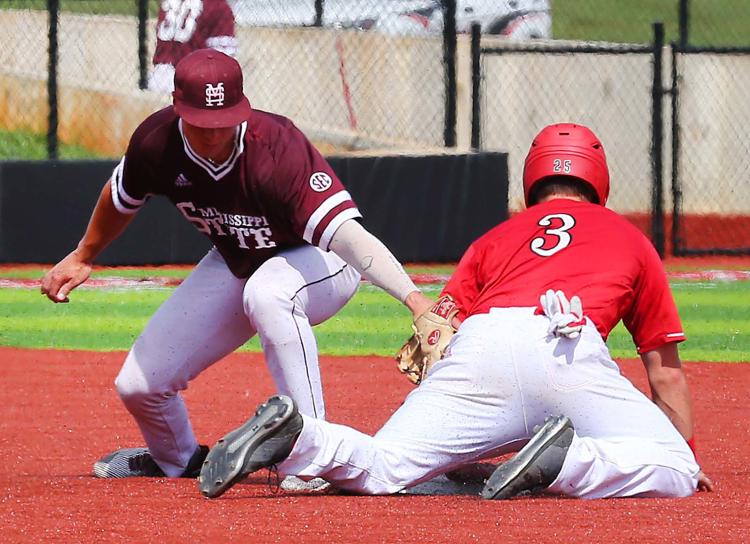 Sophomore shortstop Isaac Alexander added, "It was great to play Mississippi State in a couple of ballgames and have a bunch of people come and watch."
In 10 innings of action, Case used 11 different pitchers. Nobody worked more than a complete inning. Staff ace Garrett Farmer worked the first inning of the first game, and the top two relievers, Christian Edwards and Austin Brewster, each got an inning on the mound, too. But, Case's biggest priority was to get as many players in the game as possible.
"I know our freshmen were geeked up today. The thing about today was to go out, compete, have fun and be thankful that a team like Mississippi State came over here," Case said. "That means a lot that they would do that to help us open our new stadium. They didn't have to do that."
In the first inning of the second game, Alex Webb scored the first Jacksonville State run in the new stadium's history. He came across the plate after a Cole Frederick single off MSU's Brandon Smith.
JSU vs MSU at Jim Case Stadium
Images from the JSU vs MSU at the new Jim Case Stadium.
In the second inning, Nash Adams drove in Brook Brannon with a single. In the bottom of the fourth, with the two teams tied 2-2, JSU broke out with three runs. Freshman Isaiah Magwood, who pitched an inning in the first game, delivered a ground-rule double to drive home two runs. Zeth Malcolm scored on a wild pitch.
MSU scored four in the top of the fifth for a 7-5 lead, but JSU rallied against Mississippi State's Colby White.
Evan Veal led off with a single, and Carson Crowe and Andrew Naismith each walked. Brannon singled home Veal and Crowe to tie it 7-7. The winning run scored when freshman Matthew Kisor, pinch-running for Naismith, came home on a wild pitch.
"The field plays great," Case said. "We've still got a little bit to go to get used to it. There was some guys who slipped and slid a little bit. But the field has played great, and the ground balls we've hit in the couple of days of practice, we haven't had a bad hop yet."