John Grass has noticed a change in phone calls with longtime friend Bill Clark. Well, a change in their frequency, anyway.
"We're used to talking to each other probably once a week," a grinning Grass said. "We haven't talked since, probably, the middle of June."
Clark defers at the chance to share embarrassing stories about Grass.
"He probably could tell some on me, so we'll just let that be a stop right there," he said.
Gee, one would think Grass and Clark are preparing to square off as head football coaches.
Indeed, they will for the second time in their careers in a game that counts. Grass' Jacksonville State team will play Clark's UAB team Wednesday in the Montgomery Kickoff at Cramton Bowl.
It's the regular-season opener for both teams, UAB receiving votes in both major FBS polls and JSU holding a top-10 ranking in both FCS polls.
Those rankings mark a continuation of JSU's best era in Division I, and something Clark and Grass started together on JSU's 2013 staff … Clark as head coach and Grass as offensive coordinator.
Clark left JSU after that season for UAB, and JSU promoted Grass, who enters his eighth season as the Gamecocks' head coach.
Clark quickly turned UAB into a winner once then did again, after the school killed then revived the football program.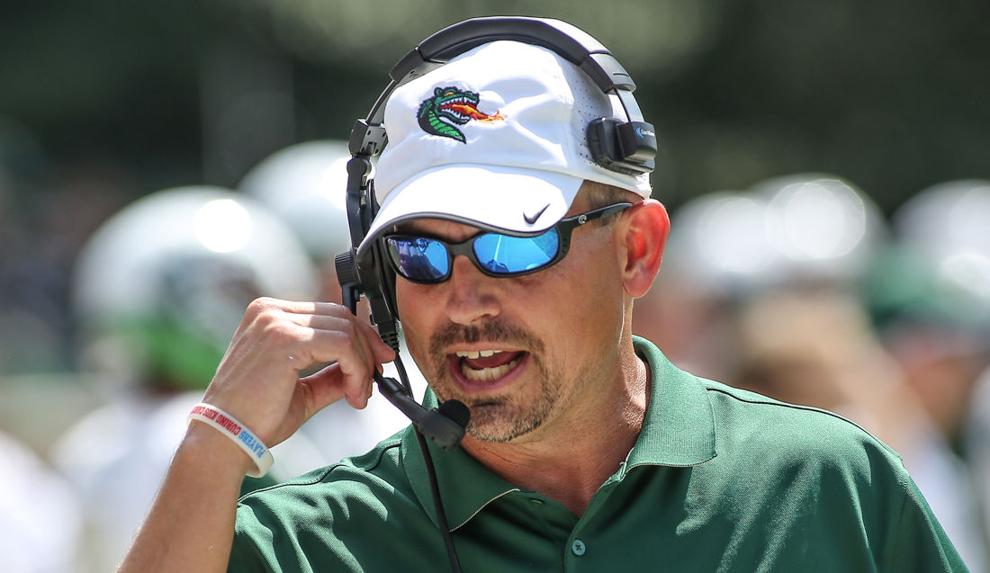 Paths once again converge for two men who graduated from JSU in 1990 and developed a friendship while helping Ragan Clark, Bill's father, coach at Ashville High School from 1987-88.
"I don't know that I have a better friend," Grass said.
Both have a hand in JSU's becoming a program regularly ranked in FCS football and regularly among the top playoff seeds.
"Us getting to coach together at Jax State was really special," Clark said.
The road to JSU started in high school ball for both coaches.
After helping his father while in college, Clark began his full-time career as an assistant at Piedmont in 1990-91. He had stops at Tuscaloosa County, Coffee County (Ga.) and Dothan before going 106-11 with two state titles in nine years as Prattville's head coach.
Grass spent 16 years as a high school head coach at Ashville, Albertville, Moody, Spain Park and Oxford, going 123-60. He served on Rush Propst's Ashville staff then coached five more years under Propst at Hoover, between head-coaching stays at Ashville and Albertville.
Grass and Clark coached against each other for a half in a jamboree while Clark coached at Prattville and Grass at Spain Park. They clashed for real in the 2007 Class 6A final.
"It's tough," Clark said. "When you're really close and to have been together all the way back then, and coached early together and stayed in contact all the years, and the families are close and the whole deal, it's tough.
"It's always tough to compete against each other."
Prattville won 14-0. The Alabama Sports Writers Association voted Grass 6A coach of the year, an honor that Grass took with him to Oxford when Josh Niblett left for Hoover after the 2007 season.
Clark joined the University of South Alabama's staff after leaving Prattville then got his collegiate head-coaching break after JSU fired Jack Crowe following the 2012 season.
Clark wanted Grass to be his offensive coordinator. Grass answered the call.
"You're not really pushing the envelope to get into college football, and then you get a call from your best friend," Grass said. "He wants you to do it, so you do it."
JSU started the move up from Division II in 1992 and won Ohio Valley Conference championships in 2003 and 2004, the program's first two years in that conference, but never won a playoff game until Clark and his staff showed up.
The breakthrough came with first-round rout of Samford at home. Then came an upset of McNeese State on the road.
A week later, a JSU team that broke 49 school records matched FCS power Eastern Washington touchdown for touchdown in the quarterfinals until injuries claimed quarterback Eli Jenkins and running back DaMarcus James.
The Gamecocks set a new precedent for their Division I era.
"It gave this program a belief," Grass said. "The start of that year was tough. We didn't know how to close out games, and we lost some games early in that season, overtime games and games that came down to the wire.
"That team started winning and started clicking at the right time. That started the belief that this program can be a national contender."
JSU now owns seven playoff victories in Division I, three on the way to the 2015 FCS title game. Grass is 68-21 as a head coach.
Clark is 51-26, 40-22 at UAB. His teams won Conference USA titles in 2018 and 2020 and a division title in 2019.
Clark's biggest challenge at UAB proved to be school leadership. UAB discontinued football after he went 6-6 and achieved bowl eligibility in 2014.
The school reinstated football soon thereafter, but Clark spent two years rebuilding a program from scratch before fielding a team in 2017.
"I literally went back to Piedmont," Clark said. "I had an apartment here in '14 and went back to Piedmont for those six months, and I did come back and forth a little bit, but I was removed from the program in those few months.
"You lean on your friends and people who've been with you before, and that was a tough time. That fact that I'd been a high school coach and had to work my way up kind of gave me a chance to work through some adversity."
UAB is 28-13 with three bowl appearances since resuming football. The Blazers begin play in the new 47,100-seat Protective Stadium in downtown Birmingham this season.
"It's kind of beyond our wildest dreams that this is where we are," Clark said.
UAB and JSU enter their Wednesday clash as what Grass described as mirror teams, founded on running the football and stopping the run.
UAB, coming from Division I's upper subdivision and with a 22-scholarship advantage, naturally comes in favored. The game shouldn't impact the trajectory of either program, with Clark's team looking to carry on winning ways in Conference USA and JSU looking to gear up for stronger competition in the new A-SUN.
Clark and Grass get to show off what they've built on ESPN.
"To see where we're at now," Grass said, "it's a lot of blessings, for sure."