JACKSONVILLE — Jacksonville State faced the team with the second-worst record in the Ohio Valley Conference on Thursday afternoon, and the home attendance was bigger than any Gamecocks game home or away this season.
JSU even sank a 50-foot shot.
The large crowd couldn't motivate the Gamecocks enough to suit head coach Rick Pietri, and that long-range basket at the final buzzer by freshman Taylor Hawks wasn't enough as JSU fell 60-58 to Tennessee Tech, which got only its third OVC win in 13 games.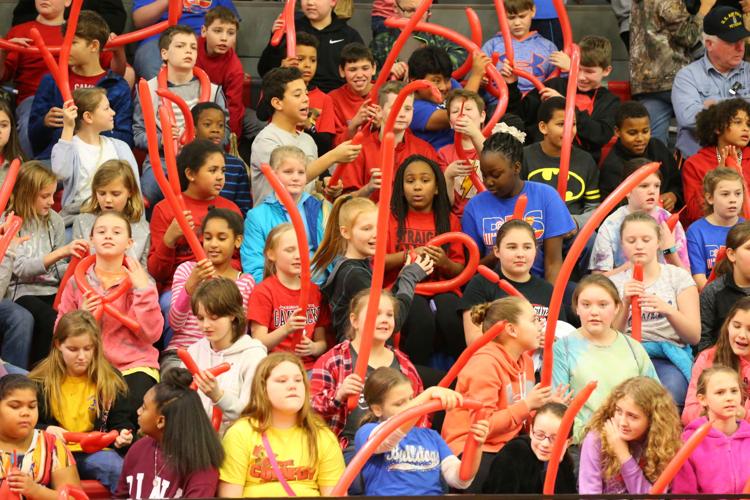 "As a season progresses, a team either evolves or devolves, and we're devolving," Pietri said. "This group has to change its attitude in how it approaches basketball and how it approaches competition."
JSU marketed the game as "Education Day," which included an 11:30 a.m. start time, and about 1,500 children from local elementary and middle schools got to see the contest. The kids helped bring the attendance to 2,049. Almost all of the groups stayed for the whole game, and they generally acted like appreciative basketball fans — cheering when the home team did something exciting.
Pietri had hoped the injection of energy from the kids could help JSU revive its spirit as it toughed out the late-season stretch of the schedule. Instead, JSU lost for the fourth time in six games. The Gamecocks got behind 15-8 early and trailed most of the way, including all of the final 17 minutes.
Tennessee Tech at JSU Women's OVC Basketball Game
Tennessee Tech at JSU women's OVC basketball game.
After starting the league season 6-1 and in second place, the Gamecocks are 14-10 overall and 8-5 in the conference, which puts them as low as fifth place, depending on how other games turned out Thursday. Tech is 6-18, including 3-10 in the league.
"The kids (from the schools) got into the game," Pietri said, "but it's almost as if our players were going to bring a predetermined amount of energy, regardless. … As coaches, we did the film study, and we knew. We knew what (Tech) had. But when we tell our players that, they thing that's just coach being coach."
JSU staged a couple of rallies in the fourth quarter, including after Tech built an eight-point lead at 56-48 with 2:24 to play. The Gamecocks trimmed it down to three at 56-53 on a Hawks 3-pointer with 34 seconds to play.
Tech's Yaktavia Hickson then made one of two foul shots, and JSU's Chloe Long responded with a putback basket on the other end to make it 57-55. With 12 seconds left, Tech's Abby Buckner made one of two free throws to make it 58-55, setting up the Gamecocks for a chance to tie.
Morgan Towells missed a 3-pointer with 10 seconds left. Hawks got the rebound and fired up another trey but missed with six seconds to play.
After a JSU turnover, Hickson drew a foul and made both free throws to make it 60-55. Hawks threw up a shot just before halfcourt and to the amazement of the crowd of children filtering out of the building, it banked off the backboard and through the basket. All it did, however, was make the final margin two points.
Hickson finished with 21 points and 11 rebounds, while for JSU, Towells had 14 points and Hawks had 13. Long had 11 points and a team-high 10 rebounds.