CHARLESTON, Ill. — Jacksonville State sports radio voice Mike Parris celebrated his 59th birthday by calling his 399th Gamecocks football game Saturday, with No. 400 set to come next week.
Parris will make the call as the Gamecocks try to avenge last year's loss to Southeast Missouri State. Game time is 3 p.m. in JSU Stadium.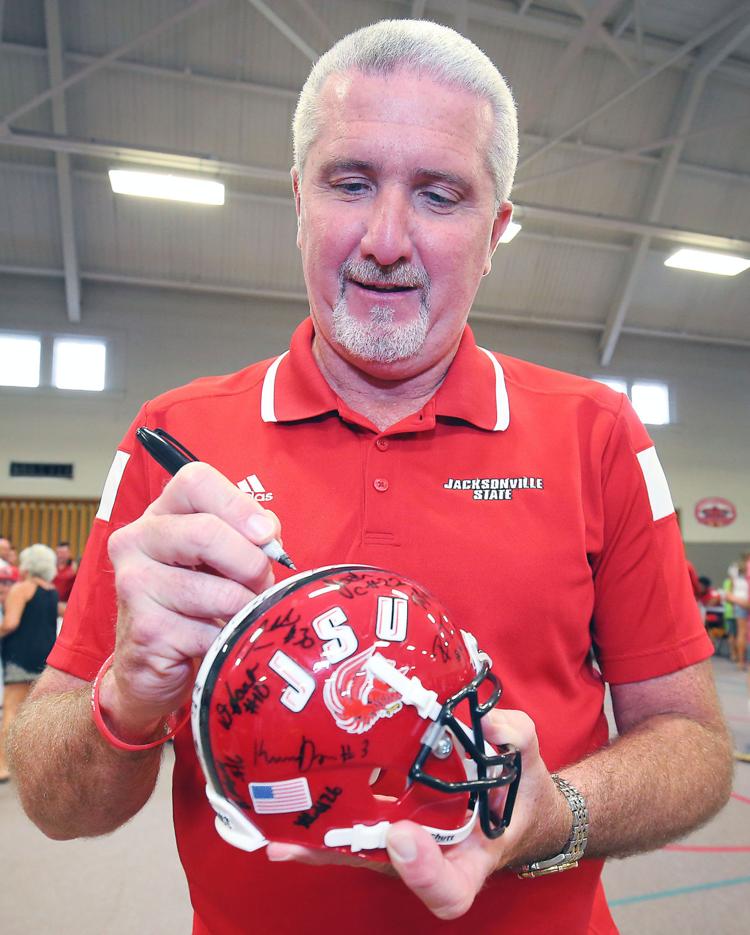 Parris is JSU's assistant athletics director for broadcasting, and his voice is the sound for JSU's most famous calls. His call provided the sound for ESPN highlights of JSU's 2010 upset of Ole Miss.
Parris is calling his 37th season of JSU football. He also serves as radio voice for JSU's other sports, most notably basketball and baseball. He has called national championship games in all three sports, either on the NCAA Division I-FCS or Division II levels.
The Griffin, Ga., native started calling JSU games in 1983.
Long snapper Josh Brady (shoulder) snapped on field goals and extra points Saturday but didn't snap on punts to avoid getting him involved in coverage.
Safety Traco Williams went down after an EIU pass completion with 52 seconds left but returned to action.
Right guard Ye'Majesty Sanders stayed down after a play midway through the third quarter but returned to the game.
Redshirt freshman defensive end Markeyce Troutman because available Saturday, saw his first action Saturday after missing the first six games from a preseason injury.
"We got a win and come out pretty healthy," JSU coach John Grass said. "We didn't get too many guys banged up, and I think that may be a first for the year.
"Hopefully, we'll get Josh Brady (fully) back next week."
JSU's defensive coaching staff includes graduate assistant Seth McDonald, who saw Saturday's JSU-EIU matchup from a strange side Saturday.
McDonald, who works with JSU's inside linebackers, played the position for EIU, between 2013-16. He was first-team All-Ohio Valley Conference as a senior and led EIU in tackles as a junior and senior.
He hails from Sandwich High School, between Plano and Somonauk, and had 28 tackles in three games against JSU. He led the Panthers with 17 tackles against JSU in 2015 and tied for the team lead with 10 in 2016.
JSU's staff of graduate assistants includes some other familiar faces. Former JSU baseball standout Trent Simpson, who also starred as a defensive end at Oxford and started college as a football player at Mississippi State, is a defensive assistant. Same for former JSU linebacker Jonathan Hagler and Donoho basketball coach Jeremy Satcher.
Part of the reason for JSU's success running the ball Saturday had to do with what the Gamecocks did to soften up EIU's single-minded defense.
The Panthers gave up 135.2 yards rushing a game before Saturday, but JSU finished with a season-high 185. The Gamecocks had to first soften EIU's defense.
"They put a lot of people in the box to stop the run, so it makes it difficult to run," Grass said. "Nobody had really just thrown the fast screens out there, so we made our minds up that we was going to throw the fast screen out there until they stopped it. They had problems with it."