JACKSONVILLE — Count it as one of the hidden costs to Jacksonville State losing its spring-sports seasons because of the COVID-19 pandemic.
JSU softball manager Zach Goff had spearheaded an Autism Awareness benefit for the Gamecocks' April 14 home doubleheader against Tennessee Tech. JSU softball head coach Jana McGinnis had given her blessing, and Goff was far enough along in planning that he contacted The Anniston Star on March 10 to pitch the story, saying he was ready to present the details. About 48 hours later, everything changed. The NCAA canceled spring-sports championships, and the Ohio Valley Conference followed by eventually canceling all games and practices.
The season was off, and so was Goff's autism benefit. He asks folks to donate to Autism Speaks (act.autismspeaks.org) instead, but he had enjoyed the idea of seeing the JSU community support the benefit night.
"It was for a project I have for my Autism Spectrum Disorder class with Mrs. Valerie Wheat," said Goff, 23, a Pisgah High graduate who was in his third year as a JSU softball manager. "We had ribbons for the whole team and staff. We were going to have shirts for the staff. My classmates were going to be there to help.
"We were going to have a hit pledge. People could donate money for every hit Jacksonville State got. Like, if they pledged a dollar a hit and we got 12 hits, that would be $12."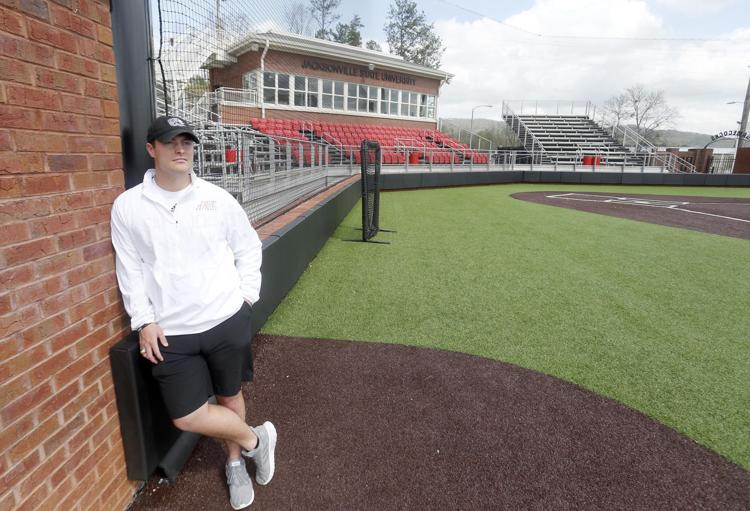 Goff said he wanted to give the money to some sort of non-profit foundation that benefited autism.
In addition, Goff had planned to contact every NCAA, junior college and NAIA softball program in the state and see if their players and staff would wear ribbons to support the cause.
"It was just to show we can all be on the same page as a state," Goff said.
Goff had a personal interest in the project because he hopes to teach special education after graduation. He had considered careers such as a history teacher and physical therapist.
"My heart is truly in special education, because seeing kids every day that need that help, that's my passion and what drives me," he said.
As for the awareness part of the benefit night, Goff had hoped to help people see autism folks like he does: "They're not just someone in special ed. They can go and they can do and they can learn."
Maybe his biggest influence is his cousin, John Thomas Shelton, who Goff said is middle-school age. Goff said Shelton has Williams syndrome. According to the Williams Syndrome Association, it is a genetic condition and is "characterized by medical problems, including cardiovascular disease, developmental delays, and learning challenges."
In addition, people who have Williams syndrome often have "striking verbal abilities, highly social personalities and an affinity for music."
"Seeing him go every day and have that smiling face and him wanting to go learn … he's a happy kid. Every time at church, I'll see him, and he'll be like, 'What's up dude?' and give you a hug," Goff said. "Those are the kids I want to help. I want to make sure they're helped."
Goff had no trouble getting McGinnis on board for something that could benefit autistic people.
"When I came to Coach McGinnis and had this crazy idea about having an Autism Awareness night, she was like, 'Absolutely!'" Goff said with a smile.
Then, while imitating McGinnis' Southern accent, he added, "She was like, 'You do what you need to do, and we'll help you any way we can.'"
McGinnis said she had looked forward to the Autism Awareness night.
"Zach is a very caring person," she said. "He had worked on this, and I think it would've been a great event."
If JSU softball eventually gets to stage an Autism Awareness event, it won't be with Goff as part of the team. This was his last season as a JSU manager. He will do an internship in the fall and then get ready for graduation. He said he appreciates that his school and his coach were willing to help make his idea a reality … until COVID-19 stepped in the way.
"That's a big thing about Jacksonville State University and Coach McGinnis," he said. "She's a wonderful person. She's a lovely lady. She'll help any way she can. That's the kind of support I want to provide to those students, wherever I end up."