JACKSONVILLE — Dreary weather didn't look like it made for a dreary time Sunday afternoon at Jacksonville State's annual softball fan day.
JSU head coach Jana McGinnis and assistant coaches Mark Wisener and Julie Boland began the event about 15 years ago with an administrator predicting about 50 people would show. The coaches estimated that about 500 came that first year.
On Sunday, despite rain in the morning and temperatures in the high 40s, about 1,500 came to University Field to be introduced to the players and coaches, catch T-shirts thrown into the stands, cheer young softball players winning prizes, watch the players participate in a round of Home Run Derby, and see children run the bases with Gamecocks mascot "Cocky."
Maybe the best part came during player introductions when Wisener successfully goaded outfielder Ryann Luna into showing off her dancing skills. To the delight of her teammates and the fans, she spent nearly two minutes dancing for all she was worth.
After about two hours of activities, the players moved to tables set up in the infield to sign autographs and pose for pictures with their fans. The day was finished in time for fans to get home for the Super Bowl.
"This was awesome. We love our fans. We're grateful for them and thankful," JSU senior Emily Woodruff said before spending more than 30 minutes signing her name over and over on T-shirts and posters.
The Gamecocks open the season Friday and Saturday at the River City Leadoff in Jacksonville, Fla. They are coming off back-to-back seasons in which they won both the Ohio Valley Conference regular-season and tournament championships. In nine of the past 13 seasons, they've won either the regular-season crown, the tournament trophy or both.
The Ohio Valley Conference coaches and sports information directors have voted JSU first in the preseason poll, but the Gamecocks are not a prohibitive favorite as they were last year. In 2017, they received 22 of 24 first-place votes. School coaches and SIDs couldn't vote for their own team, which accounts for the two votes JSU didn't get.
This year, JSU got 15 of 24 votes, with four other teams getting at least one selection.
The Gamecocks lost 10 players from last year's team, including third baseman Taylor Sloan, catcher Jamie McGuire, left fielder Stephanie Lewis and pitchers Taylor West and Whitney Gillespie. All five made All-OVC at least once in their careers.
"A lot of outsiders doubt us," said senior right fielder Leila Chambers, a first-team All-OVC pick last year, "but us as a whole, we're driven for this season."
Added Woodruff: "While we lost a lot of people, we gained three transfers who are all good, and three freshmen who are outstanding."
The pitching staff will be anchored by returnees Faith Sims (junior), Kirsten Titus (junior) and Alexus Jimmerson (sophomore), and freshman Nicole Rodriguez of Fort Myers, Fla.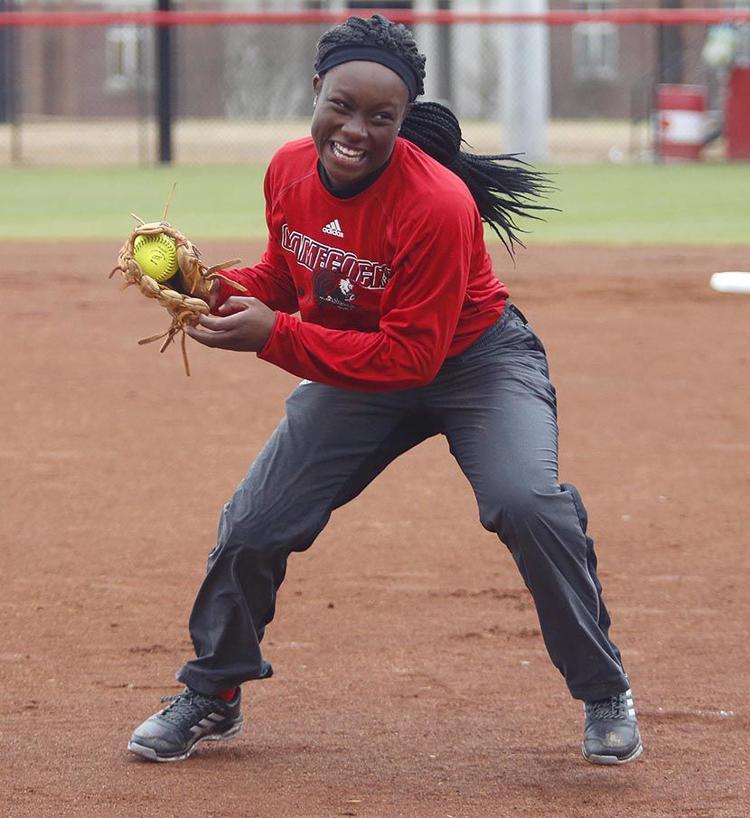 McGinnis said it might be pitcher-by-committee, rather than last season when West and Gillespie threw almost all of the innings in conference play. That's fine with Woodruff and Chambers, who said that when she hits against any of the four, "They keep me on my toes."
Added Woodruff: "They all complement each other very well. … They're all different. Some sling it, some spin it, but every single one of them is good."
Behind the plate replacing McGuire, a first-team all-conference selection the last two years, are junior Lex Hull (transfer from South Carolina). Juniors Hayley Sims and Anna Snider are back at first base. All-OVC junior Anna Chisolm returns at second base. Taylor Beshears, a transfer from Wallace State-Hanceville, is at shortstop replacing four-year starter Cadi Oliver. Senior Caitlyn Sapp, who won the Home Run Derby on Sunday, is at third with junior Amber Jones.
In the outfield, Luna and senior Taylor Rogers are competing to replace Lewis in left. Woodruff is back in center with freshman Jada Terry. Chambers is in right with freshman Hannahstaysia Weaver.
Utility player Anika Barbosa, a transfer from Navarro (Texas) College, will miss the season because of an injury.
Despite all the turnover, McGinnis said she optimistic because of what she's seen in preseason workouts. She's pleased with how the seniors (Chambers, Woodruff, Sapp and Rogers) have worked to make the newcomers welcome. She added that she appreciates how they've led by guiding and showing them how something should be done.
"Some seniors boss around the younger players," McGinnis said. "Our seniors don't do that."
And as far as the team chemistry the seniors have helped develop, McGinnis added, "The attitude has been wonderful. The players quickly became friends. They respect each other. Things like that help win a lot of games."