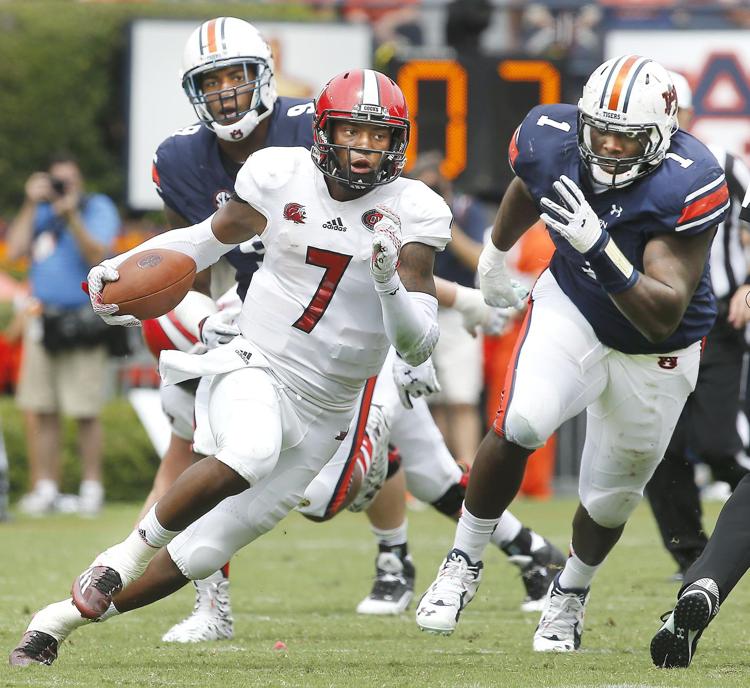 JSU's Jenkins matures, brings fire upon Auburn's defense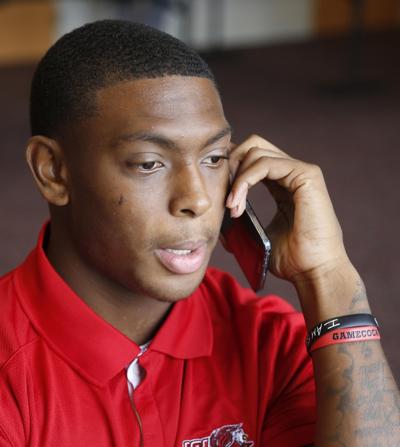 JACKSONVILLE — Eli Jenkins' parents disagreed initially over naming him.
His mom, Candy Jenkins, wanted to name her son Denzell. His dad, Reginald Jenkins, pastor for Bride of Christ Temple in East Birmingham, wanted Elijah.
"Elijah was a mighty prophet because he called fire down from Heaven against the prophets of Baal, the fake gods," he said.
Elijah Denzell Jenkins kept Auburn's defense under fire Saturday.
The redshirt junior quarterback and third-year starter passed for 277 yards and accounted for 314 in total offense to lead Jacksonville State, a top-five FCS program, to a near-upset of Auburn, then ranked sixth in FBS, NCAA football's top subdivision.
Jenkins' poised performance before a sellout crowd in Jordan-Hare Stadium came as Auburn and Alabama fans wrung hands over the early-season play of their schools' new starting quarterbacks. Some on social media called Jenkins the state's best quarterback.
It's hard to argue, based on his performance two games into this season. JSU quarterbacks coach Larry Smith won't argue.
"I may be a little biased," he said, "but right now, I'll take Eli over any of the Auburn or Alabama quarterbacks, anybody else in the state."
But Jenkins has just arrived at such regard. What he calls a "journey" — from youth-football running back, to Parker High School quarterback/kicker/return man, to "athlete" in the eyes of college recruiters, to a college quarterback with a championship jib — has been long.
It's taken countless hours in Smith's office, learning to watch and appreciate film, for Jenkins to go from a running quarterback to one his coaches trust to throw 43 passes against an SEC defense.
It's taken a father who built a basketball goal in the family's backyard and restricted his son's activities to home, church and school, to manage bad influences.
Add son Kaydon Jenkins' "terrible twos" to keep a young father grounded, and it's little wonder Jenkins played the way he did Saturday. It's also no wonder he views his performance differently than those who could call for Auburn or Alabama to talk trade with JSU, if such a thing were possible in college football.
In fact, he felt like far less than a fire-calling prophet after the Auburn game. He has apologized to coaches and teammates, following JSU's 27-20 loss in overtime at Auburn.
"I'm trying to get over it, because we've got a game Saturday," he said, referring to JSU's Ohio Valley Conference opener against Tennessee State at JSU Stadium. He said he apologized to teammate Miles Jones, a running back, this week.
"I was like, 'Hey, I'm sorry. That game was on me, because I took that sack in overtime. Some of the reads, I could have pulled it. I could have ran. I could have made a play for you all, and I didn't.'
"I just told him, 'It won't happen again,' and it won't happen again.
Jenkins doesn't always get to see his son. His parents and girlfriend's folks help with the toddler while he navigates the day-to-day of school and football.
"I don't know how I probably would be doing this, if they wasn't in the picture," he said.
Reginald Jenkins brags on his son's parenting, despite school and football obligations. Then again, Jenkins' parents don't mind sharing that their son is special in myriad ways.
Candy Jenkins said he went to gifted school at Phillips Academy twice a week. When in regular school, he didn't always like his home room. He cried in fifth grade and begged to be moved from what she called an "underachieving class" where kids misbehaved.
"He said, 'Momma, take me out of here,'" she said.
Reginald Jenkins talks about his oversized son playing safety in youth league, running the ball back every time an opponent dared throw it.
Jenkins, who listed soccer as his favorite sport on a personality sheet he filled out for JSU's sports information department, once played goalkeeper. It didn't last.
"I was bigger than everybody when I was smaller, and I used to hurt all the little kids and stuff," he said. "Parents used to complain, so, eventually I just stopped playing soccer and just started playing football."
Of course, he played football well —  well enough to develop a following from the time he was 6 or 7, his dad said.
Reginald Jenkins enjoyed sitting in the stands at youth games and hearing people who didn't know they were related brag about his son: "Just give that Eli kid the ball more, and they'll win."
Jenkins kept a following. His dad remembers coming home to find about 50 kids in his backyard after the last day of eighth grade. They were bound for different high schools and didn't want to separate.
"They were just that close," Reginald Jenkins said. "He had just that much influence on the people around him."
It carried into Jenkins' time at Parker High School, where he was voted "Mr. Sophomore" and graduated as "Mr. Parker." Elections after his sophomore year were easy enough.
"The other kids wouldn't run against him," Reginald Jenkins said.
Jenkins' leadership helped his father craft a compromise solution when the two butted heads over his choice of friends. He wanted to hang with his teammates.
"My high school was in a pretty not-too-good neighborhood," he said. "My friends were bad influences, but they were my friends."
Since other kids would go where Jenkins went, Reginald Jenkins converted his backyard to a basketball court. He told his son he could keep his friends, but only at home, church or during team sports activities.
"He always had to have some type of supervision," Reginald Jenkins said. "He just couldn't go where he wanted to go. As long as it was sports, it was OK."
The only people who didn't follow Jenkins so enthusiastically were college recruiters.
Mississippi State came calling his junior year at Parker, he said. So did Auburn, and Auburn's recruiter had a question he heard often.
"Actually, the first thing the recruiter from Auburn asked me was, 'Can you play another position?'" Jenkins said. "I was like, 'Shoot yeah!'"
But Auburn never made an offer. Neither did Mississippi State.
His first offer came after a camp at Louisiana-Lafayette, where he got looks at quarterback and receiver. The Ragin' Cajuns offered him as an "athlete," meaning a player who could play lots of positions.
Jenkins was fine with it. He just wanted to get to college.
He made peace with the fact that coaches looked at him and saw a kid playing lots of positions at Parker.
"Being that type of athlete, guys really don't know where to put him," Smith said, "whether on the defensive side of the ball or on offense."
When Jenkins played quarterback, recruiters saw him scrambling for his life on a team with lots of freshmen around him, his dad said. In that, college recruiters saw a player more likely to make plays with his feet than his arm.
That's what they saw, though Jenkins never ran the read option in high school.
"I was a straight, drop-back passer," he said. "I threw the ball. The only time I ran the ball was when I had to scramble."
Quarterback became a possibility again when he visited JSU to help a couple of friends get offers. Then-JSU coach Jack Crowe made him an offer.
"I walked in, and Coach Crowe was like, 'We're pretty good on receivers,' but he was like, 'Elijah, we'll take you today. You understand what I'm saying?'" Eli Jenkins said. "I was like, 'Well.'"
While Crowe proved prophetic, he knew his recruiting steal would take time to develop into a college quarterback.
JSU had Coty Blanchard and Marques Ivory at the time. Jenkins moved to safety briefly during his redshirt freshman year as a stopgap, in case injuries forced Crowe to play him.
Crowe was fired after the 2012 season, and successor Bill Clark didn't need to look long at Jenkins to see a quarterback. Clark put Smith on the project.
"Coach Clark, when he first got here and brought me along, he said, 'We've got an athletic kid, and I want you to work with him at quarterback,'" Smith said.
Jenkins started JSU's 2013 opener at Alabama State. He went 4-for-7 for 24 yards passing and rushed for six.
JSU went into halftime trailing 6-0. Max Shortell took over at quarterback in the second quarter and presided over all of JSU's points in a 24-22 victory.
Jenkins had learned a lot, working with the scout team during his true freshman year, but still had far to go.
"I'm not going to say it was hard, but it was different, to get the speed-of-the-game change," he said. "The cornerbacks are much better than high school. You've got to throw the ball on time. You've got to put it on the guy."
Smith sold Jenkins on the value of film study, and progress came by JSU's 2013 FCS playoff opener against Samford. Smith saw the difference when his pupil made a play change at the line of scrimmage, going from a run to a pass when Samford had eight defenders packed close to the line.
"He checked to the quick-game pass and ended up hitting one of our receivers on the inside route," Smith said. "We knew then that he was starting to develop, even as a freshman."
Jenkins wound up taking JSU to the FCS quarterfinals that year and gashed Eastern Washington's defense. The Gamecocks were holding their own in a scoring match until he and running back DaMarcus James went down with injuries.
Jenkins spent the offseason rehabbing a knee and hoping to win his job again under another new head coach. Clark parlayed JSU's success into a new job at UAB, and JSU promoted offensive coordinator John Grass.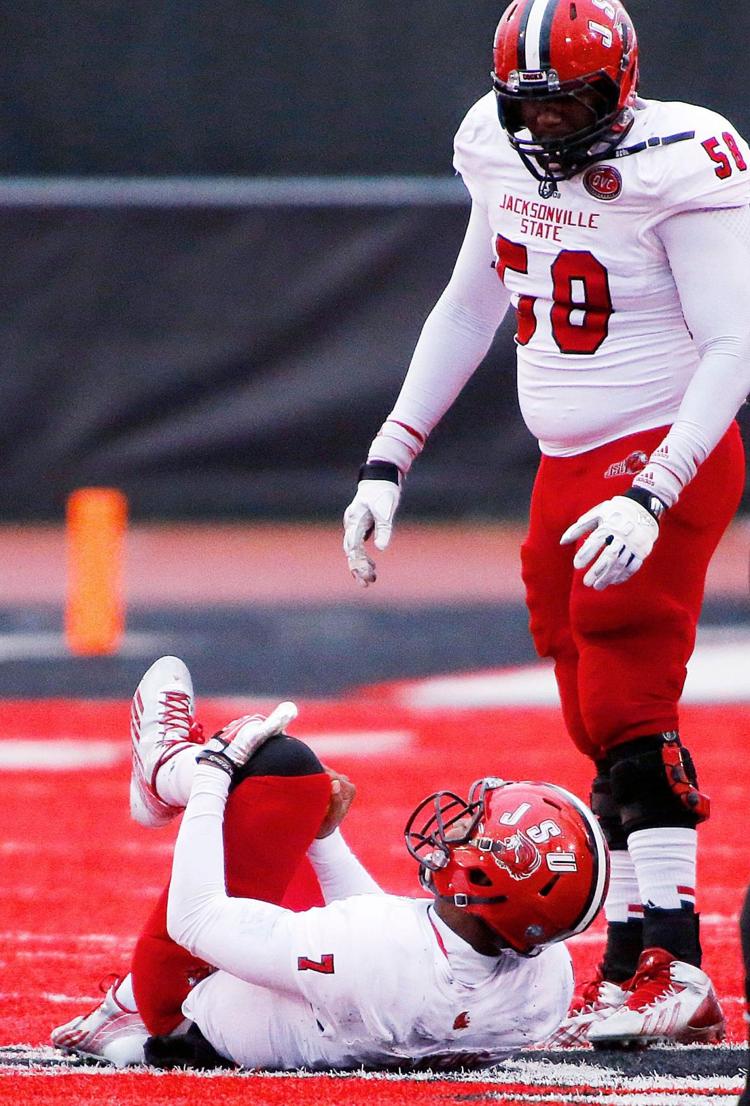 Grass oversaw an offense that broke 49 school records in 2013. He did it with a still-developing Jenkins at quarterback for most of the year.
In 2014, Jenkins won the job again and led JSU to an OVC championship. The Gamecocks gained more than 6,000 yards in total offense for the second year in a row. They'd never surpassed 5,000 before 2013.
Jenkins keeps surprising, and did so in the second game of this season. He completed 26 of his 43 passes at Auburn for 277 yards, a touchdown and an interception. His possession passing and occasional sideline fade throws were centerpieces of a game plan that that nearly produced one of college football's biggest upsets.
JSU outgained Auburn 438 yards to 401, ran 89 plays to Auburn's 70 and held a near-11-minute edge in time of possession. The Gamecocks lost largely because of two missed field goals and a shanked punt at a crucial juncture of the fourth quarter.
Jenkins will tell you they lost because he didn't throw the ball awayon third down in overtime and was sacked.
"After the game, he was tore up," Grass said. "He didn't talk about all the plays he made. He had tears in his eyes."
Grass' third-year starting quarterback did everything to put JSU in position to win. The subtle mastery came in how he managed calls at the line of scrimmage, and Smith said Jenkins made "several" checks for gains.
One resulted in a third-quarter pass to Ruben Gonzalez. Jenkins saw the fade route was well-defended by Auburn's safety, Smith said.
"Instead, he told Rube to run the slant instead of the fade," Smith said, "and we got it completed for a first down."
Jenkins checked to the fade route several times, using Gonzalez and Josh Barge.
Barge, who caught 14 passes for 132 yards and a touchdown to win FCS Player of the Week honors, credited his quarterback and fellow 2012 signee. Barge said it goes back to earlier this summer, when he got regular text messages from Jenkins: "Let's hit the field" or "Let's run routes" or "Let's get footwork in."
The two worked on the scout team together as true freshmen, and Barge called Jenkins' growth since then "ridiculous."
"Everybody has followed him," Barge said. "It's just a great respect towards him.
Anniston Star Sports Columnist Joe Medley: 256-235-3576. On Twitter @jmedley_star.