For some high school athletes, choosing where to continue their athletic career is a tough decision filled with many visits and hard conversations with family and coaches.
For former Pleasant Valley High School track and field standout, Brenna Harris, it was as simple as riding a plane to visit the University of Arkansas at Little Rock.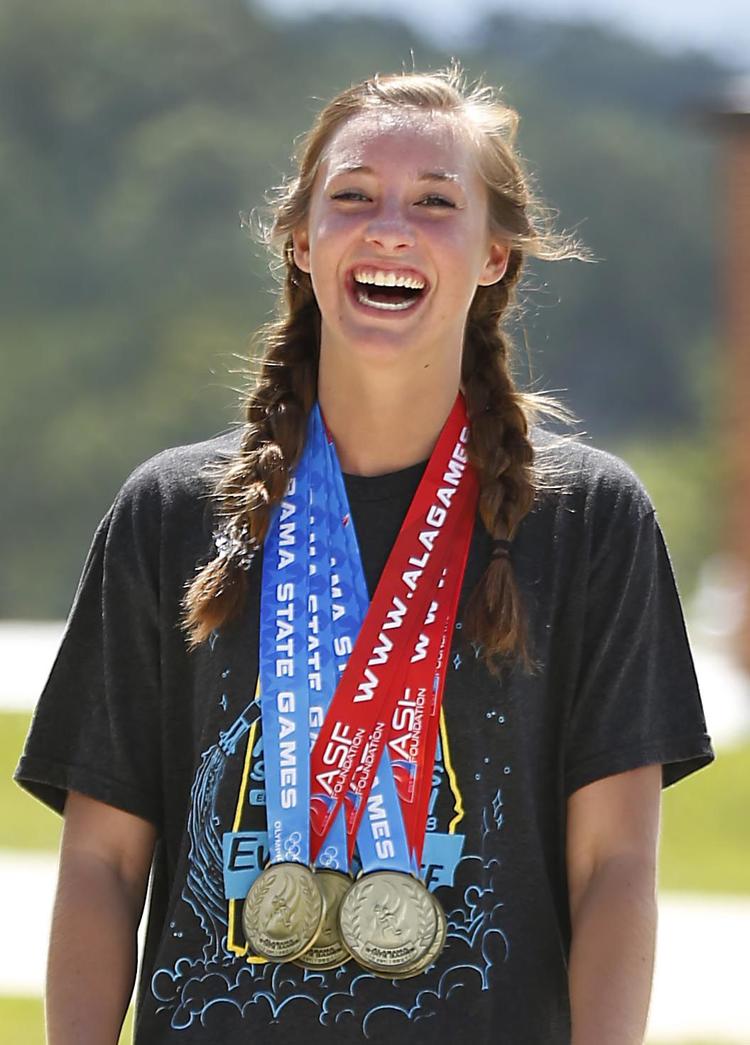 "When we landed and I looked out the window, there was a peace that came over me and I thought I really like this so far," said Harris, who is preparing to begin her freshman year at UALR.
At this year's state track and field meet, Harris was second in Class 3A in the high jump and third in the pole vault. But, looking back six years ago when Harris first participated in the sport, she never thought she would be visiting colleges in hopes of joining their track and field team. During seventh grade, her assistant basketball coach, who also coached track, talked her into trying pole vaulting. He didn't have to do much convincing after that.
"I went out one day and vaulted, and I absolutely loved it," Harris said.
Harris quickly joined Pleasant Valley's indoor and outdoor track and field team as a pole vaulter and began taking pole vaulting lessons in eighth grade. In ninth grade, she set her goals on becoming a collegiate athlete.
"It's something not a lot of people do and that's what really got me enjoying it more," she said.
Her parents became aware of how much she was enjoying the sport, and although they are divorced, they worked together to get their daughter anywhere and everywhere to practice and compete. From practicing twice a week with Georgia Pole Vault in Cartersville, Ga., to having to play in a county basketball championship and state indoor track meet in the same day, Harris said it has been "insane."
"My parents have gone beyond my expectations," Harris said. "My dad registers me for my meets and my mom takes me to practice. They just work really well together for me and I am super grateful for that."
After a fall semester filled with high school cheerleading and track, Harris and her mom took a plane to the UALR in January 2019. Her dad drove to Little Rock the day before. Harris was invited to visit through Next College Student Athlete, a recruiting website where college coaches can view profiles of potential collegiate athletes. UALR coach J.P. Behnke was one of a few coaches recruiting her, and ultimately beat out West Georgia, Troy and Jacksonville State, where Harris always wanted to go.
"I could have gone five minutes down the road, but I decided to go 6½ hours away," Harris said laughing.
Despite the distance, Harris and her family decided UALR was the ideal university for multiple reasons. After being "wowed" by the academics, athletics and overall environment at UALR, all it took for Harris's parents to agree to her attendance was confirmation of her happiness — and they got it.
"Everything fell into place and it felt like home," Harris said, "I knew that's where I was supposed to be and everything was going to be good if I went."
As part of large blended family, Harris gives her parents and step-parents a lot of credit for her success. On a few occasions, she remembers at least 12 family members in the crowd cheering her on.
"Everybody supports me, my track and my school," she said. "Having everybody there, not arguing and not doing anything like that ever, is absolutely fantastic."
Harris said being a college athlete scares her, but the support of her family and the love of her sport motivates her to continue to do well.
"It terrifies me to move 6½ hours away from them," Harris said. "It's definitely the love of track and not wanting it to end that makes it easier. To keep jumping and keep competing is my motivation. I really love it."
At UALR, Harris plans on majoring in business marketing and minoring in management. She eventually wants to go into sports marketing, but has not decided on what career to pursue after college.