JACKSONVILLE — A football center lives in a compact, uncomfortable place. Bent over a football, surrounded by others of the strongest players on the field, he looks forward after a glance back through his knees.
He unleashes chaos with a twitch, bodies crashing around him. His window to perform his job comes and goes like the wind.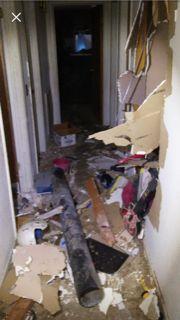 When Jacksonville's Jonathan Parker looked up from between his knees March 19, he saw part of the home he'd known for 12 years crashed next to him. Pieces of other nearby buildings, driven by a tornado's loudly whistling winds, had done their damage.
He didn't know at that moment, but his small world on 2nd Avenue Northeast, across the street from First Baptist Church, would soon become home for a new tenant in that repaired house.
So long to the field across the street from his house and the damaged church. He learned his craft practicing as a youth-leaguer there.
So long to that easy walk to attend Jacksonville State games.
So long to the Houston Cole Library and a chunk of its iconic roof.
Welcome, new perspective.
"You're here for a reason," the 18-year-old high school senior said. "You know you have to do something with it."
For now, Parker does his part for a team off to a promising start. The Golden Eagles (3-0) beat rival Alexandria 35-28 on Aug. 31, rose into the Alabama Sports Writers Association poll and routed Ashville 33-7 in last week's home opener.
No. 7 Jacksonville will play a key 4A, Region 6 game Friday, at Cherokee County, another chance for Parker and his teammates to build on their experience as high school football players. A 14-foot piece of pipe came frighteningly close to changing that for Parker.
Parker's dad, Chuck, describes March 19 as "traumatic."
The family sat in their living room, watching storm coverage. Jonathan's girlfriend called his cellphone, worried, as a telltale radar signature bore down on Jacksonville.
"I was like, 'It's going to be fine,'" Jonathan said. "Usually, when you get a tornado, you're like, 'It's not going to be us.'"
Chuck had gotten home from work about two hours early, around 7 p.m. He asked someone to open blinds, so he could see out front.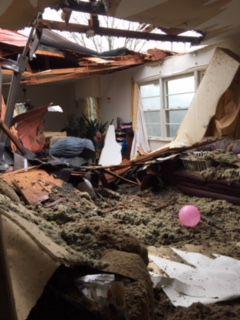 "We just started hearing that noise," Jonathan said. "You never forget that noise. People say it sounds like a train or it sounds like a plane. It's hard to explain what it is. You just know that it's not any other sound that you've heard in your life. It's like a whistling noise.
"And then we heard, 'Boom!' Some part of JSU fell into our front yard."
Chuck urged the family into the hallway then jumped on Jonathan. Within seconds, a large, heavy piece of pipe came through the house "like a missile," Chuck said, starting from the door to his late mother-in-law's room, which had remained undisturbed nearly a year after she died.
Chuck said the pipe came closest to Jonathan and might have hit him, but for a clothes basket that affected where the they took shelter in the hallway.
The booms kept coming. Scaffolding pieces, believed to be from JSU, pelted and penetrated the roof.
"Every boom, you're just like, 'OK, is this the one that takes us out?'" Jonathan said.
The cries of his little brother, Landon, haunt him months later.
"Just hearing my little brother say, 'We're going to die! We're going to die!'" Jonathan said. "You don't ever want to hear that. He's 6. He should never think, 'Oh, I'm going to die.'"
The Parkers came through the storm OK. So did the stray dog, Dixon, they took in about two months before the storm.
It could've been much different. Jacksonville coach Clint Smith saw the house and — after seeing where the pipe sliced through it, relative to Jonathan's position — got a scary picture.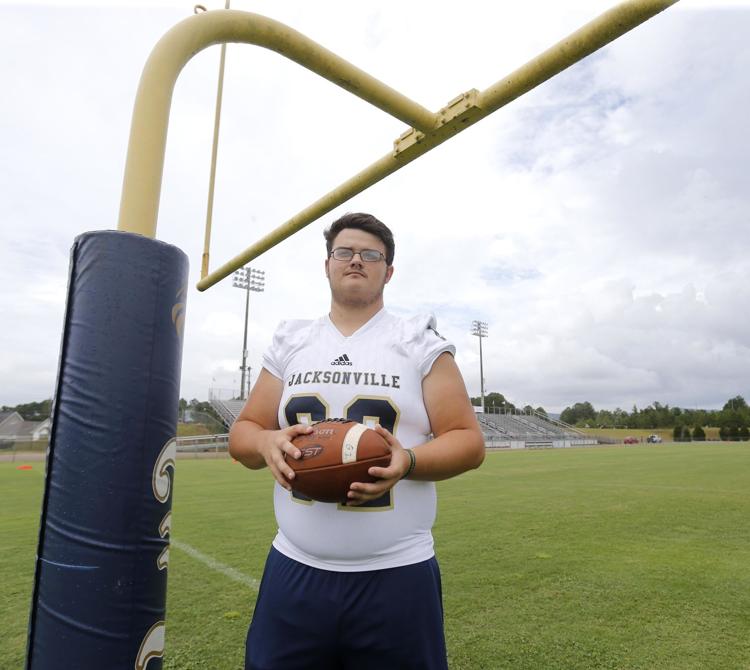 "If it had hit him, it could've been bad," Smith said.
Jonathan's grandfather, Michael, who was on the other end of a cellphone conversation that went dead as the tornado hit, came from Weaver to get the Parkers. They stayed with him for nearly two months before finding a new home to rent and, they say, eventually own.
Jonathan slept in his grandfather's living room for a time, and the house's air conditioning produced a more faint version of the tornado's whistle.
"It would give me nightmares," Jonathan said. "It sounded just like it."
Jonathan's mom, Lori, got him a counselor as a precaution, but the counselor said he's "just fine," said Jonathan, who called the life change resulting from the tornado "a bright spot in my life."
"We got so much better from it," he said.
Jonathan lauded the moral support he and his family, including middle-child Matthew, got from coaches and teammates after the storm. Smith said he's glad to still have his second-year starter at center.
"J.P. is a hard worker," Smith said. "He comes to work every day. He's going to be where he's supposed to be, doing what he's supposed to be doing.
"He's a yes sir/no sir kind of kid, very good manners, and he has worked himself into a very good offensive lineman."
Sports Writer Joe Medley: 256-235-3576. On Twitter: @jmedley_star.