Football evolution has not been kind to running backs.
In the NFL, where they draft talent and "shield" protectors hunt entertainment dollars, it's all about the quarterbacks.
Even in major college football, where they recruit talent and want entertainment dollars, football has become more of a quarterback's game.
Running backs, however, still rule high school football, where top quarterbacking skill does not come universal. Not every high school has a Bo Nix, and many schools make quarterbacks glorified running backs with schooling on read-game decision making.
Totes and G.O.A.T.s still correlate under Friday night lights, and Calhoun County comes blessed with excellent toters in 2019. Two will enter this season with top billing in the county.
Ohatchee's Domonique Thomas enters this season as the preseason pick for All-County player of the year among 1A-3A schools. Jacksonville's Rontarius Wiggins takes the same honors among 4A-6A schools.
Both enter 2019 among the county's top returnees at their positions, following graduations of Oxford's Tyetus Smith-Lindsey, Saks' Johnathon Cobb, Alexandria's Romeo Dye and Weaver's Shamar Spinks.
J.B. Carlisle looks to be a rising star at Oxford, after running for 600 yards behind Smith-Lindsey last season. Donoho's Rod Elston, Wellborn's Calvin Spinks and Kentrez Hunt, Pleasant Valley's Colton East and White Plains' Jaden Harris had strong seasons in 2018 and look to this season. Nate McCallum figures to step in well as Alexandria's primary ball carrier, historically a place of honor among county running backs. Former Cleburne County running back A.J. Brown makes for an intriguing transfer, at Anniston.
Thomas and Wiggins top the class in preseason. Here's a look at what each has done to warrant such billing and what each stands to mean to his team: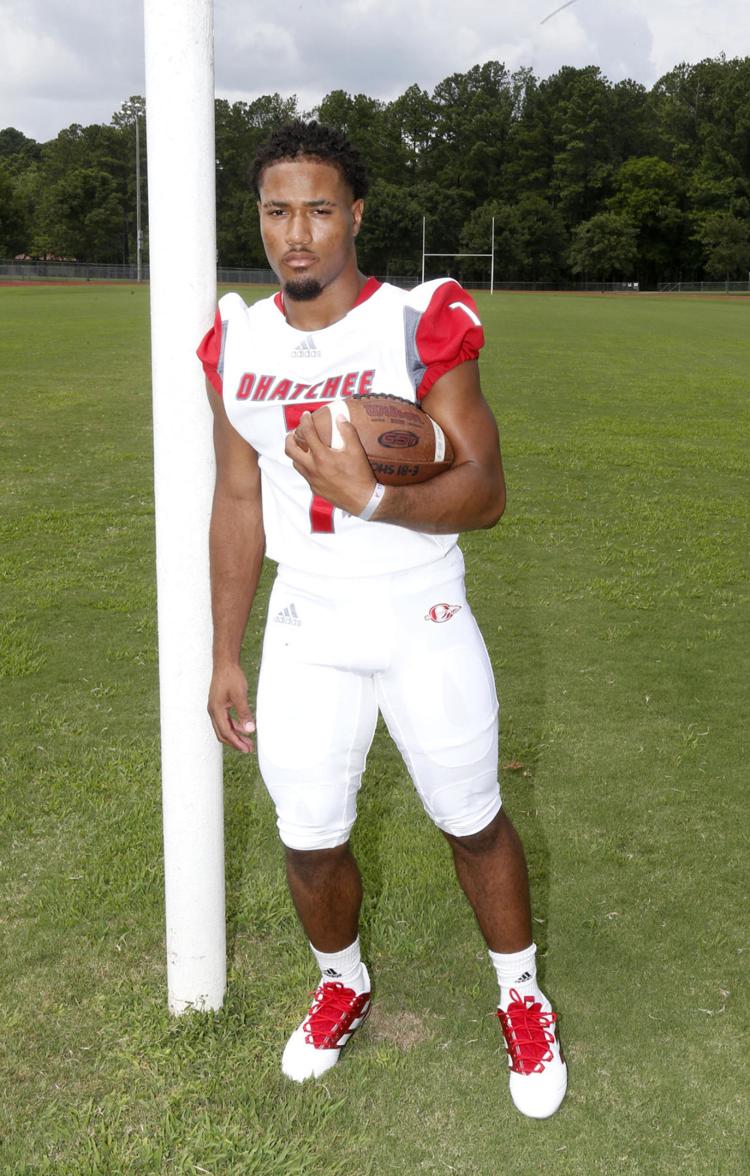 Running back Austin Tucker teamed with then-quarterback Taylor Eubanks to make the county conversant with Ohatchee's "Ugly Eagle" offense in 2015 and 2016. Thomas and quarterback Grayson Alward kept producing ugly numbers in 2017 and 2018.
Thomas returns, with 2,800 yards in his wake, including 1,585 yards with 26 touchdowns in 2018. He accounted for more than 1,700 total yards and 28 touchdowns.
Thomas is the lone returning running back among the three to make first-team All-County after last season. He was also an Alabama Sports Writers Association All-State pick and recently invited to play in the Blue-Grey All-American bowl, set for Jan. 13 of next year, in Atlanta's Mercedes Benz Stadium.
To put Thomas' numbers in perspective, he averaged 6.5 yards a carry in 2017 and 9.2 in 2018.
"Realize, he did not play in the second half, except for about three regular-season games," Ohatchee coach Scott Martin said.
Thomas packs power in his 5-foot-8, 185-pound frame.
"He's a very physical player," Martin said. "He's a very focused player. The effort is second to none. He's a tough load. He's a handful."
Thomas doesn't just lead by numbers. He's known for motivational ploys, as well.
Last season, Thomas printed off a 19-item list of expectations for his team last season, and the Indians put up and 11-1 season. He enters this season with a cell-phone lock screen, showing Fyffe hoisting a state-championship trophy last season.
Ohatchee lost to Fyffe 21-13 in last year's quarterfinals, in a game that featured what Martin called the "two best teams in 2A."
"I'm still mad about that," Thomas said. "I want a reminder every day of why I should work hard."
Taking a page from Alabama coach Nick Saban's motivational playbook, Thomas printed off a list showing each team Ohatchee plays this season, along with a theme quote for that week.
"It's just different things every week," Thomas said.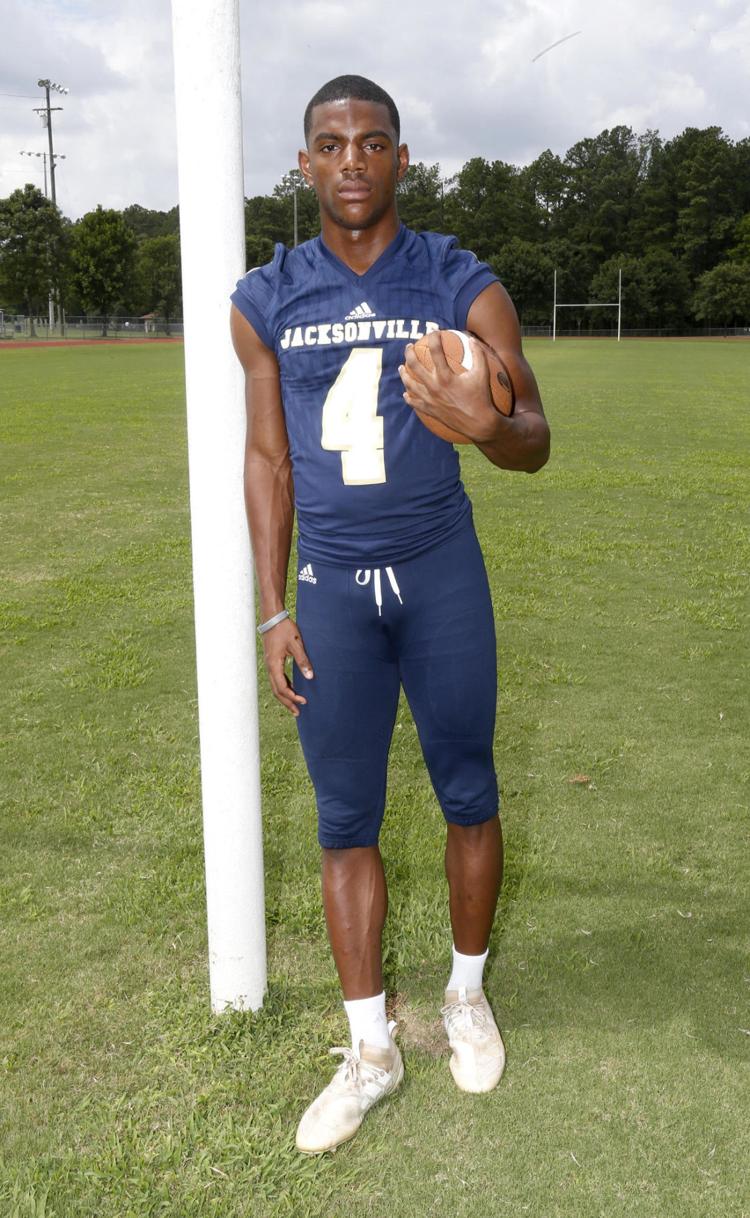 Wiggins was a revelation to county football watchers last season, exploding on the scene after a year as the second back behind Macey Carr. Wiggins made first-team all-state, rushing for 2,376 yards and 34 touchdowns.
He also caught 14 passes for 243 yards and two scores.
Only the fact of Oxford having a major recruit in lineman Clay Webb prevented Wiggins from finishing the season as The Star's All-County 4A-6A player of the year.
Wiggins has had another offseason to get bigger and stronger.
"I think he's gotten faster," Jacksonville coach Clint Smith said. "He went to some camps this year, and he's done a good job."
Maybe the biggest camp was a one-on-one camp, with former Anniston and Jacksonville State running back Troymaine Pope, now with the San Diego Chargers. Wiggins and Pope worked together twice a week for an hour to two, at JSU, during July.
"He gave me a little flavor to my game," Wiggins said. "He said it was a little bit too basic, but he also was teaching me how the defense flows and how to score off that."
Wiggins has scored college offers in the past 12 months. He picked up his first offer, from FCS member JSU, during last season. Offers followed from FBS schools UAB, Arkansas State, Southern Miss and Troy.
What a difference a year has made for Wiggins.
"Last year, coming into the season, a lot of people didn't expect me to be rushing and running for that many yards against teams," he said. "This year, I felt like I had to work harder this summer to sustain my ability and get better.
"People are going to be expecting more out of me this year. Teams are going to game-plan around me, so I need to craft my game more."
While Wiggins' last 12 months were a surprise to outside observers, Smith saw it coming. A year ago, the coached touted Wiggins' field vision, that always-underrated quality for good running backs. Wiggins sees holes and angles and anticipates traffic well, which helped him to make several big plays last season.
A veteran offensive line helped him to maximize his chance to be Jacksonville's featured ballcarrier. He'll have to do it with a younger offensive line this season, but a big one. Smith said this year's line, which includes Omarion Pope, Troymaine's brother, averages nearly 300 pounds.
"I love it," Wiggins said. "They'll be knocking them out of the way for me. ... This is going to be a big season for the whole team."