Add Ohatchee's Autumn Widgeon to a spate of college signings this week for area high school athletes.
An All-Calhoun County shortstop, Widgeon signed Thursday with Bevill State Community College. She batted .310 with a .355 on-base percentage, six doubles, four triples and 20 RBIs this past spring.
"Words can't describe how proud we are of this young lady," Ohatchee coach Kendall Poe said. "Her work ethic is above most, and her talent is beyond my expectations."
Widgeon's signing Thursday followed several Wednesday. Here's a rundown:
—Oxford softball standouts Sarah Howell (Clemson) and Alex Howard (Jacksonville State) and basketball's Zondrick Garrett (South Alabama) signed privately Wednesday. Oxford will hold a ceremony to honor them Nov. 20 at 10 a.m.
Howell is the reigning Alabama Sports Writers Association Class 6A hitter of the year and 4A-6A all-county player of the year. In 2019, she batted .553 with a .619 on-base percentage, 11 doubles, seven triples, 17 home runs, and 37 RBIs. She was 44-for-50 on stolen-base attempts.
Howard moved to Oxford from Arab before last season and became eligible just before regional play.
Garrett, a 6-7 senior forward, is the reigning all-county 4A-6A player of the year. He averaged 19.5 points and 9.5 rebounds, keying Oxford to its third straight Northeast Regional appearance. He was second-team all-state.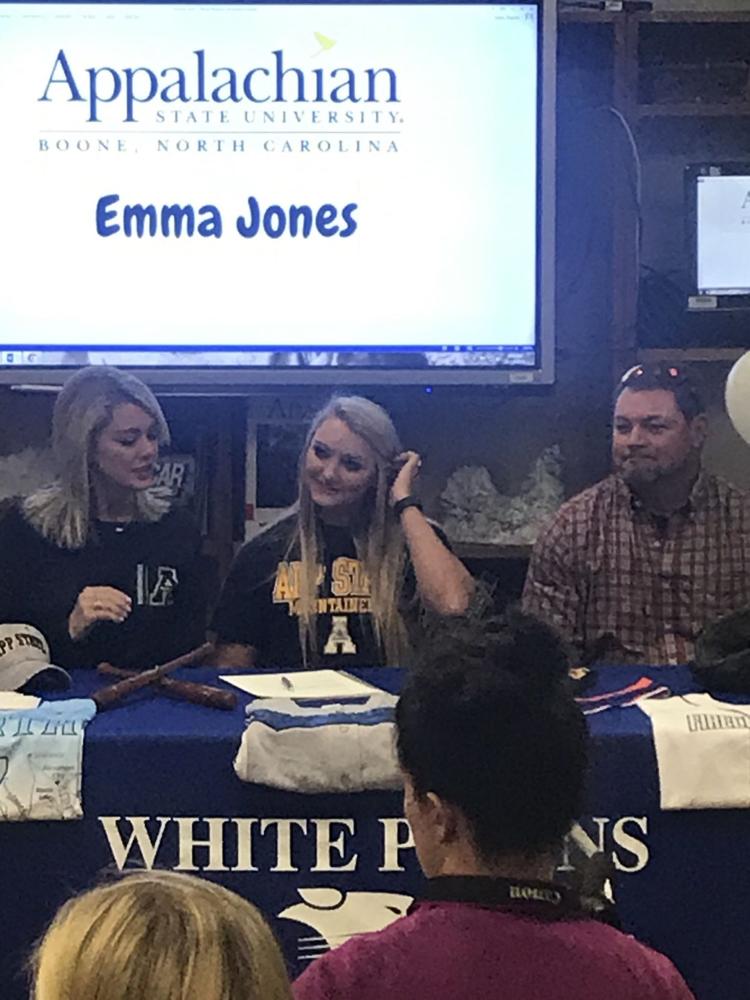 —White Plains softball standout Emma Jones signed to play collegiately at Appalachian State. The senior shortstop/pitcher moved from North Carolina and joined White Plains' softball program last season, making first-team All-Calhoun County while helping the Wildcats finish fourth in 4A at the state tournament.
She batted .500 with a .617 on-base percentage, 14 doubles, three triples, five home runs and 24 RBIs. She was 47-for-51 on stolen-base attempts. In the circle, she pitched 76⅓ innings, giving up 52 hits and nine earned runs with 69 strikeouts and 34 walks with an 8-4 record, 0.83 ERA, 1.13 WHIP.
— White Plains senior golfer Hanna Dyar made it official to JSU, where she will follow in older sister Layne Dyar's footsteps. Hanna Dyar is the reigning all-county girls player of the year. She won three tourneys as a junior, including the county championship.
She finished regulation tied for the lead in her other tournament. She was the lone girls golfer from the county to qualify for the state tournament, finishing sixth in 4A-5A. She shot 84-75—159 at Robert Trent Jones-Capitol Hill in May.
—In baseball, Cleburne County right-handed pitcher Reese Morrison signed with JSU. The 6-foot-2 senior threw a no-hitter and had 14 strikeouts in a game last season, helping the Tigers reach the 4A playoffs. He was an ASWA All-State selection and a 2019 Perfect Game preseason underclassmen All-American.
—Former Oxford standout Brennan McCullough, a sophomore at Wallace State-Hanceville, announced through social media his commitment to finish his college career at Murray State. He batted .317 with a home run and 26 RBIs in 41 games for Wallace State in 2019. As a senior for Oxford in 2018, he batted .361 with one home run, seven doubles, two triples, 34 runs, 31 RBIs and 10 steals.