TUSCALOOSA — How badly did White Plains' softball team want its state-tournament berth. For starters, the Wildcats took batting practice on Mother's Day, but Wildcats coach Rachel Ford knew her team needed more.
The Wildcats needed to vent after the debacle that was Thursday's and Friday's rain-soaked, scheduling-snafu-riddled play in the AHSAA West Central Regional. After two exhausting days of mostly waiting, with playing mixed in, only to be sent home late Friday and told to come back Monday, they needed to talk it out.
They got it talked out and clearly came most ready to play Monday, jumping on Cordova early and beating the Blue Devils 5-1 in the Class 4A elimination-bracket final at Bowers Park.
The victory clinched White Plains' state-tourney berth as the West Central's No. 2 4A qualifier. The Wildcats will play South Regional champion Dale County on Friday at 10:45 a.m. at Montgomery's Lagoon Park.
"The girls just brought the energy," Ford said. "They just wanted it. They weren't ready to be done, and it was a nice feeling, because I didn't know how they would respond after the long weekend."
The Wildcats returned home about 2:30 a.m. Saturday and took Saturday off. Nobody objected to batting practice on Monday's Day.
"I promise you, nobody else probably hit on Mother's Day," said senior pitcher/second baseman Hannah Fortenberry, Monday's winning pitcher who worked one batter into the sixth inning before giving way to Emma Jones. "I told everybody, I know for a fact that we put in more to this program than anybody does around here."
Along with batting practice came Ford's venting session.
"We were all kind of sick of how everything had been going," Ford said. "They were very emotional. It's been an emotional roller coaster.
"Not only emotionally, mentally it plays a toll on you, so we had a little pow-wow."
Perhaps nobody needed to vent more than Ford, who said she did most of the talking. Her climactic point?
"I just told them I love them no matter what," she said. "If we would've come out here and been run-ruled today, it wouldn't have decided that I thought we had a bad season. …
"I tried to take the pressure off of them. I feel like we play better when there's no pressure."
Ford laughed at how uncharacteristically positive she kept things into Monday. Even as both teams waited 20 minutes past game time for umpires, even as calls for volunteer scoreboard keepers matched a Cordova fan with a microphone, the Wildcats stayed positive.
They turned their warmup music back on and enjoyed the moment. They enjoyed it even more when Jones led off with a triple and scored on Callyn Martin's grounder for a 1-0 lead in the first inning.
Jones reached base in her first three at bats and scored each time. She reached twice on infield singles and stole second base both times.
"Every time I was looking for a different opportunity, because they would change up the defense," Jones said. "Each time, I was looking for another way on."
Martin drove Jones home all three times, including RBI singles in the third and fifth innings.
"I just knew that we needed get on the board and score," Martin said. "The more we scored, the more we chilled out in the dugout."
It gave Fortenberry the confidence to play a patient game, working off-speed pitches and curveballs. Cordova hitters got ahead of several pitches and pulled them for foul balls through the first 4⅔ innings.
Meanwhile, Fortenberry worked out of jams. Cordova got nothing with runners on second and third bases and two outs in the second inning and bases loaded with one out in the fourth. Third baseman Lily Ponder reached up and caught Jaqulyn Braswell's hard-hit line drive to end the fourth-inning threat.
The Blue Devils had bases loaded with no outs in the fifth, but Fortenberry got four-hole hitter B. Clark to pop out to Ponder. After Anna Key's fly to left field scored Cordova's only run, Raven Clark popped to Martin at second base.
"I knew we could do it," Fortenberry said. "Just get one out. We get that all the time. We practice those situations in practice every single day.
"We've worked hard to get where we are, and I just knew it wasn't time for our season to be over."
White Plains also got Savannah White's RBI double in the fifth inning and scored on an error on Kaylee Johnson's grounder in the fourth.
For the Wildcats, it was a venting on the field to match the venting back home.
"They would just shake their heads when I would tell them about my frustrations," Ford said. "I think I said it for them, and they were just nodding their heads. …
"I think the just liked knowing that I knew it was hard, and I felt their frustrations. I think we just bonded over that and decided go ahead and get it done anyway."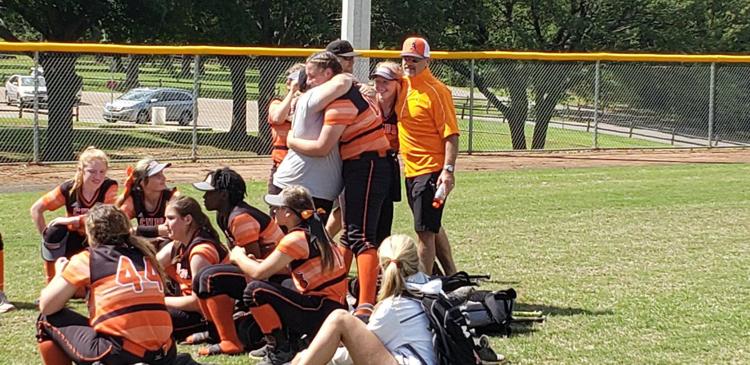 Three days after beating Parker 16-0 in its regional opener, Alexandria fell 7-0 to Hayden and 4-1 to reigning state champion Springville.
The Valley Cubs brought a team with three seniors to a regional beset by rain and reschedulings. They started Friday and resumed Monday, after going home and back.
The West Central regional's 5A bracket included four of the top seven teams in the final Alabama Sports Writers Association poll, announced at regular season's end: No. 1 Hayden, No. 2 Springville, No. 5 Mortimer Jordan and No. 7 Alexandria. The field also included Moody, the 2018 state runnerup.
"It is what it is," Alexandria coach Brian Hess said. "I'm proud of them, deep down, but I hate the way we played. We booted the ball around today. We didn't play like we're capable of playing."
Alexandria finished 28-11, including an area championship and their second consecutive Calhoun County title.
"Today, we just weren't as focused as we needed to be, but it doesn't change the fact that we did a lot of good this season," said senior pitcher/slugger, reigning 4A-6A All-Calhoun County player of the year and county-tourney MVP Maggie Phillips, who will play for Shelton State Community College.
Senior center fielder and leadoff hitter Mattie Wade completed her sixth varsity season, which included her first high school home run.
"It's totally been a blessing, just having a coach and teammates like I have," said Wade, the 2018 county-tourney MVP. "I couldn't ask for better. I hope I left a good legacy. I feel like I gave it my all."
Senior left fielder Logan Irwin played a complete season after shoulder surgery shortened her sophomore season and a broken ankle ended her junior season 14 games in.
"I can remember being in the ninth grade and saying goodbye to the seniors," she said. "I never thought that it would get here as fast as it did, but Alexandria is something special."
Ohatchee eliminated Cedar Bluff 9-3 on Monday and lost to Sumiton Christian 4-1, one game shy of the elimination-bracket final. The Indians finished 2-2 in the tournament, falling to Sand Rock 3-2 and beating West End 14-6 on Friday.
"We come out and hit the ball a little bit better the last couple of days than we have all season," Ohatchee coach Kendall Poe said.
The Indians will lose six seniors "that have started for us, pretty much, since 2016," Poe said. The class includes Sydney Clements, Skiler Caywood, Regan Snow, Peyton Roberts, Brentli Champion and Ashley Leath. Champion transferred from Oxford and signed with Bevill State community college.
Ohatchee went to the state tournament in 2016.
"That's just a whole 'nother atmosphere," a tearful Clements said. "I wish it would've happened this year, but we came up a little short."
Snow expressed hope for the class' legacy.
"We tried to always be fun and make sure everybody was happy," she said. "Our main thing was just to have fun out there and won, too, but I'm definitely going to miss my coaches and playing with people since we were little."
Sumiton Christian eliminated Ranburne 6-5 before playing Ohatchee. The Bulldogs' tournament started with an 11-7 loss to Cedar Bluff on Friday, and they eliminated Cleveland 10-0 on Monday.
Ranburne finished 10-8-1 and loses one senior, Madison Heath.
"It's been a good year," Ranburne coach Samantha Long said. "We should've pulled out that last game. We had a couple of mental mistakes. Kali (Olds) pitched the best game she's pitched all year."