Kalee Johnson's state indoor championship in the shot put last week, in Alexandria's first season of indoor track, shows what can happen when a dedicated athlete, dedicated coach and dedicated parents join forces.
It's a story that goes much further back that the 34 feet, 5.5 inches the sophomore threw at Birmingham CrossPlex on Friday.
It started with an eighth-grader looking for a sport. She tried but didn't make the softball team, but she and her dad arrived at track as a possibility.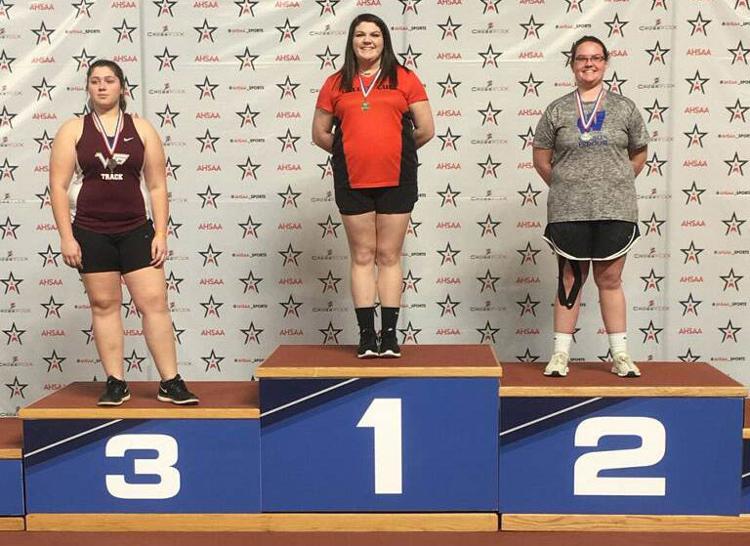 "I didn't even know what shot put was. I'd never heard of it," she said. "Ms. (Elizabeth) Clemons — she was the track coach at the time — and my dad were like, 'You should throw shot put.'
"I went on YouTube and looked at a video and thought, 'OK, that's cool.'"
That was the same year that Chase Brisendine arrived at Alexandria.
Brisendine threw for Sand Rock High School and coached throwing events while teaching one year at Montgomery's Carr Middle School before coming to Alexandria. He offered to help coach Alexandria's throwers in the outdoor season.
Within two weeks, Josh Johnson, Kalee's father, called Brisendine with news his daughter wanted to try it.
"I saw lot of potential in Kaylee," Brisendine said.
Johnson threw 19 feet as an eighth-grader and nearly qualified for state. After the near-miss, Brisendine talked to Josh Johnson about offseason training. Josh Johnson had no track background but watched videos on how to teach his daughter.
Father and daughter took the shot from there and ran with it, working to improve her strength and technique. They went so far as to put a throwing circle in the family's driveway. She trains by throwing a 12-pound boys' shot — four pounds heavier than a girls' shot — into the yard.
"Coach, me and my dad practiced all the time," she said. "I went in the weight room and lifted. We worked and practiced a lot on our drills and just practiced non-stop and worked on getting stronger."
Johnson progressed enough to make state as a freshman last spring, but she doesn't like to talk about her 20th-place finish.
"She came back this year and worked her tail off in the offseason to be where she's at now," said Brisendine, who became Alexandria's head coach during before the 2017 outdoor season.
Johnson, distance runner Abby Nunnelly and sprinter Karlee Walker approached Brisendine about having an indoor season this winter. Brisendine gulped and said yes, adding indoor track on a volunteer basis to a seasonal plate that included duties as head seventh- and eighth-grade basketball coach and assistant freshman basketball coach.
"I wanted to give these kids an opportunity to have a sport, because a lot of them didn't play basketball or do anything in the winter," Brisendine said.
Johnson said she wanted to do indoor track during her freshman year but thought about it too late. She's "very" thankful that her coach took on the extra work.
"He's doing it, basically, completely voluntary," she said. "He doesn't have to do it. He's doing it for us."
Speaking of the state indoor track championships, Weaver's boys showed their headed for another promising spring. Nine months removed from a second-place finish in the outdoor season, the Bearcats took seven athletes to Birmingham and came away with enough points to finish seventh in 1A-3A.
"I didn't carry any of my relay teams," Herbert said. "London Knight had to go on a football visit, so he couldn't go a week prior, to qualifications, so I'm pleased with what I had."
Robert Gaines led the way with second-place finishes in the long jump and high jump. He went 19-10.75 in the long jump to take second to Westminster Christian's Wiley Boone (20-5.25), and Gaines' 5-10 high jump fell two inches off the height cleared by J.B. Pennington's Devin Gronewold.
"Robert is a special kid," Herbert said of Gaines, who had a stomach virus Thursday. "He did well in the high jump (second) and the long jump (fourth) last spring, and he's just gotten stronger. He just went out there and competed."
Brandon Boyce took third in the shot put (46-3.25). Gary Wallace was fourth in 60-meter hurdles (9.40 seconds). Amardric Elston took third in the high jump (5-8).
Weaver's showing with an abbreviated team bodes well for the outdoor season.
"I'm very eager to see what's going to happen," Herbert said. "Most of the kids are hungry from last year's success. I'm eager to see if they still have that hunger and passion in the spring, and I think they will."
—The Calhoun County tennis tournament is March 2-3 at Oxford Lake.
—The county baseball tournament is March 9-12, with March 13 as a rain date, at Choccolocco
—The county boys and girls soccer tournaments are April 5-7 at Choccolocco Park.
—The county girls golf tournament is April 6-7 at Anniston Country Club.
—The county track meet is April 9 at Choccolocco Park.
—The county softball tournament is April 10-13 at Choccolocco Park.
—The county boys golf tournament is April 13-14 at Cider Ridge.