MONTGOMERY — Add Class 3A back of the year to Jack Hayes' long list of accolades.
The Alabama Sports Writers Association voted Piedmont's third-year starting quarterback as the top back in 3A. The announcement came during the association's annual Mr. Football banquet Thursday at the Montgomery Renaissance Hotel.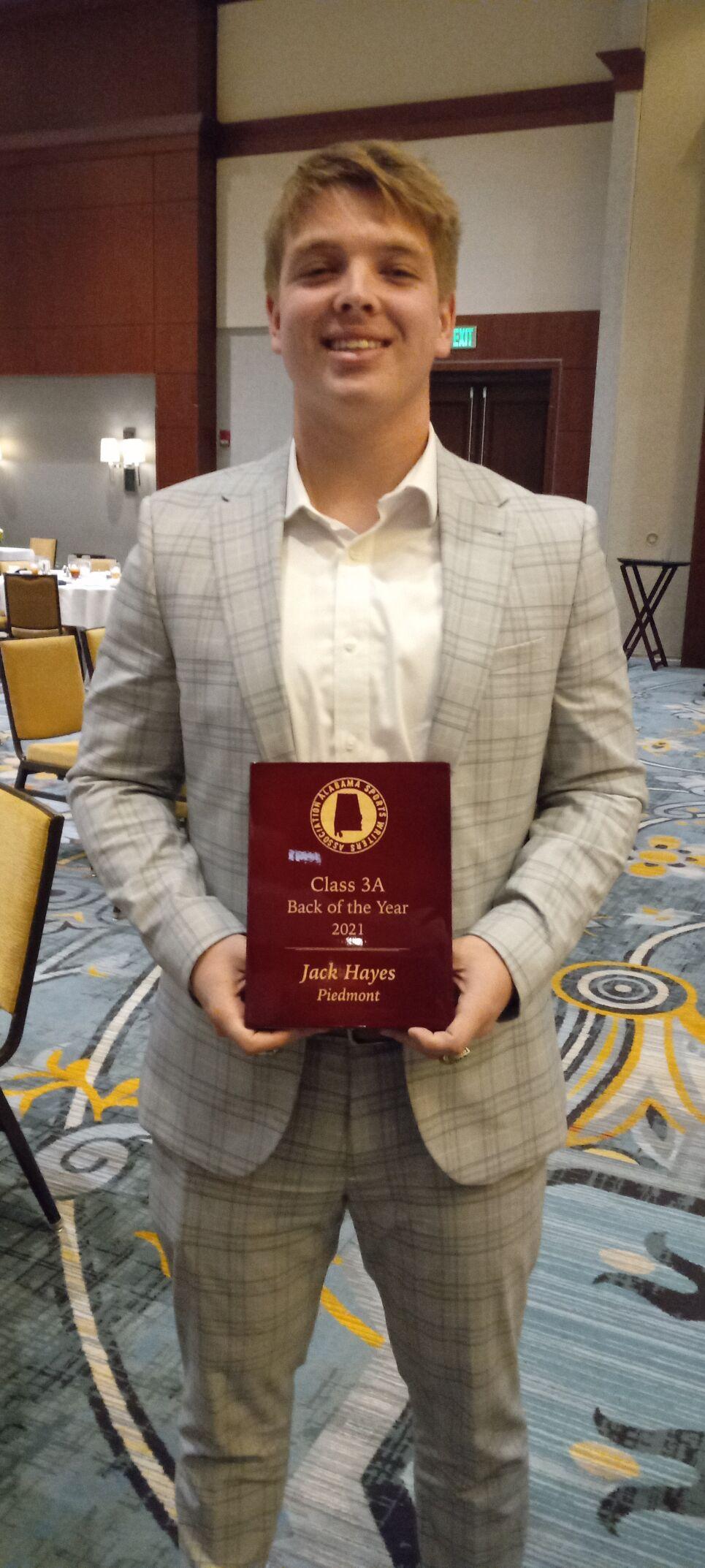 Hayes was one of three finalists for top awards from The Star's coverage area. Piedmont senior linebacker Landon Smart was one of three finalists for 3A lineman of the year, and Anniston senior safety/wide receiver Antonio Kite was a finalist for 4A back of the year.
ASWA members throughout Alabama vote for a back and lineman of the year in all seven Alabama High School Athletic Association classifications plus AISA.
The association also votes for Mr. Football. The state's top award for high school football went to Thompson's Ryan Peppins.
Hayes becomes the third Piedmont player to win 3A back of the year since 2015. Brother Taylor Hayes won in 2015 and 2016, and Cardavion Myers won in 2017.
Piedmont's Carlton Rankin was Birmingham Post-Herald back of the year in 1958.
Piedmont's Mason Langley was 3A lineman of the year in 2016.
Former Piedmont players Neonta Alexander, Exavyer Jackson, Logan Beadles and Jamie Major were also finalists.
"It seems like we've had somebody at the banquet pretty much for the last 10 years," Piedmont coach Steve Smith said. 'It just speaks volumes about what we try to preach to the kids all of the time. If the team is successful, then a lot of times those individual accolades will follow."
Piedmont has won five state titles in Smith's 16 years as head coach. 
Hayes is a third-time finalist, matching former teammate Sean Smith, who was a 3A lineman-of-the-year finalist in 2018, 2019 and 2020. 
"It's cool getting to win it, since I've been up for it for two years," Hayes said. "I'm just really honored.
"Hopefully, I can get another one and tie Taylor."
Hayes passed and ran Piedmont to its second Class 3A state title on his watch, earning his second recognition as Super 7 most valuable player. He led Piedmont's comeback from a 23-point halftime deficit to beat Montgomery Academy 35-33 in the state final.
Hayes was also first-team ASWA all-state and The Star's 1A-3A All-Calhoun County player of the year.
Hayes passed for a career-high and school-record 2,673 yards, his third consecutive season of passing for 2,000-plus yards. His 38 touchdown passes, the third-best best total of his career, came with a career-low two interceptions.
He's never thrown more than eight interceptions in a season.
Hayes upped the running part of his game this season, rushing for 1,027 yards and 21 touchdowns. His yardage bested his previous-best total by nearly 400 yards, and he more than doubled his previous career best for rushing touchdowns.
Hayes threw a school-record six touchdown passes to lead Piedmont to its 52-44 overtime victory over Saks in the semifinals. He passed for three touchdowns and ran for two against Montgomery Academy.
With another year to go, Hayes needs 14 touchdown passes to break the AHSAA career record. With 13 combined passing/rushing touchdowns, he'll set the mark for touchdown responsibility.
He's also within striking distance of career records for passing yardage (7,757/10,774) and total yards (10,245/13,218).
"I feel like they got the selection right," Smith said. "Jack had an outstanding season, and I'm very proud for any or our guys.
"I'm proud for Landon being down here as a finalist for lineman of the year. It's mighty satisfying to see their hard work rewarded with a trip to the banquet and, in Jack's case, being able to capture the award."