WHITE PLAINS — For anyone who sees White Plains' 70-54 victory over Anniston on Tuesday as a revelation, the Wildcats politely greet shocked faces with shrugs.
"I'm not really surprised, and neither are we," senior forward Brody Baker said. "We're just as good as everyone else in this county. We can compete with anyone."
Baker and Quin Wilson led the way with 24 and 22 points, respectively, and the fourth-ranked Class 4A team in the Alabama Sports Writers Association poll evened things up with No. 2 Anniston on the season.
Anniston won their first meeting 62-54. White Plains' victory Tuesday sets up a key area showdown at Handley on Thursday. White Plains must sweep Handley to force a coin toss for the area title.
There's also the matter of the county tournament, which starts Saturday at Saks High School and continues next week at Jacksonville State University's Pete Mathews Coliseum. Anniston carries the top seed, followed by No. 2 seed Oxford and No. 3 White Plains.
White Plains lost to Oxford 65-46 in November, but the Wildcats have developed in two months. That much was on display Tuesday, as the Wildcats fixed what was broken in their Dec. 8 game at Anniston.
"We did a little bit better job on the glass," White Plains coach Chris Randall said. "At their place, they had 17 offensive rebounds. I don't know how many they had tonight, but I felt like we limited their offensive rebounds."
With Jaden Chatman leading the way in a one-on-one matchup, White Plains also held Anniston all-state guard Antonio Kite to 10 points … two in the second half.
"They always play us very good defensively," Anniston coach Torry Brown said. "They pack it in really tight, and they make it tough, but you have to give a lot of credit to their defense.
"I don't think Antonio was as aggressive as he needed to be in the first half."
Kite's second half was short.
With Chatman looking to inbound the ball along the visiting sideline, Kite swatted and made contact with Chatman's face. Officials whistled a technical and ejected Kite with 4.9 seconds left in the third quarter.
"I don't know exactly what the call was," Brown said. "It was enough, whatever he did, that the ref felt like he needed to be ejected from the game."
Anniston got 17 points apiece from Malcolm Carlisle and Tadyn Jones, but White Plains led wire to wire. The Wildcats led all but a brief 2-2 tie in the first quarter.
Down 25-14 after one quarter, Anniston pressured its way back to within 26-25 on a Jones jumper, but Wilson, Baker then Wilson again responded with 3-pointers.
White Plains led 40-29 at halftime and never led by fewer than seven points in the second half.
Wilson put on a shooting show in the first half, scoring 19 points on four 3-pointers, two old-fashioned 3-point plays and another free throw. He added a 3-pointer in the second half for five on the night.
Baker scored 16 of his points in the second half, including two of his three 3-pointers on the night.
White Plains also got 10 points from Jacob Wheeler, eight in the first half. With his two 3-pointers on the night, the Wildcats finished with 10.
"It's a big game," Wilson said. "I bet people around the county don't think we're capable of winning games like this, but the hands in the huddle know what we're capable of."
Anniston 62, White Plains 34: Serena Hardy and Asia Barclay scored 13 points apiece, and Allasha Dudley added 12 points plus six steals and five assists for Anniston, which took control at the end of the first quarter.
Dudley's 3-pointer to tie the game 12-12 at first quarter's end started a 14-0 run for Anniston and a 22-2 surge the rest of the half.
The Bulldogs flipped the script to lead 31-14 at halftime, forcing nine second-quarter turnovers to one in the first quarter.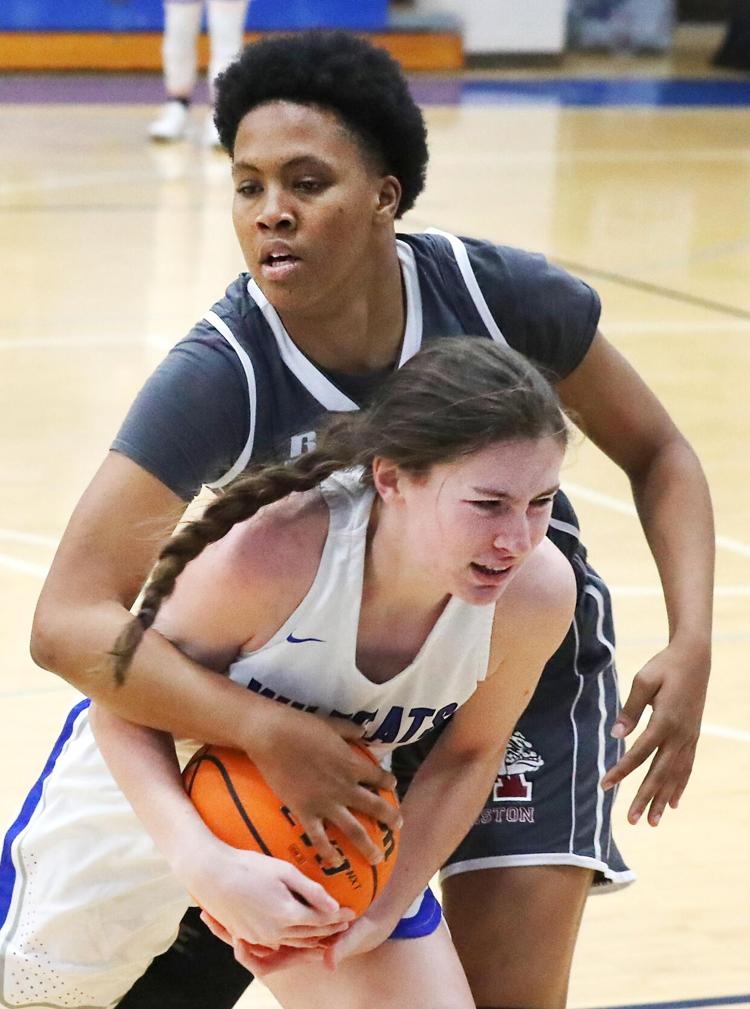 "We had to try to pick up the tempo," Anniston coach Eddie Bullock said. "Our defense was off. I tried to start them off in a zone to stay out of foul trouble, and we wasn't covering like we should."
Anniston also changed its offensive approach.
"We started taking less jump shots," Hardy said. "That's what he (Bullock) wanted us to do, because we were taking too many jump shots."
Anniston also got 11 rebounds from Shiwanna Jackson and 10 from Barclay.
White Plains got 10 points from Lily Ponder and nine from Adriana Sotelo. The two combined to hit five 3-pointers, including Sotelo's three.
"I was proud of the way we played in the first quarter," White Plains coach Matt Ford said. "The wheels came off a little bit after that.
"Turnovers, of course, and offensive rebounds. Those were the two things we needed to control to have a chance to be in the game. … They had a lot to do with the turnovers."