OXFORD — Joel Van Meter issued a warning about Oxford eighth-grade shooter Jaylen Alexander on Thursday.
"If people don't know him, they're about to," the veteran Oxford coach said.
Alexander hit three 3-pointers, including two big ones in the fourth quarter, and registered among five Yellow Jackets in double figures as they held off visiting Plainview 69-59 on Larry Davidson Court.
Victory in the boys game gave Oxford a varsity sweep on the night. Oxford's girls dominated the second half to win 58-47 and improve to 3-0.
Oxford's boys, who lost four of five All-Calhoun County players from last season to graduation, improved to 2-1 and got a good-vibe victory.
"That's a really good team," said senior forward Rylan Houck, the lone returning all-county player who led Oxford with 16 points. "A lot of people know that. I think they're better than they were last year, and we lost three games last year, and that was one of the teams that beat us.
Besides Houck and Alexander, Oxford also got 11 points from Kyler Wright, who turned both ankles in the game and walked around with ice on them afterward. Senior Zurrell Garrett and senior Michael McGraw added 10 points apiece.
They overcame Jonah Williams' game-high 19 points, 12 from Cole Millican and 11 from Olan Smith.
Different people made big shots in big moments.
Houck hit a long buzzer-beating 3-pointer coming out of a timeout with 3.1 seconds left in the first half to give the Yellow Jackets a 32-25 lead at halftime.
Oxford gained its first double-digit lead, 40-30, on the first of two Aaron McFarland 3-pointers in the third quarter. His second made it 49-37, and the Yellow Jackets led 49-39 going into the fourth.
As Plainview will do, the Bears closed within four points twice in the fourth quarter … on a Williams 3-pointer to make it 49-45 and on Smith's alley-oop dunk on an inbounds play to make it 51-47.
The first of Alexander's two fourth-quarter 3-pointers gave Oxford breathing room at 55-47, but Plainview did more Plainview things. They got as close as 55-52 on two Millican free throws.
McGraw answered with a pull-up jumper, and Wright hit the first of two free throws.
Then Plainview made the mistake of leaving Alexander open again. He swished another long 3-pointer to give Oxford 61-52 separation with just more than four minutes to play, and McGraw, Wright and Garrett hit six of six free throws in the final 1:34.
Alexander's big 3-pointers didn't surprise Van Meter, who saw it as Alexander starred for the seventh-grade team a year ago.
"He's a really, really talented young man, and he's probably a better person than he is a player, and that's saying a bunch for an eighth-grader," Van Meter said. "I don't remember a bunch of turnovers for an eighth-grader, and he seemed to handle the pressure. His basketball IQ is way, way high."
Alexander transferred from Saks before his seventh-grade year and switched emphasis from football to basketball, following in the footsteps of older brother and former Saks all-county player Zaejuan Johnson.
"After a long time, I just started training at basketball, and I just got good at it," he said. "I want to be up top. I don't want to be middle. I want to be up top."
Alexander made the varsity after playing with the team over the summer.
"He belongs," Van Meter said. "He'll belong for a long, long time."
Oxford 58, Plainview 47: Oxford trailed by eight at halftime but outscored Plainview 36-15 in the second half.
"We locked down in our press," said Justice Woods, who tied KaLeah Taylor's game-high 11 points. "We just turned it on. Our defense usually wins most of our ballgames, so we just had to turn it up and let them know they were in a game."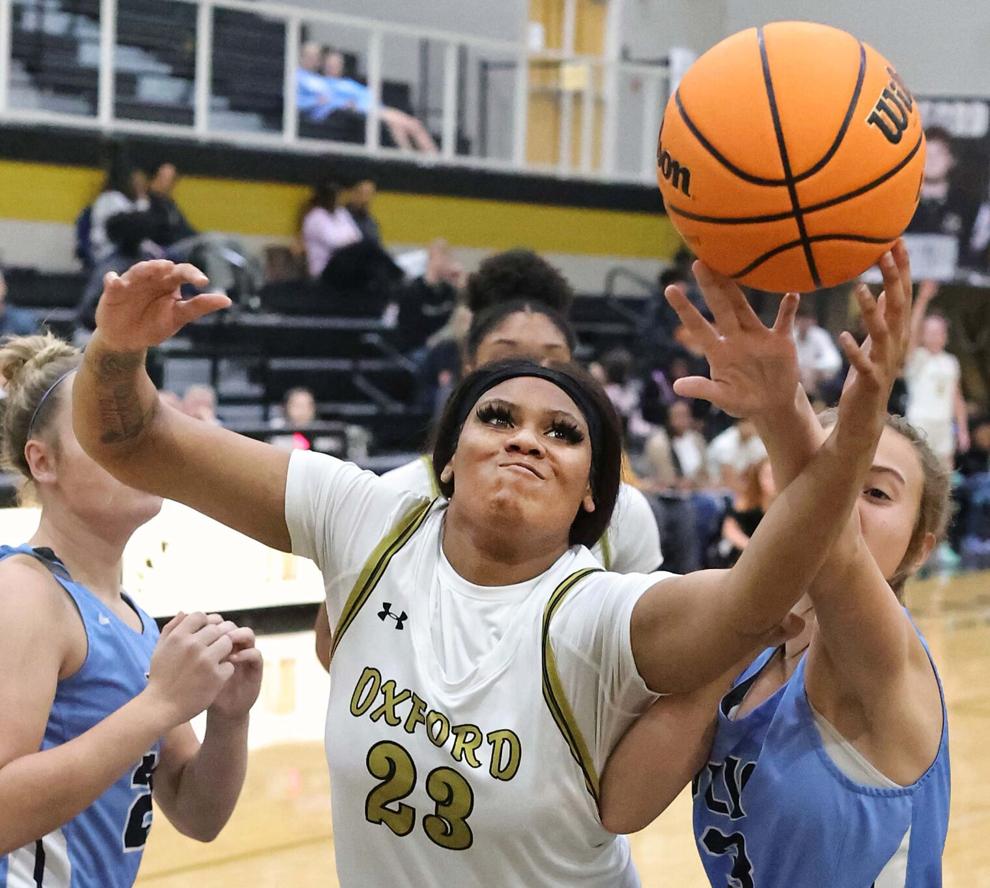 Woods hit one of the game's biggest shots, a 3-pointer from the left side to put Oxford up 48-40 with 4:39 to play. She also hit a transition bucket to make it 50-43.
Oxford pulled away with Taylor's drive and, after a Woods steal, two free throws to make it 54-43. Keziah Mickler got a steal and layup to make it 56-43, and LaMya McGrue's driving bucket closed out Oxford's scoring.
McGrue finished with 10 points, and Oxford closed the game with a 10-4 spurt in the final four minutes.
"We didn't make any adjustments in the second half," Oxford coach Melissa Bennett said. "We made a lot of adjustments early. I told them to relax, and that stuff would start falling.
"I told them to relax on defense. We worked coverages for what they were hitting us on. We started rotating better in the second half."