SPRING GARDEN — Ricky Austin rarely misses a Spring Garden basketball practice, boys or girls, but the varsity head coach for both teams had things to take care of this past week.
First, he saw a doctor about seasonal crud. Then, Austin hit the road to scout potential sub-regional opponents for both teams.
With assistants running practice back home, Austin was off, gutting out his good problems.
Area tournaments start Monday, and Austin's teams head into postseason with a combined 48 victories. The girls (25-3), perennially strong in 1A, played up three classifications and split two games with 4A power Anniston this season, beating the Bulldogs 52-39 last week. The boys (23-4) have won 20 out of their last 21 games, including Saturday's regular-season finale against Weaver.
The lone boys loss in that stretch came against Area 10 foe and three-time defending state champion Sacred Heart.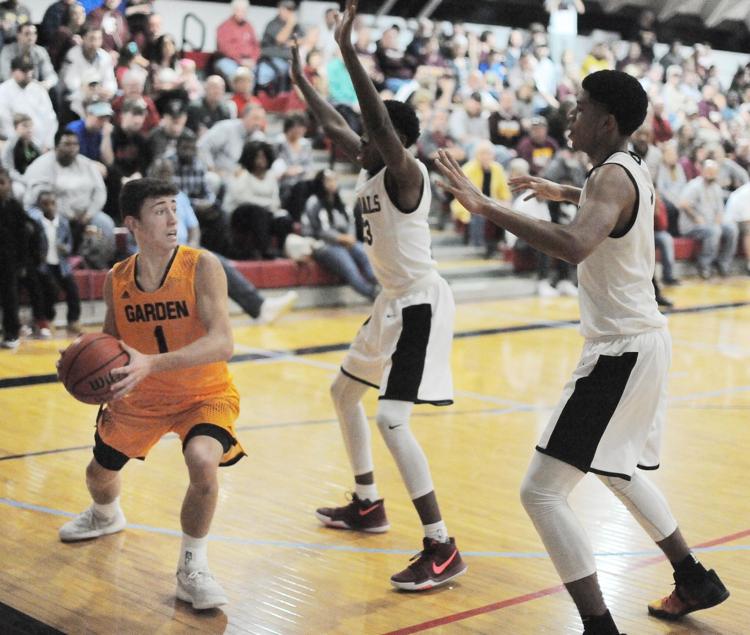 Two girls losses came against Haralson County (Ga.) and a 66-60 setback at Anniston.
Lots of coaches coach boys and girls teams, but Austin has done it since 2009. It's hard to imagine one coach having a better combined season.
"We're really blessed, right now, to have some kids that have been part of the program for a long time on the boys' side and girls' side," he said. "We're an experienced team."
It's nothing new for Spring Garden's girls, who have won five state championships, the last coming in 2016. They finished runner-up to R.A. Hubbard last season on a controversial foul call on the Panthers' offensive end and free throw with no time on the clock.
"It motivates us, but that's not the reason that we work," senior Kerstin Bryant said. "Every year, our same goal is to be at state."
The Panthers returned Bryant and three other starters — Tiyonna "Bootsie" Rogers, A.J. Broome and Payton McGinnis. Macy Reedy has stepped in to deliver the 3-point shooting they lost in departed senior Savannah Dempsey, hitting a team-high 64 3-pointers in 160 attempts as of this writing.
McGinnis (46-for-115) and Bryant (36-for-102) give Spring Garden three productive wing shooters around Rogers in the post and Broome at the point.
It's a classic Spring Garden girls team under Austin, just maybe better than even he realized. The victory over Anniston "got my attention, too," he said.
"I thought we were pretty good, but you play Anniston, and, with their size and their strength and their skill and their coach, and we were able to battle the way we battled," Austin said. "It was a different kind of game. It was possession by possession.
"It was like an old football matchup: grind and grind and two yards here and two yards there. Our fundamentals really stood out."
The boys team started slowly because of football playoffs but became the first in school history to win the Cherokee County Invitational and Cherokee County Tournament. Three Panther losses 63-59 to Cedar Bluff, 73-59 to Sacred Heart and 76-73 to Class 3A Weaver — came in a five-game stretch between Dec. 4-18.
"When they came back after those three games, it was like, 'OK, we know where we are and what we've got to do,'" Austin said. "It's been real business-like with them."
Spring Garden's boys play more like Spring Guarden. It's positionless basketball, up-tempo with six players averaging at or near double figures. Through 25 games, they hit 186 3-pointers (7.4 a game).
If the Panthers resemble 3A power Plainview, then it's no accident. Austin and Plainview coach Robert Coker compared notes during the summer.
"The previous summer, a lot of teams told us that we play alike and run some of the same stuff," Austin said. "We had no idea, so we talked after the Final Four last year and said we need to get together."
That style is a hit with Austin's band of dribbler-passer-shooters.
"It fits us great," said senior Riley Austin, the coach's son. "Us and Plainview are very similar. Every day, we don't have posts to a drill and guards to a drill. Our posts shoot the same amount as our guards do."
Spring Garden's boys have the most daunting path ahead in postseason. If they don't upset Sacred Heart in area-tourney play, they'll likely have to win a subregional game at Decatur Heritage, which boasts 6-foot-10 center Noah Boler, then beat Sacred Heart in the Northeast Regional.
The Panthers hope to be the first boys' team from Spring Garden to reach the Final Four since 2005, under Jason Howard. For now, Spring Garden's boys and girls approach a combined 50 wins.
"It's a lot of fun," Austin said. "It's been a great season. We're happy where we are, but we're definitely not satisfied.
"Our best basketball on both sides is still in front of us."