Oxford High school senior Ashlyn Miller joined the Yellow Jackets' varsity softball program as a seventh-grader and has become one of the team's most dependable players.
She starts at second base after playing third in the past. She has made The Anniston Star's All-Calhoun County squad each of the past two years, and the University of Mobile, an NAIA school, has signed her to play for its team.
She plans to study business in hopes of taking over Miller Monument, an Oxford business owned by her parents, Patrick and Shelley Miller — not that she's trying to rush mom and dad out the door.
When Ashlyn graduates, the Miller name will continue at Oxford. Younger brother Wesley Miller, an eighth-grader, wrestles and plays baseball.
Ashlyn is close to her family. In fact, she says that after a long softball practice, her favorite thing to do is go eat with her family. Olive Garden and Los Mexicanos Restaurante are her favorites.
She doesn't play another varsity sport at Oxford, especially since softball is a year-round deal. But that doesn't mean she doesn't appreciate other sports. She loves watching football, especially "when you see people screaming at the TV, that's really funny."
She cheers for Alabama. "Roll Tide," she said.
She also likes watching gymnastics: "I could never do that. It's amazing to see what some of these females can do."
If she could improve one part of her softball game, it would be her mindset. She said that if she doesn't play well, she struggles not to get down on herself. "I wish I had the mindset that other people do to get over it, go to the next game and realize it's going to be OK."
Recently, after school, Miller took a few moments to smack 10 questions from Anniston Star Sports Editor Mark Edwards out of the park:
Question: What is something you have learned as a senior that you did not know in previous years?
Answer: Leadership, because when I was in seventh grade, I looked up to the seniors and even the juniors because they were always the older ones, and I always wanted to be like them and I always looked up to them. It taught me not to look down on the younger girls because they could be just as good as you. I respect the younger girls and the older girls, and I always want to be a leader to them.
Q: What do you remember about playing in your first varsity softball game?
A: I used to be a catcher. We were playing Heflin, and they put me in to catch. I did not do good at all. (Laughs) So, they took me out and told me that I needed to learn from that and grow from it and to come back in my next game when I played and to do my best. Even if I didn't do well again, I would come back and I'd do fine. Just learn from your mistakes.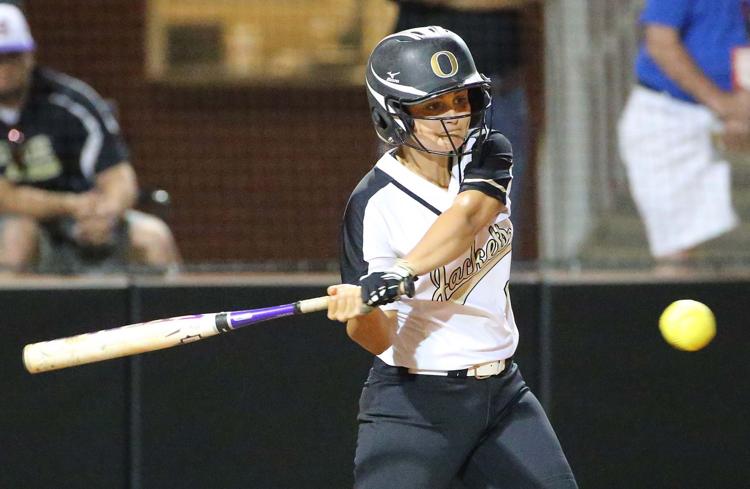 Q: What's the biggest win you've ever been part of?
A: We were in the state tournament. It was 2016, and we were playing Southside to go to the state championship game against Chelsea. I remember we had nobody score, nothing. They tried to bunt on me, and I was playing third base. It was one of the fastest girls I've ever played against, and I got her out. So, we all got pumped from that. We came back, and Amber Dempsey hit a solo home run and we won that game. It was really intense, and we all got into it. Then we were so excited that we got to play in the state championship game. (Oxford finished state runner-up to Chelsea.)
Q: When not in uniform, what's your typical outfit?
A: Vans (shoes). T-shirt. Just jeans. Louis Vuitton belt. I've got it on now. (Laughs) I wear Converse (shoes) a lot, too. Or Nike shorts and a T-shirt, if I'm not at school.
Q: If you played another spring sport, what's something that it looks like it might be fun to try. You can pick anything.
A: I would choose golf because it is the same kind of swing, basically, and also because it looks really relaxing. To see people succeed in golf, it seems really satisfying. My dad always played golf. So if I had to choose another one, I'd choose golf. I couldn't do tennis.
Q: The weather is warming up. What is your favorite outdoor activity besides playing softball?
A: I like to lay out by the pool, which isn't a real big activity. I do like to run when I have to, but when I don't have to, I like to lay out or go to the lake. Hang with friends. ... Free time. My friends who don't play here anymore, they're off in college and when summer comes, we're all just going to hang out and just chill. I play summer softball, too, so I don't get a lot of time to just do what I want to do, like swim or lay out or go to the beach.
Q: If you could be a star in any TV show, what would it be?
A: Grey's Anatomy. Definitely Grey's Anatomy. I would love to be right there in the ER. The adrenaline rush. I love that show. It is so good. I didn't start it until this year. Everybody was like, "It's so good," and I was like, "I don't think I can get into something like that because I don't want to be a nurse or a doctor or anything like that." But I started, and it was great. I got into it. I'm almost done with it now.
Q: Do you have anything you consider a good-luck charm?
A: I don't wear a bow in my hair anymore. I used to, but I feel like I do better without it. I don't have to be pretty to play softball. Some girls are like, "If you feel pretty, you play pretty." I don't feel that way. I feel like when I don't wear a bow in my hair, I do better. I guess that's a superstition.
Q: If you got yourself a present for Christmas, what would it be?
A: I know I would get myself flowers because I love flowers. I would probably get myself some sneakers, because you always need them.
Q: Who do you think will be the first person to read this?
A: My parents. Or maybe even me. My parents, they always support me, and they'll definitely be on the lookout for it.