Head coaches and two players each from Calhoun County's 12 football-playing high schools came to talk football at the second annual Calhoun County Quarterback Club media day. Problem was, the masked elephant in the room wasn't football.
"I never thought I'd have to pull down a mask at media day to talk to you guys," Saks coach Jonathan Miller said. "It's truly a unique time."
Friday's football get-together at the Anniston Country Club is supposed to be the ceremonial hype sendoff into preseason practice, which starts as early as Monday at some schools.
Even practice won't be normal next week. The first week is helmets and shorts only, for acclimation after an offseason acclimation to the ebbs and flows of COVID-19-related shutdowns, reopenings and resurgence.
Thursday saw the Alabama High School Athletic Association announce plans to start fall sports on time, which means normal practice Aug. 3 and first contests Aug. 20 and 21.
That news to football ears came with a "Best Practices" document, approved by the AHSAA's Central Board on Wednesday, and an always-looming caveat. The AHSAA's thinking could change if pandemic news worsens, and individual school systems could tap out.
The AHSAA left much of the decision making to local sources.
Even if all schools play sports and start on time, the threat of positive COVID-19 tests, quarantines and game forfeits loom. Even AHSAA executive director Steve Savarese tossed out the possibility of teams getting in 5-8 games, instead of the normal 10 plus playoffs for teams that qualify, and seemed to consider that a moral victory.
Some season is better than none.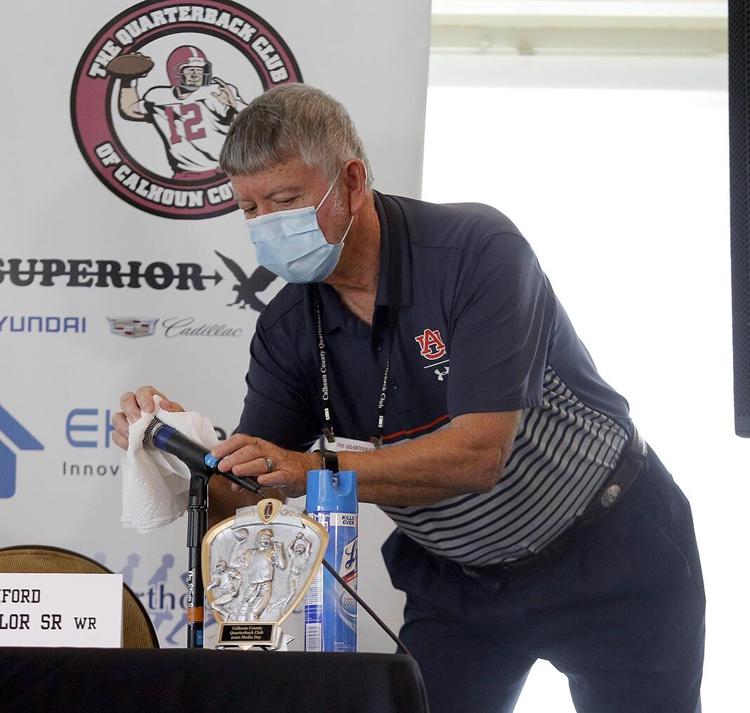 Caveats to the positive-for-now news of the AHSAA's fall-sports green light laced caveats through coaches' answers Friday.
"We're looking really forward to having a great season this year, as long as it will last," Donoho's Mark Sanders said. "We're just keeping our prayers up for that, that everybody is going to be as safe as they can, and wear masks in public as much as they can, and put hygiene No. 1."
Then again, the news that everything is a go also brought joy without caveats.
"Once they released that we could play, I think I went outside and got the water hose and just started shooting it up in the air," Anniston's Rico White said. "I was just elated.
"That's what we do. We're football guys. We love football. To just think it's going to be taken away, it's just tough."
Not surprisingly, no coach or player present took exception with the AHSAA's call to start fall sports on time. Ohatchee's Scott Martin said opening schools and playing sports was a move that could help more than hurt the fight against COVID-19.
Schools and sports can keep healthcare workers on the job by solving their potential childcare issues, he said.
"We flattened the curve to help the healthcare industry," Martin said. "If we shut down schools, we've got 30 percent or more that are in school whose parents are some type of healthcare professional, nurse or whatever.
"Can you imagine, if they start having to stay home with those kids, and then, all of a sudden, we're eliminating more healthcare professionals?"
Martin waxed philosophically. He eschewed "crazy" social-media conspiracy theories about COVID-19 existing as an avenue for government control over individual liberties. He noted the seriousness of the virus, speculating that most people in the room know someone affected by COVID-19.
As for how people approach living with the virus, he sees normal-as-possible activities, such as school-sponsored sports, as the right medicine.
"I do follow our healthcare industry, starting with epidemiologists, who say that we're not going to get rid of this thing until we get a vaccine," Martin said, "but you can't shut down government. You can't shut down education."
The Alabama State Department of Education did in mid-March, shutting down schools for three weeks before finishing the 2019-20 school year with online education. The AHSAA responded by halting spring sports.
The last contests played out in mid-March, a short and sad ending for spring-sports seniors. For now, fall sports seniors, including those in football, have the chance for a happier ending.
"We talk about football being like life and talk about adversity and being able to adjust and pivot when you have to," Jacksonville's Clint Smith said. "I really think that, if there's anybody who can handle it, it's our student-athletes and our coaches and people that try and do that year in and year out in different situations.
"We're excited to be moving forward. We're going to do everything that we can to be safe and follow all of the guidelines and, hopefully, enjoy a great football season."