Another high school basketball Final Four, and another chance for Sacred Heart and Spring Garden to give the area a boy-girl Class 1A sweep.
It nearly happened a year ago, but a controversial foul call on a loose-ball scramble with no time left denied Spring Garden's girls in the final.
The sweep did happen two years ago, and there's every reason to believe it could again. Despite an unusually challenging postseason, Sacred Heart's boys have to be favored to win their fourth straight state title. Spring Garden's girls have beaten bigger traditional powers, such as Anniston in 4A.
Both play their semifinal games Monday: Spring Garden against Loachpoka at noon and Sacred Heart against Cornerstone at 1:30 p.m. The 1A championship games are Thursday at 4 p.m. and 5:45 p.m.
Sacred Heart's Diante Wood has earned a place among the best players to come through Calhoun County, and this state tournament gives him a chance to put a nice bow on it.
The Alabama signee has played biggest on the biggest stages, earning most valuable player of the past two state tournaments. His performances against 6A Oxford in this season's Calhoun County final and Decatur Heritage in Monday's Northeast Regional piled on more validation.
Unlike terrific trio partners D.J. Heath and Kevion Nolan, who graduated a year ahead of Wood, he can finish as a four-time state champion. He also has the opportunity to get it done without Heath and Nolan.
Murdock Simmons has emerged as Wood's most significant other with this Sacred Heart team. He scores but also does floor-game work that helps Wood to be Wood.
Simmons brings inside-out game and no shortage of willingness to mix things up for rebounds and defense.
Simmons has done it on a bum ankle for weeks. He gave Sacred Heart big early points against Oxford in the Calhoun County finals before reaggravating the ankle, which made him unable to finish that game. He came up hobbled against Decatur Heritage.
Simmons has shown he can get it done on the biggest stage as a sophomore, making big plays in the Cardinals' state-semifinal victory over Keith two years ago.
Sacred Heart coach Ralpheal Graves, who grew up in West Anniston, can make Calhoun County history by winning his fourth state title at a school from the county. He'd break a tie with Alexandria's Larry Ginn.
Ginn, also a Calhoun County native, won his three 4A basketball titles at Alexandria between 1992 and 1997, including two in a row from 1992-93.
Graves has won three in a row and will go for his fourth in a row this week in Birmingham. He's taken Sacred Heart to the Final Four five times in a row.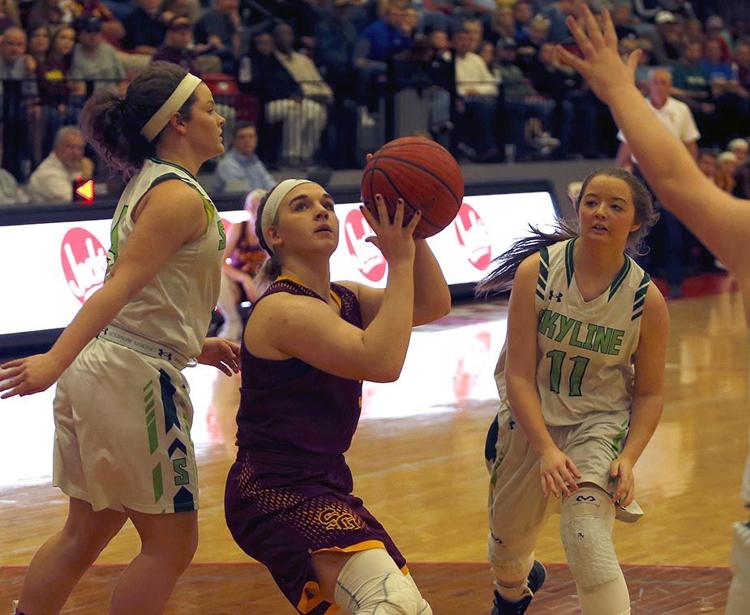 Spring Garden's girls are going for their sixth state title and their fifth under current head coach Ricky Austin, their head coach since 1986. He got it done in 2004, 2005, 2008 and 2016 and came so close to another last year.
The Panthers' other state title came in 1987, under then-first-year coach David Bedwell.
Spring Garden will make its 13th Final Four in girls basketball and fourth in as many years.
Spring Garden returns all but one starter, Savannah Dempsey, from last year's state-runner-up team.
A.J. Broome, Payton McGinnis, Kerstin Bryant and Tiyonna Rogers will play in their fourth Final Four.