For all Allasha Dudley did as a sophomore for Anniston's girls basketball team, the memory of a box-and-one defense and loss in the state final became the lasting memory and offseason motivator.
Yeah, she beat that as a junior.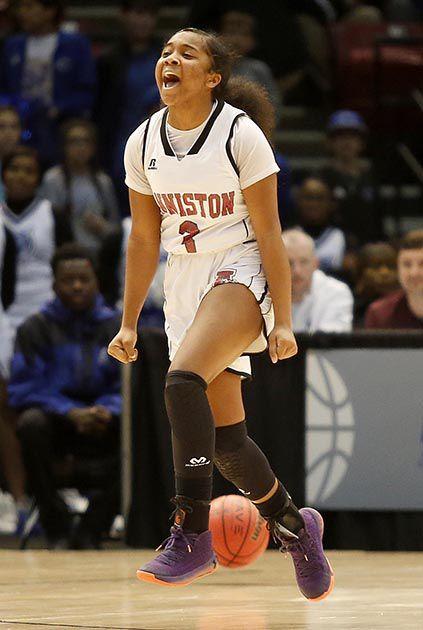 Dudley helped Anniston's girls get over the hump to become first-time state champions, and she's The Anniston Star's Class 4A-6A Calhoun County girls basketball player of the year.
She averaged 17 points, four rebounds and five assists to lead the Bulldogs, who finished 29-3 and beat Deshler 61-51 in the 4A title game in Birmingham.
Dudley was the state-tournament MVP, scoring 22 points in the semifinal victory over Childersburg and 20 against Deshler's box-and-one defense. She was also a first-team Alabama Sports Writers Association all-state pick and finalist for 4A player of the year for the second year in a row. She was also the most valuable player of the Calhoun County tournament and selected to play in the Alabama North-South All-Star Game.
She has one more season to potentially add to her player-of-the-year county award and become a rare three-timer. She also hopes to earn a shot to play college ball.
It was all part of the conversation as Dudley spoke to Star Sports Writer Joe Medley:
Question: Nearly a month later, how does it feel to be a state champion?
Answer: It feels great. I've just been enjoying the feeling of winning state. I'm really ready to get back on the court, but it feels great.
Q: How do you feel about your season, individually?
A: This season, I think I did good. I improved with my mental toughness. Last year, a team did a box-and-one on me. This year, the teams did again, but I feel like I fought through it, but I couldn't have done it without my team … without Kiana (Montgomery), without Asia (Barclay), without Tang, without everybody who contributed to scoring. I think I did great, but it was a team effort.
Q: Did Deshler try that, after seeing Rogers do it last year, and what's the trick to dealing with a box-and-one defense?
A: I think they had No. 10 (Achia Ramson) on me. Having teammates who can relieve the pressure off of you, so that your opponent won't just focus all on you. They have to focus on everybody else who's contributing to putting points on the scoreboard.
Q: How's recruiting going?
A: Recruiting is going good, I guess. I know I have an offer from JSU. Other schools are looking at me, so I just keep focusing on my game so I'll get more offers. I don't know (other schools). My dad knows all of that.
Q: Is it good, having your dad keep all of that off of you?
A: I feel like it's good for me to not know all of it, because I can focus more on becoming a better player, so I won't have to put my focus on what school I need to go to.
Q: You're not a senior, but you have travel ball coming up with the Alabama Road Runners. How has the COVID-19 outbreak and society shutting down because of it affected you?
A: The gyms are closed, so you can't really go in the gyms and shoot as many shots as you want to or work on ball handling as much as you want to. That's not an excuse, because I always have a court outside that I can shoot on.
Q: Is it tough not seeing your friends as much as you're used to?
A: Yes, because I'm using to hanging out with them, especially my teammates. I miss them, but I know when this virus is over, we're going to get back together.